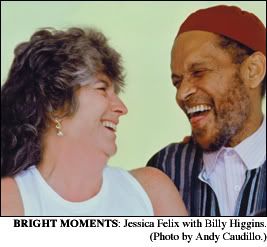 In a shocking, upsetting announcement, the Board of Directors for the Healdsburg Jazz Festival announced today that there will be no Healdsburg Jazz Festival in 2011.
What's more, festival founder and Artistic Director Jessica Felix has been voted out by the Board, and will no longer be a part of the Healdsburg Jazz Festival she started 12 years ago.
Citing the poor economy, the Board says they'll focus instead on their music education program which for 10 years has brought jazz to area schools. "There also seems to be a more limited audience for pure jazz in the community as evidenced by lower ticket sales," Board president Pat Templin says. "There may be an opportunity to broaden the offering in the future. We need to find a winning model that will interest more people and businesses in the community to get involved, provide financial support and to attend a revised music festival."
A "revised music festival." A "limited audience for pure jazz." An "opportunity to broaden the offering." These are not good harbingers of things to come.
I called Felix to find out what happened. She said she couldn't comment until she spoke with a lawyer, a bad sign. "I was totally surprised," she said.
Reached by phone, Board president Pat Templin told me that there are "no plans" to reinstate Jessica Felix in 2012, adding that it was decision not made lightly, and one borne of finances instead of artistic vision (the festival, she stresses, will not move in a smooth jazz direction).
"She's an amazing person, she's done an amazing thing, and we're trying to build on her legacy," Templin says. "We're committed to jazz, and to maintaining that reputation. And we're also interested in some of what the community has told us, that there might be other genres that support the kind of jazz we do." What other genres might those be? "One is blues," Templin says.
If Felix can't comment, then I will: The Healdsburg Jazz Festival as we know it is committing artistic suicide.
As a journalist, I've butted heads with Felix a couple times, but one thing I've never, ever questioned is her top-quality booking for the festival. I assume this so-called "limited audience for pure jazz" wasn't part of the sold-out crowd this year for Ravi Coltrane and Charlie Haden, the sold-out crowd for Esperanza Spalding, or the full crowd for Jason Moran and Bill Frisell.
And that's just in the last year alone. Previous festivals have hosted, to great acclaim, Joshua Redman, Billy Higgins, Andrew Hill, Bobby Hutcherson, Jim Hall, Dave Holland, McCoy Tyner, Pharoah Sanders, Jackie McLean, Joe Lovano, Kenny Garrett, Frank Morgan and Dave Brubeck. Look at those names—and then find me another jazz festival booker in a town with a population of only 10,000 who can attract such stature.
The community needs the Healdsburg Jazz Festival, but in particular it needs the festival as booked by someone well-connected, passionate and knowledgeable about jazz. That someone is and always has been Jessica Felix. She's taken creative risks that have paid off—such as two sold-out shows with the decidedly avant-garde Trio 3 last year—and that's because over the last 12 years she's cultivated an audience for jazz in Sonoma County. She's even saved the festival money by putting up musicians in her home, and finding other local hospitable jazz fans to do the same.
As for ticket sales? The slump isn't just in Healdsburg—concert ticket sales have been down significantly nationwide; Templin admits she's aware of this too. So sure, a scaling back on the festival makes sense. A focus on music education is good for attracting new sponsors. A one-year hiatus in 2011, painful as it may be, may be necessary.
But in reorganizing, there's one thing the Board shouldn't overlook, and that's the respect Felix has earned from the artists and fans in the jazz world. Every musician playing the Healdsburg Jazz Festival who I've interviewed for the Bohemian in the last six years has praised Felix's devotion, without my asking. The national reputation of the festival speaks to her great work.
If she wants to continue booking the festival she founded—and it seems like she does—I can't think of any reason to stop her from doing so.
[UPDATE: The Board of Directors have removed all public comments from their website. I've reposted them here.]
[UPDATE: It worked! Jessica's back and so is the festival. Read here.]
Tags:
2011
,
Board of Directors
,
Bohemian
,
Cancelled
,
gabe meline
,
Healdsburg
,
Healdsburg Jazz Festival
,
Hiatus
,
Jazz
,
Jessica Felix
,
Pat Templin
,
Postponed