Without a doubt, one of my all-time favorite shows in Santa Rosa was the night in 1993 when Bikini Kill, illuminated by a semicircle of car headlights, played in someone's backyard in Roseland.
I've stopped trying to tell the story, partly because the eventual ascension of Bikini Kill to indie icons in the general consciousness taints any kind of retelling with the risk of a coattail-riding smarminess—especially, y'know, coming from a dude—but mostly because I really just can't do it any sort of justice.
Luckily for us all, Leilani Clark hits the thing out of the park in this post about the show, with all the wide-eyed awe that just about everyone in the backyard experienced that night. Read it here.
In the year or so before the show happened—advertised only by hastily photocopied handbills a couple days ahead of time—me and all my friends had all played the hell out of Bikini Kill's first EP, marveling at its economy of purpose. They used simple statements and actions to convey what a lot of Bay Area bands had been trying to say in words, words, and more words. I know it sounds like a cliché, but they changed my ideas about what a band could be—even when, in 1993, I was of the age where I'd prided myself (falsely, it would turn out) on seeing it all.
The Bikini Kill show in the backyard was inspiring, thrilling, and confusing, all at the same time, and it took me a few years to figure out just what the hell had happened. (The only thing that I can add to Leilani's account is that my friend Andy went up to one of the band members afterwards, and said, "Hey, you guys were really good," to which she shot back, "We're not guys.")
Last night I dug through some boxes and found some pictures that I took at the show: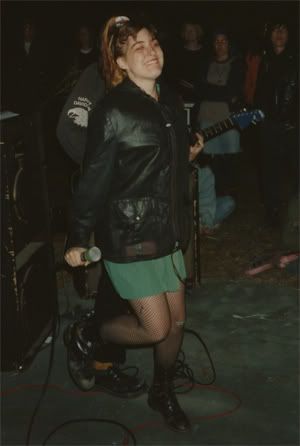 I found the flyer too:
…and the setlist.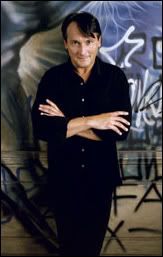 During my interview with Christopher O'Riley about his performance with the Santa Rosa Symphony of Bartók's Piano Concerto no. 3, he warned of the difficulties involved in the concerto's second movement: "It's really important to get the mix right with the orchestra, and to have them participatory instead of deferentially," he said. "It's a real concerto for piano with orchestra, not piano and orchestra. And so hopefully we'll get that right."
O'Riley, who strode to the stage last night in a dramatic, long black button-up coat, handled Bartok's swiftly shifting themes in the first movement with keen versatility. The second movement, as predicted, tested the delicate balance between O'Riley and the orchestra—truthfully, a strenuous challenge of musical ESP—but the seesaw only faltered a couple times during passages of whimsy, somber tones and mid-century blues lines. And the triumphant finale after the third movement brought the crowd to their feet as O'Riley determinedly yanked conductor Bruno Ferrandis off the podium to clasp hands, orchestra and pianist together sharing in the praise.
One of the nice things that Ferrandis has brought to the Santa Rosa Symphony is variety, and tonight's set included Janácek's suspense-ridden From the House of the Dead overture, played beautifully. (Incidentally, I watched Brian De Palma's Sisters last week, mostly to hear Bernard Herrmann's score, and the overture reminded me of Herrmann, famous for his work with Alfred Hitchcock.) Brooding pulses, high-pitched discord and yes—I'm not kidding—clanging steel chains, rattled in time to the music.
After the intermission, the orchestra was completely in its element for Brahms' Symphony no. 1, full of sweeping passages, nice solos (particularly the flute) and a crescendo-busting, whiz-bang ending. Just when the night couldn't have ended any better, it was announced that this very month marks the 80th anniversary of the Santa Rosa Symphony (which presented its first performance in April of 1928) and to mark the occasion there was free cake and champagne for everyone afterwards in the lobby. Right on!
– – – – – – – – – – – – – – –
P.S. Christopher O'Riley, well-known as an interpreter of Radiohead, Nick Drake, and Elliott Smith, felt pretty weird about being billed as a "hipster" pianist. But I can understand why. After all, how many classical soloists know how to play Guided by Voices' "Surgical Focus"? And how many classical soloists have this as their ringback music?:
The Black Keys – Attack & Release (Nonesuch): I'd always written off these guys as a retro act, because for years that's essentially what they were. But for this completely excellent album, they've dropped all ties to Cream and sound off with fresh sonic fabric: there's organ, flute, tambourine, piano, bass clarinet, and the whole thing has an incredibly warm, organic quality to it that their last album lacked. The songs are great, Marc Ribot and Ralph Carney are on it, Danger Mouse doesn't cheese it up too hard and the whole thing's a slam dunk. If this is the new white boy blues, sign me up.
Nick Cave – Dig, Lazarus, Dig! (Anti-): Homeboy is on a roll. I loved Abbatoir Blues, didn't care for Grinderman, but this is back on track. "Moonland" has that great brooding quality, and there's a few litanies with spoken-sung lyrics, as in "We Call Upon the Author." Not too many people can pull off the sermon thing the way Nick Cave does, and he gets downright Dylanesque on the 8-minute closing cut, "More News From Nowhere."
Boredoms – Super Roots 9 (Thrill Jockey): Other than Seadrum / House of Sun, there's been no existing recording of the Boredoms that comes close to capturing the band's mind-blowing live shows. Until now. This live set, from 2004, has the three-drummer setup with Yamatsuka Eye on electronics and—get this—a 24-piece choir. If you've been longing for more of the drum-based pounding that the Boredoms plunged headlong into at the turn of the millennium, pick this up.
Man Man – Rabbit Habits (Anti-): This will inevitably get compared to Tom Waits, but that's not fair to either Waits nor Man Man. Sure, there's circus elements, gravelly vocals, and stompy bluesy tracks ("Big Trouble"), but on the whole this is just a really quirky, creative record. Yes, the guitarist has obviously been studying his Ribot ("Easy Eats or Dirty Doctor Galapagos") and the vocalist goes into those high squeaks that Waits nails so well ("Top Drawer") but I don't think Waits fans will find a lot here to embrace. It's more of a Sleepytime Gorilla Museum thing.
Mountain Goats – Tallahassee (4AD): The victory of this day is beyond instant human comprehension, my friends. The Mountain Goats' Tallahassee, after six years, has finally been released on vinyl. Praise almighty, 4AD! This was the second greatest album released in the year 2002 and remains the best Mountain Goats album by far. One of the most mesmerizing opening songs ever—such construction, such poetry—and "No Children" will fuck you up so badly you won't know what hit you. Get this, get this, get this.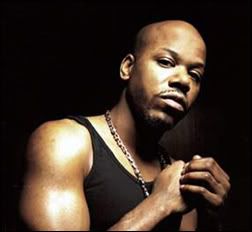 Just six years ago in 2002, a completely mixed crowd at the Phoenix Theater, much older, lost their heads and loudly sang along to every line of "Life is… Too Short." Last night, in the middle of Too Short's headlining set, the classic guitar hook came in and… nothing. Kids just stood there.
Everyone knew Too Short would have legs—he's always had determination beyond his peers—but it's a miracle how long those legs have reached. While most rappers his age (he's 41) can't get beyond their past glories, Too Short holds a rare set of reins on the here and now. The sold-out crowd went wild for new hits like "Blow the Whistle" and verses from his collaborations with Kelis ("Bossy") and T-Pain ("I'm in Love with a Stripper," amending his verse with shout-outs to Petaluma) but then stood in dumbfounded silence at Short's career-making 1987 anthem, "Freaky Tales."
Appealing to a new generation is one thing, but commanding enough concrete attention to build a Berlin Wall to the past is a hustle of another color.
The vibe at the Phoenix was hot and the whole night felt good. All eyes were on this show, and increased security and police couldn't stop people from having a great time—it'd be like trying to keep a congregation from praying in church.
The Pack, Short's protégées, commanded the stage with a solid set. Young groups with four distinct personalities always hit, and they've got the trick down: there's the backpack guy in purple and pink; the Usher-type sex symbol in sagging jeans, white tank top and shades; the basic G in a sports cap and T-shirt; and the perpetually smiling laid-back guy in dreads. Now that they're 18, they've graduated from rapping about bikes to rapping about cars. Bets currently being taken on which one has the most successful solo career (a 15-to-2 that they'll stay together as long as Souls of Mischief).
Whoever does the Pack's production has hip-hop minimalism mastered: "Vans" was deliciously razor-thin, but some of the newer songs last night used spare, fluttering basslines in a way that hasn't been touched since Z-Trip & Del's "Dynasty" 12".
Erk tha Jerk, who I went out of my way to see, had pretty unique songs but the unforgiving crowd wasn't feelin' it at all, yelled "you suck" and threw their water at him. Shame. And J-Stalin was good, with one major problem that he shared with Erk; both of them rapped over their own vocal tracks. Why do fans let performers get away with that?
I will beat this horse to a bloody pulp: rapping over your own vocal tracks is the weakest shit ever. It's not hard at all to make instrumentals, and it'll allow the opportunity to showcase your skills instead of being lazy and relying on prerecorded vocals. Anyone with me on this one?
Despite that, everything else about the show was great, and hopefully hip hop will continue to thrive around here. Kudos to the people swimming through dire straits to make it happen: D-Sharpe, DJ Amen, Noizemakers, and, as ever, Tom Gaffey and the Phoenix Theater.
Freddie Hubbard, four days shy of his 70th birthday, staggered out onto the Yoshi's stage last night with a flugelhorn and a menacing scowl. Mean and disorderly, he waved his arms to stop "Now's The Time," barking at the band. How dare they?
The guys had been killing time, waiting for Hubbard to show up long after he'd been announced. First couple silent minutes on stage had been rough. What the hell else were they supposed to do? Hubbard—pissed off, cantankerous—counted off a tune, placed his legendary lips into his mouthpiece, and leaned into the microphone for yet another painful struggle to get any kind of sound out of his horn.
A few notes here. A contorted face of disgust. A few notes there. A disappointed survey of his valves. A few notes—no, wait, just a garbled line of noise, actually.
Fuck it.
Hubbard hobbled to the back of the stage, thrusting his hand to no one in particular to start the next solo, and sat down, shooting bitter glances around the depressing scenario.
I was one of the best fucking players, he thought. Look at me now. Can't even string four notes together. This busted lip, what a goddamned farce. Make Bobby Hutcherson play a ballad—that'll spare me a few minutes, at least.
"I haven't done anything in the last five years," he muttered to the crowd, "except get operations." Limping around the stage as if to collapse at any second, he accused other members on the bandstand of having more money than him, asking about Hutcherson's yacht. "I got 300 records," he boasted. "Buy twenty of 'em and I'll stay alive."
"Hub-tones!" someone yelled. Hubbard's already-sinister frown turned vicious. "Too fast," he grumbled.
Leave the trumpet for five years, man, and it leaves you, he thought. All these fucking people, only here to say they saw me before I kick off. They don't wanna hear me play just like I don't wanna try anymore. Let's end this shit. "Red Clay."
Probably better if they can't even hear me, he thought. An idea hit.
The bassline kicked in, and Freddie Hubbard, without a doubt one of the greatest and most versatile jazz trumpeters of all time, puckered his withered lips against his horn, hunched over, and angrily mimicked the motions of a trumpet solo the only possible way he could: in absolute silence.
Near the beginning of Merle Haggard's hour-long set tonight, he turned to the crowd and inexplicably asked, "No caffeine?!"
Er. . . Huh?
"No steroids? No crank?!" What was Haggard getting at?
Then the bomb: "Maybe a little herb!"
The aroma at a Merle Haggard show is just like any other country show: a time-honored combination of stale cigars, Copenhagen, cheap perfume and Jack Daniels. But the smell of marijuana guaranteed that we weren't at no wussy-ass Dierks Bentley concert. From the guys out in the parking lot flaming up the reef, to the random whiffs in the lobby, to Haggard's new song, "Half of My Garden is for Willie," weed was the order of the night. And that suits the 70 year-old, white-haired Haggard—who still acts like a goofy little kid with a big heart—very well.
Acting out the song in adolescent, animated gestures, Haggard sang about the "tobacco, mushrooms, and cannabis" in his garden, and how half of it he'd give to Willie Nelson because "a man like that shouldn't have to grow his own." It brought the house down.
But by far the set's highlight was one of the greatest songs ever written: "If I Could Only Fly." The utmost of tenderness, the prettiest of melodies, the timelessness of the lyrics—everything about the Blaze Foley song cast a hush over the normally boisterous crowd, who shouted requests and rampantly ignored the 'No Cameras' signs throughout the bulk of the show. In the song's quiet smallness, it attracted the most undivided attention of the night.
Hit-song standbys included "Silver Wings," "The Bottle Let Me Down," "Guess I'll Just Stay Here and Drink," "Swinging Doors," "Big City," and "Workin' Man Blues," and much to the surprise of the crowd, Haggard actually performed "Fightin' Side of Me" and "Okie From Muskogee," which in recent years he's either tried to justify as spoofs or plain disowned outright.
Haggard's also good for whatever latest ballad Willie Nelson's written; the last time I saw him, in 2005, he sang "It Always Will Be," and tonight, it was "Back to Earth." The Strangers, his 10-piece backing band, played as fantastically as they always have (that drummer's bones know when the song ends), and Haggard still has a hell of a voice.
Haggard was warm and welcoming to the crowd—much more so than most country stars of his vintage. He started "I Wish Things Were Simple Again" in the wrong key, which distracted him so much that he accidentally sang "My dad was a lady. . ." He stopped the song, everyone laughed, he made a couple jokes about "jambalay, crawfish pie, and be gay-o," and then got back on track. At other times he joked about pulling up his bra, and said "I might be a transvestite!" He also spent a good deal of time criticizing the city of Redding, where in his words, "talent goes to die."
Haggard's playing Redding tomorrow night. Something tells me his talent will survive.
It's sort of counterproductive to watch a documentary about someone whose most attractive trait is mystery, and unless the film has something really, really juicy to offer, it risks revealing the man behind the curtain to be a bumbling hack.
That's not exactly the case with Robyn Hitchcock in the just-released Sundance Channel DVD Sex, Food, Death. . . and Insects, but it's close.
There are two perfect albums that Robyn Hitchcock has made: I Often Dream of Trains and Underwater Moonlight, with the Soft Boys. Buy them now. Relish in their evocative strangeness. Wonder boundlessly about the man who made them. And then don't watch this documentary.
"Princess Robyn," as he calls himself, spends much of his time on camera offering banal, universal observations about the songwriting process. He tells us that he's obsessed with death and has a lot of rage inside, which is already evident in his music but severely diminished when it's coming from the horse's mouth. Delivering pronouncements about pylon cones and trolley bass, he comes off as trying unnecessarily hard to be weird. I mean, I love the Pink Elephant Car Wash sign in Seattle, but it's certainly not worth a meandering philosophical analysis.
There's a scene where Hitchcock premieres new material at a house party with his band (basically R.E.M., plus John Paul Jones and minus Michael Stipe & Mike Mills) and he hoodwinks a visibly tired Nick Lowe into singing backups. Lowe shuffles over to the microphone, Robyn compares him to Paul McCartney, but when the music starts it's quickly apparent that Lowe does not know the song very well at all. It's off-putting. Elsewhere in the film, Gillian Welch and David Rawlings explain how they were hoodwinked into making an entire album with Hitchcock (Spooked), and we start to wonder if we aren't getting hoodwinked as well.
The main reason to watch this documentary, friends, is that Peter Buck takes every possible opportunity to demonize his experience in R.E.M. Try as he may, he can scarcely conceal his disgust with the band: "I just have to deal with such crap!" he complains. "I don't want to spend four hours a day shaking the hands of people I don't know!"
This year, Peter Buck goes on a nationwide tour with Modest Mouse and The National, traveling, as the members of R.E.M. do, in his own personal bus. When he moans about the ratio of "music to bullshit," is it okay to not feel all that sorry for the guy?
R.E.M.'s new album, Accelerate, comes out this week.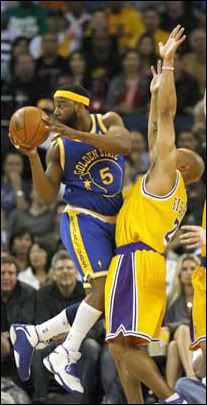 Just got back from the Warriors game. Seven separate heart attacks. Baron matching Kobe point-for-point. Behind-the-back, over-the-shoulder layups and insane hail marys. Last few minutes, the lead dribbles back and forth. Bell: tied. Overtime. Place is in a frenzy. Came down to four seconds left. Monta gets a whistle and it's bullshit. Kobe sinks two from the line and it's over. Lakers 123, Warriors 119.
After pounding for three hours, my heart wasn't even strong enough to break.
You see a game like that, you think you've seen it all. But no. I got home and caught the just-announced full lineup for the Outside Lands Festival in Golden Gate Park on August 22, 23, and 24. Have you taken a look at everyone that's playing this thing?!
I've got my own draft picks for the festival: Broken Social Scene, M. Ward, Manu Chao, Radiohead, Sharon Jones, Black Mountain, The Cool Kids, Lyrics Born, Tom Petty, Two Gallants, Nellie McKay, Primus, Steve Winwood, Beck, Little Brother, The Coup, Drive-by Truckers, Cafe Tacuba, and K'naan is where you'll find me.
Also on board for the weekend: Wilco, Ben Harper, Widespread Panic, Rodrigo y Gabriela, Regina Spektor, Jack Johnson, Devendra Banhart, Cold War Kids, Andrew Bird, Steel Pulse, ALO, Matt Nathanson, Dredg, Grace Potter, Donovan Frankenreiter, Mother Hips, Sidestepper, Goapele, Bon Iver, Ivan Neville, Sean Hayes, Felice Brothers, Rupa & the April Fishes, and Back Door Slam.
Here's the turnaround: 3-day general admission tickets are $225.50 – before service charges. I've got a feeling that single-day tickets will be available before too long.
Check the full details online here. Tickets go on sale this Sunday, March 30.
Chalk up another slam dunk for the folks at Another Planet, who in addition to booking the Independent and the Greek Theater are also forging ahead with the return of their excellent Treasure Island Festival in September.
Music fans: stoked. Warriors fans: hosed.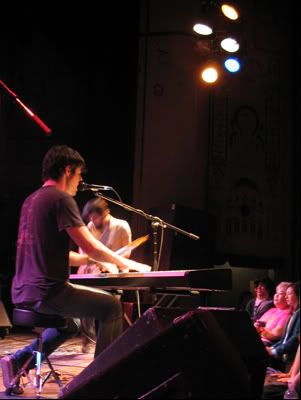 Partway through the Velvet Teen's set last night at the Phoenix, Judah Nagler started noodling on the keyboard, playing snippets of music from game shows and Nintendo games. The crowd, of course, loved it, just as everyone at the Phoenix, whether they knew it or not, loved what it represented: that the Velvet Teen is loosening up. Weathering a difficult third album, a major lineup change, and a sporadic schedule, the band's finally got their shit dialed back in, and last night's show was the best Velvet Teen show I've seen in two years.
The set started with one of a few new songs—a good sign—but it wasn't too long before they dipped into an oft-neglected back catalog, namely a brilliantly reworked "Red Like Roses" from Out Of The Fierce Parade. The opening keyboard chords, instantly recognizable, gave way to atmospheric guitar sounds from Matthew Izen that washed through the song like windblown silk. "Penecillin" sounded amazing, marking the welcome return of preset laptop tracks, and "Forlorn," having found its home at the piano again, resonated across the crowd.
Sometimes I think the Velvet Teen should just re-record Cum Laude. "333" and "Building a Whale" have evolved into the violent Casey Deitz-driven juggernauts they were always meant to be, and the delicate mannerisms in the band's expansive, slower version of "Noi Boi" bring out the song's inner beauty. All told, it's like they've settled in, kicked off their shoes, watched some Jeopardy! and played some Super Mario Bros., and learned how to breathe as a band again.
The topper on the band's excellent set was the surprise encore—"Chimera Obscurant," all 13 crashing, crazy minutes of it. For, like, the first time in forever. It's a favorite of mine for reasons too long to get into here, and the Velvet Teen drove it straight through the heart of a raptured crowd, ditching the "free speech shouldn't cost" stop and letting it just roll on and on and on and on and on and on and on. Pure bliss.
Opening bands: I missed Goodriddler, which sucks because Nick's amazing, and I watched all of Aloha and remained underwhelmed. They're like the band that has a lot of great things going for them—distorted vibes, interesting guitar phrases, an incredible drummer—but somehow they just don't add up. My friend Josh is all over 'em ("Sugar is sweet!" he remarked of the band's 2002 full-length, completely unaware of what he'd just said), which is a sign that in five years, I'll come around and slap myself on the head.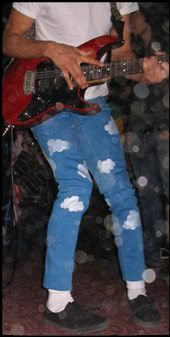 At the end of the night, people were still talking about Body or Brain, who played the lobby. Best new band right now, no contest. Upbeat, hyperjangly infectious pop, led by Jakie Lieber, a madman. Jakie plays unbelievable riffs on the electric guitar with his bare hands, no pick, and he simultaneously moves around like a clock spring that's frantically uncoiling. I hunched down near the floor and watched as he jumped, kicked, slung the guitar around his back, tap-danced, did the fucking splits, and moonwalked, all while playing the guitar and not missing a note. I met him a few weekends ago while writing an article about his hardcore band, the Grand Color Crayon, and he's also got solo recordings that sound like Doug Martsch's acoustic stuff. Is there anything the kid can't do? I mean, besides finally move out of Napa someday?
(Jakie jumps around way too fast to be photographed, and this is the best I could do. —–>)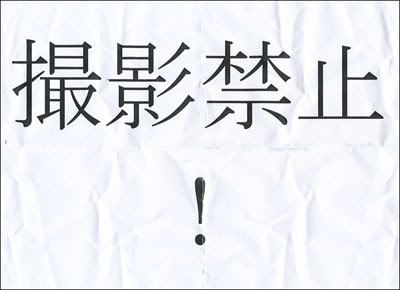 Unless you own a ticket stub from seeing God, I can guarantee that you've never seen anything like the Boredoms.
As for me, I'd witnessed neither deity when I bought my tickets to Tuesday's show at the Fillmore, but after what can only be described as one of the most inspiring and incredible performances ever given, I feel like I got a 2-for-1 deal.
First off, the band set up in the middle of the floor of the Fillmore, with towers of speakers placed in each corner of the room. Three drum sets bordered the stage, all facing each other, alongside a gigantic tower of electric guitars, sawed flat at the ends and bracketed together with their necks sticking out on either side. Racks of electronics, percussion, keyboards, and amplifiers lined the circular setup, and the Fillmore's lights landed squarely in the center of it all like a boxing ring. In other words: holy shit.
The Boredoms, one by one, entered through the crowd and climbed on stage, and all the lights went out—even the Fillmore's purple chandeliers. Boredoms ringleader Yamatsuka Eye appeared with illuminated globes on his hands, and an unholy static ravaged the speakers, like an extraterrestrial message that flitted in and out of recognizance as Eye thrashed his arms around and around. His head tilted back towards the ceiling, and he repeatedly shouted something resembling "hello," as if trying to contact life on other planes in the swarm of strange theremin-like hand noise.
Suddenly, three drummers simultaneously pounded a propulsive, hectic beat, and Eye worked an electronics board, adding more and more layers to the already thick sound. A slowly building crescendo built dramatically over the next six minutes, until Eye grabbed a five-foot staff and, with a sweeping, athletic motion, slammed it against the tower of electric guitars, striking all seven necks at once with a powerful, thundering curdle of distortion that shook the entire audience like the walls of Jericho. The drums raced on, and Eye flipped his dreadlocks around to shout more things to the sky, slamming himself upon the tower of guitars, and I'll be damned if somewhere in the middle of it all I didn't see the ceiling open up and the divine light of salvation fill the room.
This was no regular noise jam: throughout the set, a tight compositional structure was clear, despite the grand illusion of improvisational mania. Themes emerged, then disappeared, then re-emerged 20 minutes later. Yoshimi turned away from her drums and played keyboards, then sang, then turned back to her drums to participate in triple call-and-response drum fills while singing. Eye adjusted the capos placed on the guitars to create different notes, beating their strings individually in repeating patterns and hammering away at them collectively during climaxes with cymbals and vocals.
How does one react to this music? Many stared, agape and dumbfounded. Some threw their arms up and pumped their fists. Still others tried various forms of interpretive swirly-dancing, appropriately coinciding with the sounds swirling around all four corners of the room. I didn't know how to react; I was mesmerized. When it ended, over an hour later, the crowd clapped and clapped and clapped and probably didn't even want an encore—we all just needed to.
But the most amazing thing, I think, is that after a full set of Olympic gymnastics, after jumping and heaving and dancing, and after a beautiful encore that eventually came and closed the night out with appropriate serenity, Eye climbed off the stage and onto a pair of crutches, hobbling backstage. Can Eye really not walk, and could all of that energy and physical exertion really have come from a disabled man? Unbelievable.