One of the biggest influences in my listening, but one that I barely ever think about anymore, is The Bobs.
Right alongside Huey Lewis, the Pointer Sisters and Paul Carrack (yes, really), the Bobs serenaded my sisters and I on many a long family car trip on the Blaupunkt stereo—and live at the Luther Burbank Center. If you've never heard them, above is some vintage footage of "Art for Art's Sake," one of their more accessible tunes; most of their stuff, both lyrics and music, was far sillier. Imagine if Captain Beefheart and Monty Python started a band with no instruments, and titles like "Mopping, Mopping, Mopping" and "Bus Plunge."
Lead madman Gunnar Madsen was the first to leave the band, and we Melines were a depressed lot over it. I'd hear about Madsen's solo CDs from my Dad, who kept the Bobs torch aflame while the rest of us moved on, but I was about as interested in a solo CD from Gunnar Madsen as I'd have been in, say, a solo Dorothy Wiggin LP after she left the Shaggs.
So imagine my surprise when I'm reading today's NYT review of The Shaggs: Philosophy of the World, a new off-Broadway musical production about the greatest horrible group from the 1960s, and there it is, fourth paragraph: "Music by Gunnar Madsen."
It's doubtful that a major record company will release the soundtrack to the Shaggs musical anytime soon, but my imagination can vouch for its importance. My curiosity, meanwhile, can vouch for Madsen sharing the Meline ennui upon leaving the Bobs. In his official bio, he outlines the era: "Life after The Bobs was miserable. I'd grown quite used to having hundreds of fans making me feel good one out of every three nights, and I had nothing to replace it. . . Life was not empty, but it felt like it. I was depressed and couldn't find a way out. Things were dark."
Ouch! Even in the seemingly carefree world of goofy a capella, the crush of despair hovers menacingly. Anyway, Gunnar Madsen, if you've got a Google Alert on your name, know that you're not forgotten for enlivening the years 1985-1989, and glad you made it out of the dark pit. Congratulations on the Shaggs job, too—my ability to appreciate Philosophy of the World was likely planted, in one way or another, by your work with the Bobs in the first place.
Just like all those shitty mall record stores like Musicland and the Wherehouse died, leaving only awesome tiny independent record stores and horrible Best Buy behemoths; just like music videos shown on cable rotation died, leaving only YouTube and 3D megaplex screenings; and just like the middle class in America has died, leaving only the poors and the well-to-dos; so dies any middle ground when it comes to music formats. You can either have your oh-so-physical in the form of 12″x12″ LPs—which has always been my choice, petroleum and all—or you can have no physical object whatsoever in the form of an mp3.
This Monday's anticipated announcement of Apple's iCloud service goes even further: your music collection won't even take up any hard drive space. You'll have nothing except a tether to your files, floating somewhere. In 2005 terms, we call this "YouTube," where nearly every song ever recorded resides. How to spiff up this non-material concept is something I'm sure Apple will handle with trademark skill, but what interests me is that for perhaps the first time in the history of the music industry, a major corporation is going to be spending millions of dollars convincing the American public to buy nothing at all.
I saw Roach Gigz a couple months ago at the Phoenix, and yes, he lit the place up. Opening for Too Short on a night that Too Short canceled, he had to hold the stage down on his own—and didn't disappoint. (Half the people were there to see him instead of Too Short anyway, if you wanna know the truth of it.)
Roachy's playing this Sunday at Los Caballos in Santa Rosa, and there're three reasons to go. One: There's no school or work the next day. Two: It's billed as a "Stop Light Party," i.e. wear red if you're in a relationship, yellow if it's complicated, and green if you're single. Three: Los Caballos is one of the few places in town that's all-ages but still serves drinks, with the aid of a barrier and a guy checking IDs.
Los Caballos also keeps a backline for the tejano and salsa bands that usually play there, so it'll be pretty great to see Roach Gigz in front of the 'Viva Mexico' drum kit and stencils of Che Cuevara on the wall. Gigz, whose dad was a Sandinista, also has a strong Latino heritage; if you missed Rachel Dovey's excellent Bohemian profile of him and his sidekick Remedy as they shot a video in San Francisco, read it here.
Tickets for the show are at the Last Record Store in Santa Rosa, University of Sports in Rohnert Park and World of Stereo in Petaluma. Don't sleep, as they say. It's bound to be packed.
Today marks a huge day! For over three years, City Sound Inertia has had the same plain, non-dynamic design, looking like a bag of Wonder Bread and featuring—bizarrely—an image of an accordion as its de facto logo. It worked as a container, yes. But it was more like a cardboard box than a Cadillac.
Behold, the new look. Beyond being much easier on the eyes, longtime readers will notice increased functionality, better formatting and an overall more readable experience, especially on their mobile devices. No more Wonder Bread, either.
I, for one, am thrilled with the long-overdue makeover, and have to tip my hat to Chris Ellis, Kara Brown, Ivan Bonilla Cortes, Kyu Kyung and Dan Pulcrano for making it happen. Feel free to let me know what you think in the comments.
In the meantime, have you heard the tremendous pianist Hauschka? If not, what are you waiting for?
She's the voice of a thousand dentist's offices, the definition of "adult contemporary" and possibly the furthest thing from jazz that's ever headlined the Sonoma Jazz+ Festival.
Nevertheless, Sheryl Crow, toting a new soul-tinged album, 100 Miles From Memphis, could easily have been poised last night to win over a new crowd. She hired the tremendous guitarist Doyle Bramhall II for her touring band. In interviews, she spoke of influences like Curtis Mayfield, the Allman Brothers, Stevie Wonder and Aretha Franklin. Her show was even sponsored not by the local adult contemporary station 100.1-FM KZST, who have played Crow's innocuous hit songs every day for ten years, but by the Americana station 95.9-FM KRSH.
But Sheryl Crow is no Aretha. In a set frontloaded with material from 100 Miles From Memphis, Crow demonstrated last night that no matter what accoutrements an ungifted artist dons, the essence remains flat. She struggled to imbue her vocals with soul and wavered on poorly executed harmonies, even on standbys like "Every Day Is a Winding Road." She played a variety of instruments, from a vintage Wurlitzer organ to an accordion to guitar, but her watered-down material dictated that her immensely talented band play at one-tenth of their ability.
It was enough to suggest to even the open-minded that the singer, who gave away free Tom's toothpaste samples at the festival gate and hawked her cookbook at the merch stand, isn't so much an artist as a brand; a lifestyle choice of the culturally trepidatious; a meeting area where nothing happens. "Sweet Rosalyn," a song Crow said was inspired by a strip club in New Orleans, was free of sweat, gyration or danger. A political song, "Redemption Day"—introduced with some combination of the words "Bosnia," "Rwanda" and "Hilary Clinton"—came off as obligatory at best.
Crow's banter was playful ("Thank God the world didn't end today," Crow said, acknowledging the supposed May 21 Rapture, "I'm so happy, I had a few things planned") and her fanbase stayed seated and largely calm until the block of hits at the end. That's when drunken air-guitaring and booty-shaking ensued in a celebration of Bermuda shirts, cosmetic surgery and arrhythmic dancing to guaranteed pleasers "Steve McQueen," "If It Makes You Happy," "Every Day Is A Winding Road," "Soak Up the Sun" and "All I Wanna Do."
The set closed with a barn-burning "I Shall Believe," which allowed the band to finally unlock its potential, but it didn't cleanse the off taste of the night. It's one thing to book a non-jazz artist at a jazz festival, but it's another thing to book an affront to the creative process. "We had a great day here. We want to move here," Crow said at one point, unconvincingly. "We want to only play jazz festivals from now on."
If that were truly the case—if she really wanted to immerse herself in jazz—then Sheryl Crow would have a mountain of research and miles of catching up to do. Instead, she's touring this summer with Kid Rock. Enough said.
Judah Nagler tends to spread himself out. Most of you know him from the Velvet Teen—and more recently, Odd Bird, and perhaps most inconspicuously, from his electronic project Atair. Did he really need to join another band? On drums, no less?
"Majid," by Five Beats One, offers a resounding yes to the question. It wouldn't be fair to call Five Beats One "Judah's band," though. The new band's lineup also comprises Darwin Meiners, Derek Doss, and Mark Benanti, all well-known names in the area music scene from bands like Brothers Horse, Secret Courtesy—and, in the case of Benanti, a self-published book on classical guitar technique. What does it all sound like? Hear the clip below.
Five Beats One release an EP soon on Saint Rose Records, which has been kicking ass lately. And if you missed the Velvet Teen's video for "No Star," see it here.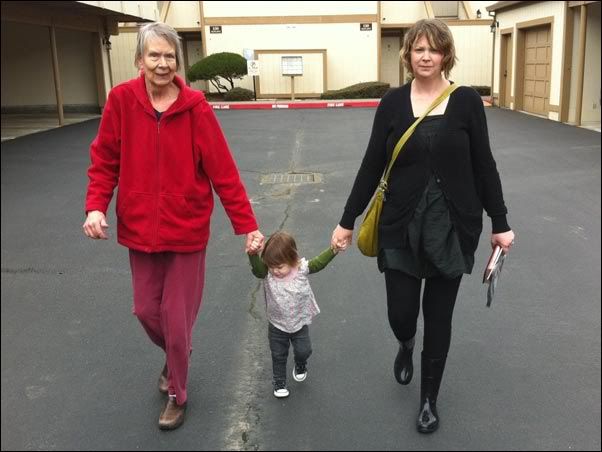 Yes, it's been a while, hasn't it? I feel like I should explain.
A month and a half ago, my wife's mother collapsed at work. Later, at the hospital, they found multiple tumors—inoperable. She stayed in her hospital room for a few more days, and then she went home, where it was our job to stay with her full-time to make her as comfortable as possible while the cancer took its toll.
I cleared almost everything off my slate, including this blog, in order to take care of things. Now that she's gone, I'm very, very glad I spent my evenings holding her hand and listening to Iris DeMent's Infamous Angel with her instead of sitting in my boxers and blogging about festival lineups. Five years ago, when my own mom died suddenly, I didn't get that chance. So with Susan, I cherished sitting on the bed and eating chocolate shakes with her; listening to tapes she liked, like the O Brother Where Art Thou? soundtrack; letting her granddaughter kiss her hands and play with her necklaces; running my hands through her thinning hair; reminding her to drink water; and at least once a day or so, reminding her how wonderful she was.
She died yesterday. I drove there to say goodbye, and then the people from the mortuary came and took her away. We spent the rest of the day handling some things, and then walking around downtown, and then talking and talking and talking and talking. Susan Seward—riding high in April, shot down in May—raised four kids, lived on The Farm in Tennessee, worked at the Petaluma Library for 25 years and didn't deserve any of this.
I'll be back in business here, and playing catch-up. Thanks for waiting.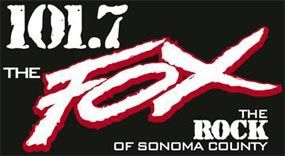 In a surprising twist that has just about everybody scratching their heads, longtime hard-rock radio station 101.7 FM The Fox has officially been pulled off the air.
According to a source close to the station, employees of the Fox found out about the change in a meeting at 11am today. Immediately afterward, the station went off the air at noon.
The replacement station, "Hot 101.7, Sonoma County's Hit Music Station," is currently playing Top 40 hits (as I type this, it's Ke$ha's "Tik Tok"). If listeners notice any resemblance to another local Top 40 station, it's no coincidence. Maverick Media, the Fox's parent company, recently conducted an audit through a third-party surveying company and found that among those polled, Top 40 is more appealing in this region than hard rock.
Said another source: "They hired this company that finds out what music works, and what music isn't working, and they felt like in order to keep a competitive edge in the market, they needed to strong-arm the only station that didn't have any competition."
That station, Y 100.9, airs on a weaker signal in Sonoma County, and the Maverick Media executives at the meeting seemed confident that Hot 101.7 will be able to overpower the smaller station "out of business," the source said. (Y 100.9 is owned by Sinclair Communications, which also owns 95.9 the KRSH and 96.7 BOB-FM.)
Hot 101.7's new site declares: "We asked Sonoma County what they wanted from their favorite radio station. You told us you wanted a HOT station that played hit music with LOTS of music." (As I type now, it's the Black Eyed Peas, "Just Can't Get Enough.")
Public response so far has been predictably negative, with the new station's Facebook page filled with "fans" who are making their voice clear: "What the HELL!!!!" writes a typical fan. "No more freaking pop stations!!! I want the old FOX back. Gimme my rock back. I am beyond sick to my stomach. UGH!!!!!!" Elsewhere on the station's Facebook page, fans complain about having their posts removed by the administrator.
A page for "Fight Hot 101.7" has cropped up just today, along with an even bigger page called "Bring Back the Fox," and a public protest is planned for Friday, March 25, at 4pm.
Without a doubt, this marks the end of an era for Sonoma County radio. For over 20 years, the Fox has been a Sonoma County standby, serving up classic hard rock like AC/DC and Metallica to more recent music from System of a Down, Disturbed and Velvet Revolver. About a month ago, longtime program director Scott Less left 101.7 the Fox for the Pacific Northwest, but apparently, even prior to Less' departure, a "skeleton crew" had been running things with barely any financial support from Maverick Media.
Based in Connecticut, Maverick Media are the same people who thought it would be a good idea to fire Steve Jaxon, one of the greatest DJs in Sonoma County, and who aren't available for comment (their website has been perpetually "under construction" for well over a year). Located over 3,000 miles from the station's Fox Plaza, they've seemed perpetually out of touch with what Sonoma County actually wants, and have now killed the station that gave the building its name. (Right now, they're playing Britney Spears, "Womanizer.")
The employees of the Fox have been told that they'll be able to keep their jobs, but in what capacity exactly is unclear. Currently, Hot 101.7 is broadcasting with no human DJs at all, playing canned tracks on a piped-in feed from corporate headquarters. Sad.
By now, chances are you're one of the 100,000 people who today have ratcheted up a ton of views on the completely Bonkersville video for Rebecca Black, "Friday." Where to begin? The way Autotune makes her pronounce the word "Fraah EE Daayee"? The existential question of which car seat to take? The segment in the bridge where it is very explicitly explained exactly where in the rotation of days of the week Friday falls?
See for yourself:
So yes, you are blown away. My friend Trevor puts it best: "It's like everyone involved was given cat tranquilizers and then forced at gunpoint to make a video. The expression on her face when she's saying the "fun fun fun fun" line is somewhere between 'I'm saying "fun" but that word means something different on our world' and 'Help me I am being held hostage by Kim Jong Il and forced to do this.'"
Who the hell made this video?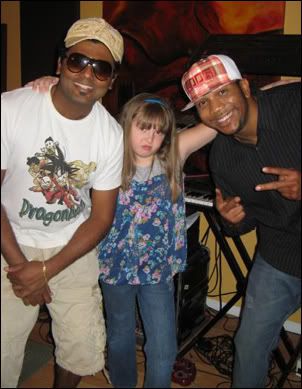 The answer is Ark Music Factory, a Los Angeles-based company operating as an industry hybrid of Maurice Starr and John Bennett Ramsey. Their casting calls are perfect bait for starry-eyed parents: "If you are a great singer without any material and you want to get discovered," one reads, "then Ark Music Factory is looking for you." [It's now been removed; screen grab here.]
The formula is simple: They'll fly your child between the specified ages of 13-17 to Los Angeles, write her a "hit," record it in super-compressed Autotuned production, shoot an edge detection-overlay video and BAM! Maybe your kid can notch up a couple thousand YouTube views while you watch your dreams of being a pop-star parent percolate.
Ark Music Factory was launched last month by Patrice Wilson and Clarence Jey—pictured here with one of their pop stars-in-training, J'Rose. Clarence Jey has a MySpace with songs like "Nasty Boi" and "Party Like the Rich Kids." The biggest name he's worked with so far is Richie Kotzen, a guitar player from the 1980s hair-glam band Poison. He's made a "chillax album," and apparently has studied his Giorgio Moroder. He's worked with girls as young as nine years old.
In fact, young girls seem to be Jey and Wilson's preference, looking at Ark Music Factory's roster. Here's CJ Fam, a girl who usually sings at Ronald McDonald fundraisers and County Fairs, starring in "Five Days With Ark Music Factory." It's supposed be a commercial for Clarence Jey and Patrice Wilson's company, but it just looks plain depressing, creepy and horrible:
Ark Music Factory obviously has put a lot of effort into promoting a girl from Madison named Kaya Rosenthal, whose "Can't Get You Out of My Mind" video was heavily promoted but has already been surpassed in views by Rebecca Black's "Friday" video since I started typing this post:
Kaya at least understands the music video game—she took part in this spoof of music videos—but most of Ark's clients appear oblivious to the realities of the music industry. In the comments of another video filmed by Ark Music Factory's in-house producers, Sarah Maugaotega's friends ask questions like "howd you make this !?" and "amazing howd you do it?" Sarah's probably the most natural-sounding and looking singer on Ark's roster, and her official YouTube channel has only seven subscribers. Nevertheless, this video got made:
The Ark Music Factory video team of Chris Lowe and Ian Hotchkins has some pretty standard teenage boy-girl ideas revolving around breakups, like this video by Ashley Rose, or this dippy, semi-charming video by Britt Rutter…
…both of which trade pretty heavily in teenage tropes like texting and video chat. Then there's the truly unexplainable videos, like "Crazy" by Darla Beaux, which shows the teenage singer in a straitjacket on a survelliance camera, interspersed with hipstamatic shots. Most of the others are just as formless in concept.
You've got to wonder: What if all these Ark Music Factory girls hung out together, for one night? What would happen? Would the space-time continuum rupture? Behold, the Ark Music Factory launch party, which has to be seen to be believed:
Now look—I'm not going to say that Jey or Wilson are pedophiles, like a lot of internet commenters are doing. That's a really rash conclusion to reach with no evidence, especially when we all know that the music industry thrives on young girls. They're just doing what every shuckster in L.A. is doing, with the knowledge that short shorts on skinny legs will never go out of style.
But I will point out that their company obviously needs a lot of money to rent Rolls-Royces; pay studio time; shoot videos and rent venues and musicians and soundmen for launch parties. That money ain't coming from record sales or publishing royalties. It's coming pretty obviously from rich parents, buying a chunk of the L.A. myth a few days at a time so their kids can brag about it at school and continue to inflate their own vanity.
Is it sad? That depends on your point of view. Is it hilarious that "Friday," Ark Music Factory's biggest hit, has gotten famous for being mercilessly made fun of on the internet? You bet it is.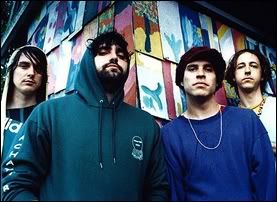 A major coup for the Phoenix Theater: Animal Collective, the experimental-indie Brooklyn ensemble whose crossover hit Merriweather Post Pavilion topped critics' lists and was named Album of the Year by Spin, Pitchfork and Entertainment Weekly, will be headlining the Petaluma venue on Sunday, April 10. On a brief California jaunt before playing Coachella, the band is sure to sell out the venue immediately when tickets go on sale Thursday, March 10, at 4pm. Hit up the Phoenix Theater site for browser-refreshing action.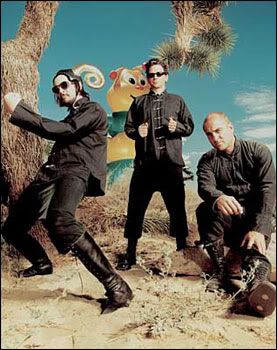 Say it together: Primus sucks! And yes, they're playing at this year's Harmony Festival. Having last played Sonoma County at the Phoenix in 2003, the band is sure to thrill patient fans as a just-announced headliner. Along with the previously announced Flaming Lips, Edward Sharpe and the Magnetic Zeroes, and Grace Potter and the Nocturnals, new additions to the lineup for the June fest include G. Love and Special Sauce, Natcha Atlas, Ghostland Observatory, Roots Underground, erstwhile festival staples Michael Franti and Spearhead and many more. Tickets and full details are at www.harmonyfestival.com.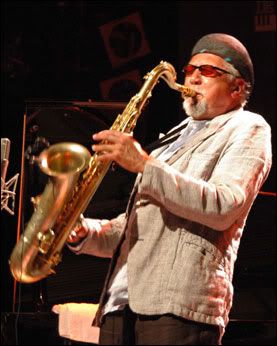 The Healdsburg Jazz Festival, bouncing back from its near-death at the hands of a now-resigned-in-shame board, boasts a roaring lineup of jazz greats this June: Charles Lloyd with Zakir Hussain and Eric Harland, Charlie Haden, Bobby Hutcherson, Bennie Maupin, James Newton, Fred Hersch with Julian Lage, Arturo Sandoval, George Cables, Pete Escovedo, John Santos, Ray Drummond and many others. See www.healdsburgjazzfestival.org.
Other quick mentions of upcoming note: The Kate Wolf Festival brings back Taj Mahal, Los Lobos, Mavis Staples, Bruce Cockburn and the Nitty Gritty Dirt Band in June. The Uptown Theatre in Napa has Gretchen Wilson (March 20), the Psychedelic Furs (May 5) and a strong comedy lineup with Lisa Lampanelli (April 1), Bob Saget (May 6) and Joan Rivers (Aug. 26; tix on sale March 10).