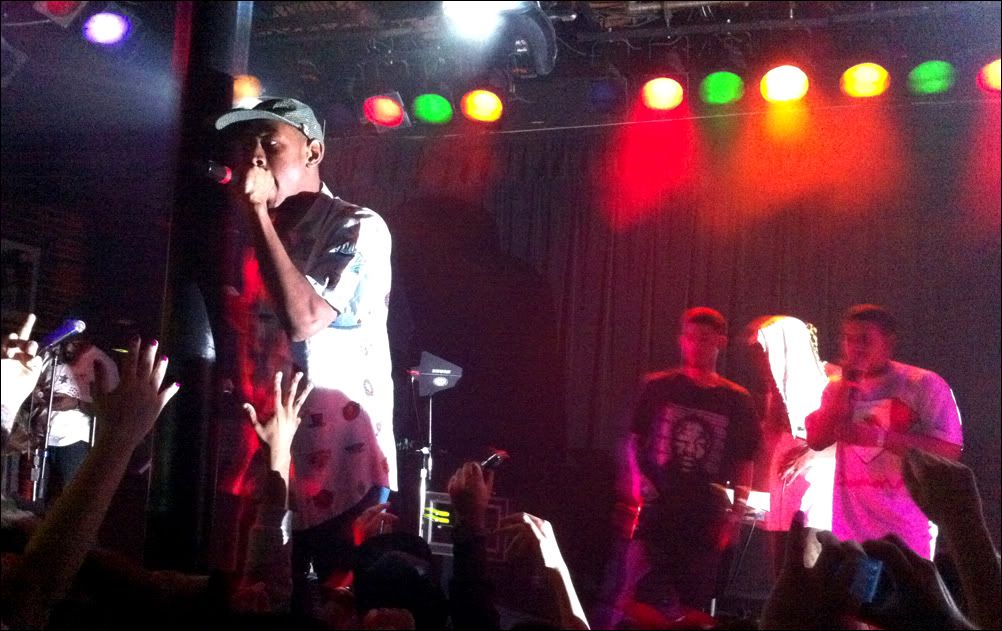 1. Odd Future Wolf Gang Kill Them All are the most punk rock thing in the world right now. Tonight: Constantly stagediving into the crowd. Taunting the audience and berating the soundman. Encouraging the crowd to start mosh pits, even when the music isn't playing. Middle fingers everywhere. Giving their music away for free, riding skateboards, making their own beats and videos, doing drugs, scaring middle-aged people and not giving a fuck.
2. The show was guaranteed to be crazy, but the fray of human bodies was beyond full effect. Up in front, nobody stood per se as much as swarmed around as one. Falling on each other, arms twisted together, constantly fighting the push and pull from all sides. (Still passing around blunts, amazingly.) This is where I spent the set. I lost 5 pounds, easily.
3. Wearing ski masks with upside-down crucifixes Sharpied on the forehead is a good way to cement your status as the most terrifying thing in hip-hop. Being young helps, because then nobody's sure whether to take you seriously or not. Do OFWGKTA really want to rape and kill people? a) It doesn't matter. b) No one knows for certain when you're under 20.
4. Tyler the Creator and Hodgy Beats are the obvious stars here. Charisma for days. The feeling prevailing: Tyler's solo album Goblin will come out, he'll tour with some of the guys from OFWGKTA but steal the show, and it'll only be a matter of time before he steps out on his own. Hodgy'll go with him, and maybe Syd and Left Brain. The rest of the guys will all be Inspectah Decks.
5. The mystique of Earl Sweatshirt and his unknown whereabouts are OFWGKTA's "Jack and Meg are brother and sister."
6. "I've never seen so many people thrown out of a show," said Jerry, who stood near the door at Slim's the whole time, "and I saw at least six fights. It was crazy."
7. Swag | Free Earl | Swag | Fuck Steve Harvey | Swag | Golf Wang | Swag | Wolf Gang | Swag  — Odd Future's fans know a good chantphrase. And kudos to the people who made face masks of the girl who was staggering in the background during their performance on Fallon. At one point Tyler got decked in the head by Left Brain and doubled over, holding his guts, taking it to Twitter: "Just Threw Up During Show."
8. Did I mention that being in the front meant fighting for your life? I looked up too late, and lo and behold, a 200-lb. stagediver landed directly on my face. Ouch. Glasses, gone. I dove to the floor. Thank you to the guy who found them. It's a miracle they're fine. No bloody nose either.
9. "About halfway through, I had a hard time getting with it," said Ben, afterwards, "The moral thing kicked in." I knew what he meant. "But," I clarified, "it wasn't a moral thing for me so much as it was a stupidity thing. I mean, 'This is a brand-new song, it's called "Bitch Suck Dick"?' Come on, man. You're an incredibly creative artist, poised to take over the world. Don't do that."
OFWGKTA are talented, and smart, and clever, and thought-out, even when they're rapping about dumb subjects—their wordplay is incredible. When Tyler delivered "Seven" tonight acapella, the crowd chanting all the words loudly was a beautiful thing. Why? Because it means people are paying attention to language. When he started "Bastard," all throats screamed. Why? Because it's an amazing piece of honesty. The set included a brief Earl Sweatshirt homage, via "Earl," another nonstop singalong, and "Yonkers" and "Sandwitches" were transcendental. (Mike G didn't fare as well—"Everything That's Yours" deserves a proper delivery without dropped lines, and his attempt to debut some new solo songs after Tyler had said "Thank you San Francisco, good night" and the gang started leaving the stage was awkward.)
Anyway, there's shit-tons of energy going on here, and an explosion of ideas scattershot in every direction, and it's an incredible thing to be part of in a live show, swarmed by other electrified bodies. Lots of talk about OFWGKTA will revolve around their attitude (e.g. tonight: "Oh, did I punch you in the face? Swag." "All you people in the back can suck my fuckin' dick." "I don't want no fuckin' Chuck Taylors, I wear fuckin' Vans, now gimme my shoe back"). But there's a reason for the unbridled frenzy around the group, and it's their music. If it sucked, no one would care about them at all.
10. Every time I saw a girl in the crowd I wished I had trophies to hand out for surviving this insane experience.
When I think of Godspeed You Black Emperor, I think of that old saying: "Jesus, please save us from your followers." There's simply far too many copycat bands in GYBE's wake. I won't name names, but you know the ones. "Cinematic, apocalyptic instrumental indie-chamber-rock." All borne from what Godspeed pioneered, and all owing a great debt to the Montreal collective.
Case in point: We got to the show, and the opening band sounded exactly like Godspeed You Black Emperor, only a little more drenched in distortion. My friend sent me a mocking text: "Sic'est Godspeed cover band EVER!" I invoked Lil' Wayne lyrics back to dis them. So not wanting to saturate our ears with mimicry before the real thing, we left and got some pizza down the block. We talked about all the bands in the last ten years who copy GYBE, and the mystique of GYBE and how it contributes to their impact—neither of us had ever seen pictures of the band, or watched videos online. And how weird it was that they'd pick a band that sounded exactly like them as an opener.
We came back and the opening band was still playing. But they sounded better. They sounded really tight, and really pro. They actually sounded a lot like Godspeed You Black Emperor. My friend looked up some pictures of the opening band on his phone. They didn't look like the people on stage at all.
And then it hit us.
The band on stage was Godspeed You Black Emperor all along.
We. Felt. So. Stupid. Admittedly, this is an embarrassing story to tell. But it perfectly underscores just how far-reaching the band's influence is, that we—fans of the band!—would mistake them for one of their many wannabes; or how much of a struggle it must be for Godspeed, when premiering new material, to not sound like a caricature of themselves. We'd never seen pictures of them. How could we know?
Luckily, we only missed a couple songs on our pizza jaunt, and the rest of the two-hour set was incredible.
It was very, very quiet between songs. So much that we could hear the film projector loud and clear, whirring along in the balcony. And the film projections themselves: Train tracks. Stock tickers. Bulbous illustrations. Burning buildings. Signs reading "The End is at Hand" and "Preemptive War is Terrorism." These things make me feel better in believing in Godspeed's music, much like the diagram on Yanqui U.X.O. outlining connections between corporations, record companies and the military-industrial complex. At the merch table, they sold anarchist literature. They also sold shirts that didn't have "Godspeed You Black Emperor" printed on them at all, but rather a series of phrases, including "God's Pee." A sense of humor, these ones.
They ended the set with an unreal version of "Blaise Bailey Finnegan III," from Slow Riot for a Zero Canada, which concerns a man in court, arguing about a speeding ticket. Ironically, while driving home, my mind abuzz from the excitement of finally seeing Godspeed You Black Emperor after missing them 10 years ago, and still confused from mistaking them for an opening band, my foot got a little heavy. The red lights appeared in my rear view mirror at about 1am. I looked at my speedometer—80mph. Whoops. No talking my way out of that one.
Anyone who watched the Grammys on Sunday night has probably been thinking about fame all week: both the instant fame of people like Justin Beiber, and the slow rise to fame of bands like Arcade Fire. And between the chatter about Mumford & Sons; and "The Song Otherwise Known as 'Forget You'"; and that idiotic egg and even more idiotic song of Lady Gaga's, there were two glimmers of what cynical viewers referred to repeatedly around the water cooler the next day  as "hope." Namely, the Grammys awarded to Esperanza Spalding, for Best New Artist, and Arcade Fire, for Album of the Year.
Whether or not Esperanza Spalding's win over Beiber will signal a true shift away from pop stardom and toward artistry is dubious. But the funny thing about it is what's usually pretty funny about the Best New Artist category: Esperanza Spalding is nothing new. Nor is she unknown, much as the legions of betrayed Beiber fans want to believe. Spalding's 2008 album was distributed through Starbucks, and as such was sold, promoted and piped into every outlet of the most ubiquitous worldwide chain since McDonald's. Locals know her from playing sold-out shows at the Healdsburg Jazz Festival for the last two years, but she's also been a huge-selling jazz artist worldwide. Lately, she's sometimes made statements implying a predilection towards playing commercial pop, and chances are this Grammy win will render her next album very, very palatable. But the bottom line: Best New Artist. Spalding fits the description. Beiber? Not a chance.
The Arcade Fire win is a different matter. Within hours of their win, a Tumblr called "Who Is Arcade Fire" popped up, which offers really hilarious catharsis for those who have loved the band since 2004 and who have hated the Grammys for longer. The indignation on display, the utter frustration, the permeating theme that "Nobody Has Ever Heard Of Them": it's good for a laugh. The truth, of course, is that Arcade Fire has been destined for worldwide recognition since Pitchfork's 9.7 review of Funeral in 2004. At that point, Pitchfork had already replaced Rolling Stone or Spin or any other outlet as the go-to for prescient reviews and relevant music news, so the writing was on the wall. Record stores were sold out of the album for three weeks straight.
(For the true nerd, there's a great little bit by Christgau here about that historic Pitchfork review of Funeral, and the writer who penned it, David Moore. Moore is now into teen bubblegum pop and loves Ashlee Simpson.)
It's too bad that The Suburbs is the band's worst album, but that's how these awards things work. What it means is a whole new generation of music-loving kids are going to be feeling really, really confused, and possibly feel like Arcade Fire are no longer "their" band. I've seen Arcade Fire twice since 2005, and one of my favorite things to read in the aftermath this week has been Carles' take on it at Hipster Runoff, which is trying to be funny but evinces constant traces of real emotional uprising over their new mainstream status. This band meant something to me, he says, dammit, and now this. What now?
All diehard music fans have this moment. Mine came when Green Day signed. I learned swiftly that you can't own a band—that, in fact, it's best if the band belongs to the world, messy and superficial and under corporate domination though the world may be. Even though Green Day was no longer on an independent label like Arcade Fire (and yes, their Grammy win is as big a deal for independent labels as everyone is making it out to be), the underground scene that nurtured Green Day still felt a huge sense of ownership in the band. That was a wrong move, or at least a losing one.
Last week I hung out with Mike Dirnt on Steve Jaxon's show on KSRO. He was up in Santa Rosa do to some interviews for his "other" band, the Frustrators, who play the Phoenix tomorrow. As pointed out in my music column in this week's Bohemian, the last time Dirnt played the Phoenix with Green Day, right after signing to Warner Bros., there was a group of protesters out front calling themselves the "punk police."
I wasn't one of them. Instead, I was hanging around behind the theater with Billie Joe, playing one of Green Day's new songs I'd taped from the Gilman soundboard back to him on a borrowed guitar. Except I'd written new lyrics for the entire song: "I'm not bein' punk / I'm just sellin' out," I sang to him, to the tune of "Burnout." He winced. And laughed, sorta, when I finished the song. I was only trying to exaggerate and thus mock the ire of the "punk police"—and later that night, while playing "Burnout" at the Phoenix, he got to the chorus and sang the same lines, about not bein' punk and just sellin' out. I knew he still had a sense of humor.
But just like Carles with the Arcade Fire, just like teenagers before him with Death Cab For Cutie, just like a million teenagers and their beloved bands that get huge, one can't help but get emotional. Aaron Cometbus has produced by far one of the best pieces of rock writing ever with his latest issue of Cometbus, which is a journal of his adventures while touring China with Green Day last year. But moreso, it's a trip through the complicated feelings one endures while watching something once pure and special and intimate sell thousands of $30 T-shirts in one night to even more thousands of kids in Singapore. There's laughter, tears, kisses, and an overall sense of reunion—not just between people, but between long-conflicted emotions brought on by the ascension to fame.
As for me, the funny thing is that after letting Green Day go and accepting that they belong to the big wide world all those years ago, hanging out with Mike last week was a reminder that they hadn't let me go. Mike instantly remembered playing a show I booked for them at Piner High School, and driving around Santa Rosa with me in their van after playing another ridiculous lunchtime show I'd booked at Santa Rosa High School, and the old bands I'd played in, and just about every show they played up here in Santa Rosa. It's doubtful he remembers much from his third-to-last show on their latest tour of Japan, but there's something about the early days—of a band, of a relationship, of life itself—that sticks with each and every one of us. I was surprised at first he remembered those times so well, but then again I wasn't surprised at all: I remember the first few shows I played like they were yesterday.
It might just all come down to the old adage that when you're least looking for something, it falls in your lap. Esperanza Spalding, Arcade Fire and Green Day weren't ever looking primarily to be famous, but they were great, and it happened. Meanwhile, Lady Gaga's obsessed with fame on every level, and might be destined to see her influence on other artists (Minaj, Cee-Lo, etc.) outlive her own artistic relevance. I mean come on. That horrible song? That useless tangent on the organ? "Don't be a drag, just be a queen"?! Really?
Get out those giant inflatable space balls and nun puppets covered in blood—the Flaming Lips have been confirmed as headliners at this year's Harmony Festival in Santa Rosa! Running June 10–12, 2011 in Santa Rosa, the festival lineup also includes Edward Sharpe and the Magnetic Zeroes, whose hit "Home" shows no sign of fading; Grace Potter and the Nocturnals, fresh from a rare small show at the Hopmonk Tavern earlier this week; Kirtan yoga darling Krishna Das; Maui's Lost at Last and Americana heroes Railroad Earth. More artists are to be announced in the coming weeks, and "sneak peek" tickets are on sale now at www.harmonyfestival.com.
In more festival news, the Sonoma Jazz+ Festival has announced its headliners—who, as many are quick to point out, would never be filed in the "jazz" section of any record store or iTunes playlist. Still, a sold-out crowd is expected for Sheryl Crow (May 21), John Fogerty (May 20) and the Gipsy Kings (May 22), all under the big tent. Opening acts and side-stage artists, traditionally more representative of jazz, will be announced soon. As is the fest's custom, tickets for Sonoma residents go on sale one day early, Feb. 14, while tourists have to wait until Feb. 15 at www.sonomajazz.org.

Talking about Das Racist on the internet is kind of like yelling about the Ramones in the Bowery—you're on their turf. So there's no use in dissecting what they "mean," or why the Brooklyn trio's mixtapes Shut Up, Dude and Sit Down, Man have struck such a chord, or why they're tired of hearing the hip-hop is dead. But here's what a Das Racist show is like.
A small cluster of diehards stand front and center, hands up and in action, rest of sold-out crowd there to observe. I stand behind a guy with an actual backpack. He doesn't dance. The group, alternately in flannel, ballcap and Panda Bear T-shirt, makes more fun of hip-hop tropes than anyone I've seen in a while. They cajole their fans to wave their arms in the air to "Hip Hop Hooray" and then openly mock them for it. They act like babies. I mean literally, babies, like crying and shit. They prance around the stage to Kate Bush. They jump into each other's arms. They tell the crowd to turn around and leave. They play air-guitar with the microphones. They sing Usher's "You Make Me Wanna." They have a "fake encore" where they stand to the side of the stage for a little bit before coming "back out." They say hi to their parents, and to Alameda. They play all their songs off a laptop. And they end their set to the P.A. blasting Tina Turner singing "Simply the Best."
There's a bottle of Stoli sitting on a table through the whole show, and as soon as the group turns their backs to leave, an audience member rushes the stage, grabs the bottle and pounds it as fast as he can. Go, Stoli guy! He's tackled, though, and gets his ass thrown out by security, or rather, he runs out before he could get officially bounced. The lights go up. It's the strangest hip-hop show I've seen in a while, and a big part of that is because it's over far too early, at 11. But it's also funny, and very smart, and cleverly subversive, and I get the impression that Das Racist is more concerned with making waves than riding them, and that's okay with me. See them if you can, or download the mixtape everyone's talking about.
Many of you are familiar with the Hubbub Club Marching Band, the renegade troupe that marches through the streets playing everything from Herbie Hancock to traditional Hungarian folk melodies. They've been a splash at the Handcar Regatta, and are a perfect example of why Santa Rosa's new street performer ordinance is a good idea. They may not have the approval of David Byrne like the Extra Action Marching Band, or the novelty clout of the March Fourth Marching Band, but they're ours and we love them.
I should let you know that the Hubbub Club gang are trying to raise funds to go to this thing in Austin called Honk TX, which is a Lone Star replica of similar events in Seattle and Boston—basically, a soiree of community street bands from around the country raising hijinks in the street. Their benefit is scheduled for Feb. 13 at Aubergine in Sebastopol, with the Easy Leaves and DJ Broken Record warming up for the brass, drums and xylophones of the Hubbub Club.
But what's really fascinated me lately is that Jesse Olsen, founder of the Hubbub Club Marching Band, rather quietly released this record called Flightpatterns that was recorded in a giant two-million gallon cistern in Washington state. I bought it off him a month or so ago and each time I listen to it, I like it more. It's essentially a high-concept sound experiment—there are no "songs," just sparse melodies played on invented instruments, found objects and what sounds like a trombone. Why it works so well is that the Dan Harpole Cistern (read about it here) has an incredible, natural 45-second reverb. (To put that in perspective, Grace Cathedral has a 7-second reverb.) You can listen to a segment of the recording in the video below.
So what gets me is this: Olsen starts a band that marches wildly out in the streets, causing a ruckus and grabbing people's attention, and then goes into a quiet space and records an album of meditative sonic reverence. If music is a language, Olsen is speaking it well.
"I have a really important announcement to make," said Jeff Bundschu, standing on a stage in his family winery's 70-year-old barn. "This night is all about love. So turn to that person next to you, that stranger you don't know, and give them a big hug."
The announcement might have been redundant, since every minute of the Ra Ra Riot show last night at Gundlach-Bundschu Winery had already been special, but sure enough, hundreds of hugs ensued. From driving up the long driveway under a clear starry sky and parking next to the vineyards, to the last song of the night, with singer Wes Miles jumping off the stage and giving double high-fives to everyone in the crowd, there was something overseeing this night; some mystic force that propels shows into a category of impossible-to-forget.
First off, the barn. Gundlach-Bundschu has been booking indie acts in their outdoor amphitheater for the last few years, from Jonathan Rice and Maria Taylor to Vetiver and Deertick, but this was the first time they've used the barn. Its ceiling is slate wood. Its walls are covered with old lanterns, ladders, pump equipment, pallets, bags of Epsom Salt and barrels. Insane! Here's what it looked like directly behind the makeshift soundboard, for example: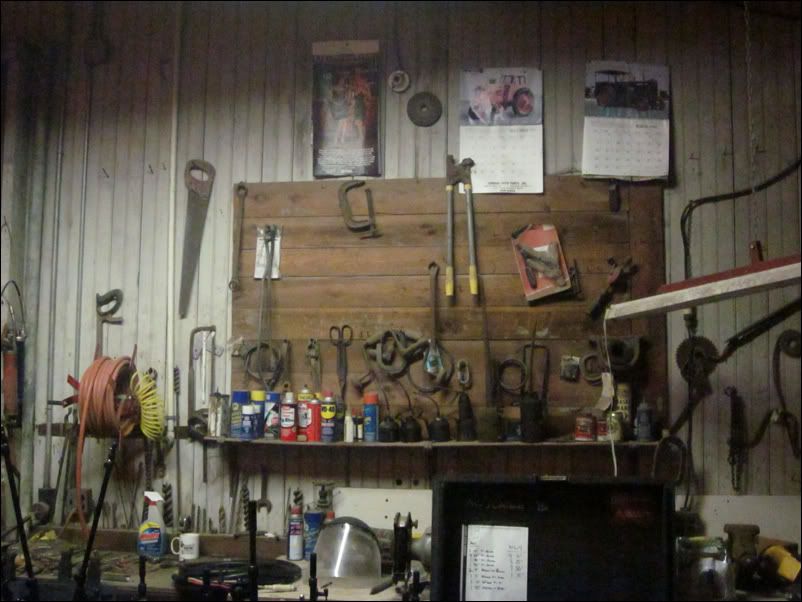 Secondly, the tour. Ra Ra Riot sold out the Great American Music Hall just prior to last night's show, and when I first heard about the show coming to Sonoma County, it was slated for the Mystic Theatre. I don't know why it moved to Gun-Bun, but to snag a hot-ticket lineup at such a remote location is undoubtedly cool. The bands repeatedly remarked how nice it was to play here instead of another nightclub, and how could you blame them?
Ra Ra Riot played a fine set of pleasant material—that's about as best as I can say. I've got numerous friends super into them, and they're indisputably talented and well-oiled, but they also distill every stylistic touch of indie rock from the last four years and whip it together in a smooth, palatable cocktail. The Ivy-League touches of Vampire Weekend, the strings of Arcade Fire, the semi-African sounding guitar of Dirty Projectors—it's all in there, with a touch of Stevie Nicks on the songs sung by their cellist. I was hoping for more originality or variety.
The real treat of the night was openers Givers, from Louisiana, who are the greatest band you've never heard of, and who cast a tremendously long, energetic shadow over Ra Ra Riot. ("You guys might think we're masochists for going on after them," Miles quipped, and he was right.) I don't know what's taken their record so long to get released, but when it does it's gonna be nuts. Seeing them live is on another level—tons of energy, tight songs and they're all between the ages of 21 and 24. Tiffany Lamson, who plays numerous instruments and sings with a pitch-perfect voice that'll melt your heart, is a classic foil to eye-rolling, tongue-wiggling upbeat Taylor Guarisco, who seems to be loving living the dream. I just wanted to hug them all, and tell them to have fun taking over the world. I settled for stealing their setlist afterward.
Only one sour note: the bar was only selling wine by the full bottle, starting at $23, which is confusing and inconvenient in a show situation. I saw people pooling money and going in on a bottle, but there shouldn't be any need for that. (I also saw people buying a whole bottle and getting hella wasted.) Just sell it by the glass, guys!
But all told, it was a really, really unique night, and another in a line of good shows at the winery. Here's hoping that Gundlach-Bundschu keeps up their good booking, and next time you're half-temped to go to a show out there—well, be fully tempted instead. Says Andrew Maury, soundman for Ra Ra Riot, "A mature crowd of wine enthusiasts apparently know how to do a rock show."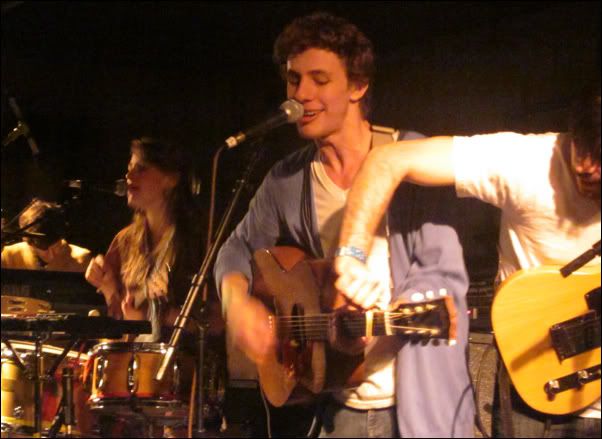 (Givers! They ruled.)
"When we first heard we were gonna play Yoshi's," said Chuck D last night, after "Brothers Gonna Work It Out" opened the set, "we knew it was a historic jazz club. We said, 'We know we can't rage against the machine in that motherfucker.' What do I do, wear my Sam Cooke suit? Do some Sonny Rollins shit?"
It must be a common question for the many who've played Yoshi's since it began regularly hosting hip-hop shows a couple years ago, from names like the Pharcyde and Foreign Legion to Mos Def and De La Soul: how to adapt? Or is it even required, since Yoshi's seems to be adapting to hip-hop? It only makes sense for the Bay Area's most famous jazz club to embrace the next great American artform, and the venue works well for it. Yes, the sound system was designed for Steinways and not Serato (Bass: How low can you go? Not very low), but the small stage, standing room and temporary bars on either side of the crowd fit the scene perfectly.
To a totally sold-out, shoulder-to-shoulder crowd, Public Enemy played a 90-minute set of every hit one could want to hear. "911 Is a Joke," "Welcome to the Terrordome," "Bring the Noise," "Don't Believe the Hype," "Terminator X to the Edge of Panic," "Burn Hollywood Burn"—and yes, most of the songs were over 20 years old. Age coupled with the red-velvet environs gave the night a nostalgic vibe, and on top of two decades already taking the incendiary edge off these songs, they were mitigated further by a general onstage playfulness.
The set featured Kool & the Gang and White Stripes riffs; an ongoing game of "toss the mic"; a James Brownian rule that anyone who messes up has to do 10 pushups; an "invisible studio fader" routine and of course, the ongoing antics of Flavor Flav. "I wanna thank y'all for makin' Flavor Flav the number-one reality TV star of the decade!" he shouted at one point, during a long monologue about his "second job" on a television show (involving girls defecating on the floor, among other things). And yet it wouldn't be Public Enemy without him—Chuck D even gave a little "every family has one" defense of Flav, if anyone doubted their closeness.
As for the music? The night was billed as Public Enemy "with a live band," but as Chuck D pointed out, they've been playing with a live band since 1999, inspired by a tour of Japan with the Roots. Chuck D has said in interviews that he wasn't ever really into jazz, that it was more his dad's thing, but there was plenty of flash to go around last night. New bassist Davy D at one point let Flav take over for "Welcome to the Terrordome" while the guitarist played solos behind his back; Flav even hopped on the drum set at the end.
And though Chuck D didn't break out any freestyles ("I'm the least talented member of the group," he quipped), his between-song improv touched on the importance of the Bay Area, referencing Sly and the Family Stone, Tower of Power, Etta James and Johnny Otis right on up to Too Short, DJ Q-Bert and JT the Bigga Figga. "Bay Area independent hip-hop always did the thing," Chuck D said in homage, "and they just never got support of local radio."
It's knowledge like that which separates Public Enemy from the rest. By the end of the set, Chuck D was wearing a "Justice for Oscar Grant" shirt and Flavor Flav was railing against racism and separatism. In the shadow of a chilling live version of "By the Time I Get to Arizona," and the shooting there last week, it was clear that the progress Public Enemy fought for twenty years ago is still elusive. While everyone in the place threw hopeful peace signs in the air, set closer "Fight the Power" felt more like a party than a war, but there's still a lot of bite in Public Enemy. Relevant bite, at that. Even in a jazz club. Thank goodness.
EXTRA POINTS: I dunno if it was P.E.'s doing or what, but playing the great Funky Riddims compilation Bay Area Funk before the show was a nice touch. ("Foxy Girls in Oakland." Listen to it!)
CELEBRITY SIGHTING: Those eyes didn't deceive you—Aesop Rock was in the crowd.
Photos by Liz Seward.
More Photos Below.
Tom Waits has always been an advocate for the homeless, whether in songs like "On the Nickel"—a beautiful ballad from Heartattack and Vine about Los Angeles' Fifth St.—or in lending a song to the soundtrack of Streetwise, a 1984 documentary about homeless teenagers in Seattle. Most recently, he penned the sympathetic ode "Cold Water," from Mule Variations, a lovely and sad song in the voice of a homeless teenager.
Today, Waits has announced a 12-page poetry chapbook titled Seeds on Hard Ground. A "long, lyrical ballad in the voice of those who walked, fell, or were pushed to the margins of society," Seeds on Hard Ground is being printed in a limited edition of 1,000 copies.
A snippet:
When I was born
My folks wept at my beauty
I was the package that all
Their good luck came in
I was bright and shining, magnetic
And flaming
Am I just something that got eaten
By the gods
Am I only just the bag
That it came in
Here's the thing: Waits is donating all proceeds from the book to Redwood Empire Food Bank in Santa Rosa, Sonoma County Homeless Referral Services, and the Family Support Center in Santa Rosa. Hell yeah, Tom!
I just ordered my copy, and with shipping, presale for the book comes to about $34.00. It ships on Feb. 22. You can order your copy here, but make sure to do it quick – they won't last long.
UPDATE 1-15: It's only been two days and a second edition is already sold out, too.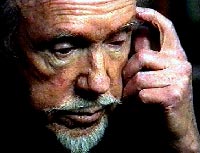 This week's Bohemian column is on Conlon Nancarrow, the communist expatriate composer who manipulated piano rolls to create ridiculously impossible-to-play sonatas. In poking around to find further information about his life, I found this lovely 1987 interview with Nancarrow by Bruce Duffie. I say "lovely" only because of personal reasons; by most measurements it's a disappointing interview, because while Duffie probes Nancarrow on any deeper meaning about his music, he keeps deflecting his inquiries.
BD:   So where is music going today?
CN:   I have no idea.  I don't think anyone else does.
BD:   Well, what direction is it heading?
CN:   I don't know.
I should, as someone who interviews people for a living, feel uncomfortable reading this interview. But on the contrary, I applaud Nancarrow's reluctance to join in the game and settle for giving pap, bullshit answers. Another gem is the mention of the Columbia Records release Studies for Player Piano, which is the subject of my column. In Nancarrow's own words on the album that introduced him to the public at large: "Incidentally, it's a very bad recording."
Here's a good example of Nancarrow's music—the Study No. 5: