I finally got on board with the Replacements in 1995 with a cassette of Let It Be, which I played over and over in dual rotation with the Smiths' Hatful of Hollow. (Westerberg and Morrissey had different filters, but the weary ennui was still there.) I'd remembered seeing their name on the Luther Burbank Center marquee, because any unusual band name sticks out on the Luther Burbank Center marquee when you're 12. I was too young to go to shows, but I vividly remember that the Psychedelic Furs, the Violent Femmes, X and the Replacements all played there. Who was their booker back then and where are they now?
Anyway, back to 1995—after I'd bought every Replacements record, memorized all the songs and even booked a show for my band in Duluth simply because Duluth is mentioned as an aside in the 'Hootenanny' closer "Treatment Bound," I never could say exactly how, or when, the Replacements broke up. I only knew they were gone; that's all that mattered. But this here review by Greg Kot, for the Chicago Tribune, happens to be a review of the band's final show. It's outside, in Grant Park, and full of about as much enthusiasm as a morning-after bottle is with beer: "Here's another one you don't wanna hear," Westerberg says at one point, "and, frankly, neither do I."
The show was exactly 20 years ago this week. Time flies.
Check another one off the list! Robert Earl Keen's Gravitational Forces is finally on vinyl, thanks to Lost Highway's 10th Anniversary vinyl reissue campaign. This sucker is packed with classics—covers by Townes Van Zandt, Johnny Cash, Terry Allen, and Joe Dolce's "My Home Ain't in the Hall of Fame" are fine pairings with Keen's own originals, including the definitive recording of his brilliant storytelling epic, "The Road Goes on Forever." (Other highlights on Lost Highway's campaign include Ryan Adams' Gold, O Brother Where Art Thou? and the surprisingly good Hank Williams tribute record, Timeless.)
Jesse Michaels, the lyrical mind behind Operation Ivy, quietly uploaded two videos to YouTube last week.
They're titled "Jesse Michaels' Thrash Metal Blog." They feature a never-changing photo of Julius Erving. They sound like they're recorded on a cassette tape. And they're hilariously off-kilter and profane. (Don't play them for mom.)
"Don't tell me I got the genres of thrash metal wrong," he says, at one point. "Slayer's not thrash metal? Fuck off. It goes fast. Satan comes second."
Another bit: "Try going to a Kreator gig in 1983. Lemme tell you something. It wasn't fun. It SUCKED. That's why you went."
With the videos at just 100 measly views earlier today, there was some speculation going around if in fact this was the real Jesse Michaels or just an imposter with an uncanny resemblance and a weird sense of humor. I checked with Jesse: "Yes, it's really me. It's supposed to be funny," he replied. "I know it's weird."
For anyone who has both Energy and An Eye for an Eye in their collection, listen below.
(Note to the Reader: For this installment of City Sound Inertia, we welcome guest reviewer Bob Meline! A finish carpenter by trade, longtime music fan, and secretly, a solid bass player, he's also my dad—and one of the greatest guys I know.)
I'll admit I haven't been a hardcore Lucinda Williams fan. Her alt-country sound has been mildly attractive to me, enough that I own a few of her CDs, had at least listened to all of the others and had actually paid to see her in my own hometown 6 or 7 years ago. My interest was mostly due to a close female friend of mine who has had her share of ups and downs in life, and who for quite a while saw Lucinda's music as the soundtrack to her own difficult journey on the planet. As such, I paid a bit more than average attention to Williams' songwriting, and while some of it was very raw and direct and spot-on, some of it was almost annoying in its simplicity and repetitiveness. Her tendency to slur her vocals and deliver same in the occasional monotone didn't grab me either.
Lucinda's stage presence as a performer can be lacking—even borderline non-existent at times. The one previous time I'd seen her live was at the end of nearly a year of nonstop touring; the stage was about the last place she seemed to want to be that night. She did her best Van Morrison-esque impression, keeping her cowboy hat pulled low over her eyes and barely addressing the audience at all. And yes, alcohol may have been involved. Musically, it was a decent enough show, but not enough to turn me into a dedicated fan.
All that changed last Friday night. I had purchased a couple of tickets the day they went on sale (ninth row and reasonably priced, these days anyway, at $45.00) and had the aforementioned female friend/fan as my date. And even though I hadn't been very impressed in two of Lucinda's recent releases, West and Little Honey, I bought Blessed for a preview of what we'd be hearing. What struck me immediately with the album was the quality of the musicianship. Williams has the stature to have surrounded herself with some pretty good players through the years, but this just felt different somehow. With some real anticipation, I hoped it would translate to the live show.
When the 8 PM show still hadn't started at 8:30 and the natives were getting restless enough to start rhythmically clapping, whistling and calling out Lucinda's name, it was hard to remain upbeat. The house wasn't full, and I tried to embrace the possibility that they were waiting for just a few more bodies to fill just a few more seats. She finally emerged with the three-piece band, mumbled, "Hello everybody," and went straight into "Can't Let Go."
For the next hour and fifty minutes, the four musicians (Lucinda included) were simply brilliant. Props as well to the sound crew—this was one of the most crisp, clear and clean shows I have heard at the Wells Fargo Center in a long time. When you get that kind of sound right out of the gate, you can focus completely on what the performers are giving you. And what they gave to the night, interestingly enough, was more of a rock and roll feel, infusing a different kind of power and energy into the setlist than what I had expected.
Lucinda's drummer, Butch Norton, immediately took charge. He was there. He converted his drums from a percussive device to an actual instrument, seemingly using every piece at every moment. At times, he inspired personal recollections of Animal from The Muppet Show band and the great Keith Moon. And though he was all over his kit, he was in complete control without overshadowing the rest of the band—loud and forceful in accentuating tunes like "Buttercup" and "I Changed The Locks," and effortlessly holding up the quiet, introspective songs like "Born To Be Loved" and "Blessed," both from the new album.
The other half of the rhythm section, David Sutton, was the perfect complement to Norton. While providing most of the backup vocal work, he alternated between a standup bass, a hollow body electric bass and a Fender Precision to provide a melodic bottom end that formed a real connection with Norton's drum work. He ran the gamut from a hard rock sound to intricate fretwork to quiet single-note accentuations. He especially shone on "Get Right With God," the encore's closer.
Lead guitarist Blake Mills was simply amazing. He brought something different to each tune, from screaming, shredding leads to seamless slidework to finger picking staccato to light and buoyant accentuation of Williams' vocals. He elevated music that was already brilliant to the level of stunning—every song would have made a highlight reel. A collection of guitars that I finally stopped counting covered most of the sound spectrum. At just 24, he plays well beyond his years.
Oh yeah, Lucinda. Sure, she still has those awkward-but-endearing moves onstage. And I'm not sure when this practice first started, but she now employs a music stand with a notebook that contains all the words to her songs at the ready, referring to it quite often. (C'mon, how many times prior to this show has she sung "Lake Charles" or "Pineola" or "Drunken Angel"?) But tonight, I'll gladly give her that and whatever else she wants or needs to prop her up. Lucinda was in stellar form vocally. Her voice was strong and clear, she was both forceful and demure, she gave us pain and joy, she made us stop and think, she had us nodding our heads in common experience and deep feeling. She didn't marble-mouth her lyrics, she didn't fall into a lazy growl, she simply sang ever so beautifully in that slightly rough-around-the-edges Louisiana drawl which makes everything that comes out of her mouth so flat-out real. Again, the sound was brilliant, letting the audience easily fuse with the woman who has been included in the short list of the greatest songwriters of all time.
Tonight, for me, it all came together perfectly. No doubt I'm late to the party, but now I get Lucinda Williams. The strength and quality of her backing musicians (interestingly enough, all from California), the power of the real-life stories she crafts lyrically, the quality and emotion in her voice—it all felt so deeply, penetratingly real that it was almost scary someone could do it so well.
Tonight's show was magic. I'm a fan.
—Bob Meline
(Previously by Bob Meline: Bonnie Raitt at Sonoma Jazz +)
Jaga Jazzist is huge in Norway, where, one could argue, it's easier to stick out than in America. Every album the schizophrenic nine-piece instrumental ensemble makes cracks the nationwide top ten, and they play to thousands of people in Oslo and, indeed, all over Europe. They are a case study in Scandinavian bipolarity—for every Europop sensation like Robyn, there's an equal and opposite act of deep artistry and complexity like Jaga Jazzist.
But Jaga Jazzist are not as well-known in the States. On Wednesday night, at the Great American Music Hall in San Francisco, they played to roughly 350 people. The venue even had to close the balcony so the floor would seem full.
To fans of the band, this is a tragedy. Within two minutes of the group's members taking the very, very cluttered stage, it was vividly apparent that something incredibly special was happening, and far too many people were missing it in favor of America's Next Top Model. Along with vibes, guitar, electric bass, tuba, trumpet, trombone, upright bass, Korg synthesizer, flute, bass clarinet, triangle, tambourine and other instruments I'm sure I'm forgetting, the band was anchored (and constantly uprooted, then anchored again) by the miraculous drumming of Martin Horntveth, whose dynamic replication of laptop programming on a live drum kit would have any other drummer in tears.
In the past, I've been fooled by Horntveth's drumming. I initially thought the band's wonderful 2003 album The Stix, for example, was the product of electronics instead of a live band. The nearly two-hour set skewed heavy on the band's latest, One-Armed Bandit, which is probably the most organic and "live-band" sounding record in their canon—it's more King Crimson and Frank Zappa than Aphex Twin. But the record does not do it justice. Seeing these songs live, with complex melodies, jagged time signatures, and variegated arrangements—it's a head-spinning experience like no other.
Jaga Jazzist are playing a few more dates in America, and to those in New York and Chicago: Get thyself to see them, pronto. They've gotta be losing so much money on this tour, with a huge bus and a trailer to carry all the members and their equipment. It's been seven years since they came here; who knows when they'll return.
This week's Bohemian column is on Siren, the band that virtually defined the Sonoma County punk scene for three years before imploding in a collapse of rumors, drugs, and, as you'll read below, being incurably broke. Before their heavily anticipated reunion show this Saturday, I caught up with them at a smelly practice space in Santa Rosa where they've been rehearsing songs like "Die Cast Mottos" and "Buy Our Fall" for the first time since the Clinton era. Brian drank a beer. Adam arrived with a bread-bag tie for a guitar pick. Kevin got stuck in traffic. Joe brought candy.
The idea of a Siren reunion has been brought up before, but it took a good cause to actually make it happen. Nicole McCracken, Kevin's wife, has been diagnosed with breast cancer. You can follow her story here. There's an idea to evolve this show into an annual benefit for women with cancer, which is an appropriate endeavor for a band who always embraced direct action.
The show is this Saturday, June 25. Tickets are available here. Our interview starts below.
For our honeymoon, we just went camping up and down the California coast. Along with MF Doom's Madvillain and the Velvet Teen's Elysium, Jolie Holland's Escondida was one of the records we listened to over and over—a perfect Highway 1 accompaniment to the birds of the air and the beasts of the soil and the fishes of the desperate sea. I always wondered why "Goodbye California" wasn't an immediate hit, just like I wondered why "Wagon Wheel" by Old Crow Medicine Show wasn't a hit, or why hardly anyone was talking about Joanna Newsom.
It was our anniversary this week, and seven years hasn't changed us much, we're still in love. But other things have changed: Everyone loves Joanna Newsom, the buskers on Fourth Street last week were playing "Wagon Wheel," and Tessa Rissacher covered "Goodbye California" at the Arlene Francis Center last month. (It took Santa Rosa a couple years to catch up to the old-timey thing, but it's since done so with a venegance.) When it was announced that Jolie Holland was playing a free noontime show at the Russian River Brewing Co., sponsored by the Krush, it was like some cosmic tarot card had spoken.
Holland has a new record coming out, Pint of Blood, and played all songs from it—much to the longing of myself, or anyone, really, who could name a dozen or so favorites from her previous albums. With just a violin and electric guitar backing her and with the din of a brewpub at lunchtime, it was hard to wholly absorb the songs. Same goes for her between-song talking, although she wasn't saying much; with barely any reaction from the audience, she even resorted to announcing where the amps were rented from, just to see if anyone was paying attention. It was a little bit strange, honestly, and it wasn't really Holland's fault.
Afterward, she mingled with fans, someone shoved some weed in her guitar player's cutoffs pocket, she got directions to Community Market and drove down Fourth Street in her minivan. Her voice invaded my thoughts for the rest of the day, and the next.
Friday night at the Harmony Festival was headlined by perennial standby Michael Franti, who recently signed to Capitol Records after years on the independent-label grind. But Saturday and Sunday were topped by the Flaming Lips and Primus—two bands that got snatched up by Interscope and Warner Bros. in the great alternative rock signing frenzy of the early 1990s. While their back-to-back sets at the Harmony Festival were a nostalgia trip for many, and eye-opening for some, they also provided a case study in What Happens When the Weirdoes Get Industry Support.
In the Flaming Lips' case, it's resulted in some breathtaking albums—The Soft Bulletin and Yoshimi Battles the Pink Robots—and one of the world's must-see theatrical live shows. Part of the joy in seeing the Flaming Lips live the second, third or fourth time is watching the reactions of first-timers, particularly the ones on mind-altering substances, which at the Harmony Festival means many. So if you've seen the confetti blasts, the giant laser hands, the space ball and the mothership descent before, turn to your right and watch the slack jaws.
This was the case with me, although I can still say the 'Lips were better than ever. Opening with a blast of hits, including "Do You Realize?!," "She Don't Use Jelly," "The Yeah Yeah Yeah Song" and "Yoshimi Battles the Pink Robots," they powered into stranger material from Embryonic and a recent split with Neon Indian. A cover of Pink Floyd's "Eclipse" followed, the space ball came out, they closed with "Race for the Prize" and everyone left satiated.
There's a bit of ego tripping in Wayne Coyne's banter, urging the crowd to get more into their set and be more excited (he must've said "c'mon, motherfuckers, c'mon" a dozen times) and it's irritating that their volunteer dance brigade's options have gone from full-body bunny suit to ogle-inducing "Sexy Dorothy Costume" in six short years, but they've got their shit down, for sure. A key stat: before their set, the lawn was sparse, and I wondered where all the people were. By the end, the crowd couldn't've been denser, showing that the Harmony bookers took an interesting chance on the band, which worked.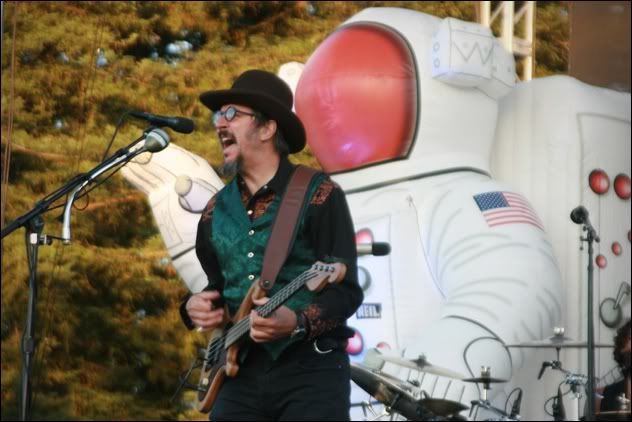 Primus is less of a gamble, since they've got deep roots in Sonoma County—something Les Claypool alluded to onstage, citing old stomping grounds like the Cotati Cabaret, the Phoenix Theater and the River Theatre. "You all look like fine people," said Les Claypool at one point, "I wish I lived around here somewhere."
Of course, Claypool does live around here—a fact reflected in new song "Hennepin Crawler," about a contraption made for the Handcar Regatta, and with references to the Russian River and Bodega Bay in another new song, "The Last Salmon Man," about the population reduction of chinook salmon. (Their new album Green Naugahyde comes out in September, and the rumors are true: It really does evoke the early Frizzle Fry era of Primus.) "Groundhog's Day" opened the show, and "Harold of the Rocks" and "Tommy the Cat" closed it, with an obligatory "Jerry Was a Race Car Driver" thrown in.
But the highlight, by far, was a version of "Those Damn Blue-Collar Tweekers" that epitomized Primus' three-piece range, with Larry LaLonde and Jay Lane pounding and skronking around Claypool's bass during an extended jam. I hadn't seen Primus live in roughly 20 years since literally worshiping the band during those Phoenix Theater and River Theatre days Claypool had alluded to, but damn if they didn't still have that same old magic.
And yes, it was the 1990s again, with crowd surfing and a real-live pit.
More Photos Below. (more…)
Do you think that karaoke songs are just similar to all the other songs you know? Partly yes, partly no. Of course, it is easy to tell that they have the same tunes and musicality, however some are not performed by the same artists. Why? Karaoke songs are never offered by one vocalist. This is the reason why it is easy to notice its difference as these songs are played by different disc jockeys. Generally, it depends on the type of label being purchased.
Availability
It is quite easy to search for that certain karaoke song that you want to song. It has become so common these days. Again, they may vary depending on the label, but generally they are the same. As a matter of fact, it may be possible to find karaoke songs that still have the voice of the vocalist, and you can sing along with. It is also possible to have the background music, or both.
There are songs that are considered a standout in the crowd. For instance, in the year 2007, much attention was given to the song 'I will survive'. It was followed by 'I got you babe and 'Sweet Caroline'. These songs are pretty interesting knowing that the genre of these songs is not really pop or heavy rock. At the same time, they have existed for several years already.
Karaoke songs have also attracted popularity from the Christian sector. The reason being is that it serves as a good way for church vocalists to practice their musical piece. It offers a good way to practice the background music and use it for chorals which do not have musical system. It has even proven to be a good tool for the audience to sing together with.
Karaoke and the Family
During the earlier years when video games were not yet that rampant, families enjoy gathering around and listen to the young children sing along with the karaoke. There are even reports that children have learned singing faster compared to talking with the aid of karaoke songs. It has even helped these kids improve their pronunciation.
These days, however, with the existence of technology, karaoke are no longer done through the usual karaoke machines, where a cassette tape is used. With the evolution of music comes different ways where people enjoy singing. It's no longer playing by ear. Karaoke songs are now being sung with video accompaniment. It has become a good source of entertainment for many people.
Aside from this type of entertainment, technology also offers another type of entertainment for adults who love to spend time online. These days, online gambling is a source of fun and excitement for many individuals. Individuals can play Euro Millions on lotteryplanet.org and earn at the same time while having fun. It is like a virtual online gambling system which allows players to experience the same as what they usually have with real life casinos. It is very convenient at the same time.