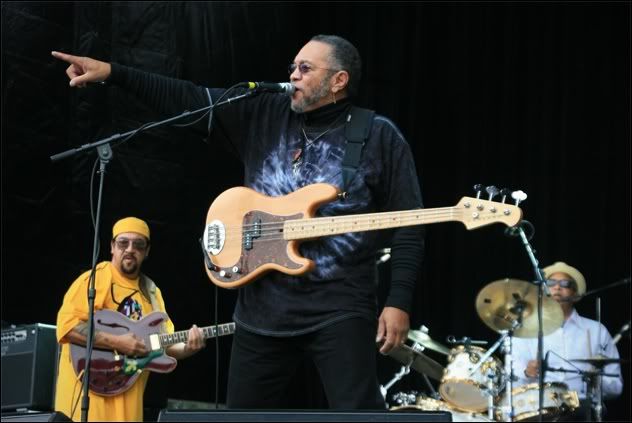 Really, can no one out of the two dozen bands playing today loan Leo Nocentelli an amp? That's the question on everyone's mind when the Meters are forced to jam guitarless for 20 minutes while lots of pedal- and amp-fiddling ensues. They've already opened with "Fiyo on the Bayou," though, and sprinkled throughout the fill time is "Iko Iko" and "Africa." Finally, the amp gets fixed. Zigaboo asks if there's anyone here celebrating something: "A new kid, maybe? A new car? Just got out of jail?" Cue anthem, "Cissy Strut," and cue tremendous Polo Field dance party. George Porter calls their set "Senior Citizen Funk 101," which is a little sobering especially since Art Neville walks out to the Hammond with a cane. They're the Meters, man. They're not supposed to get old.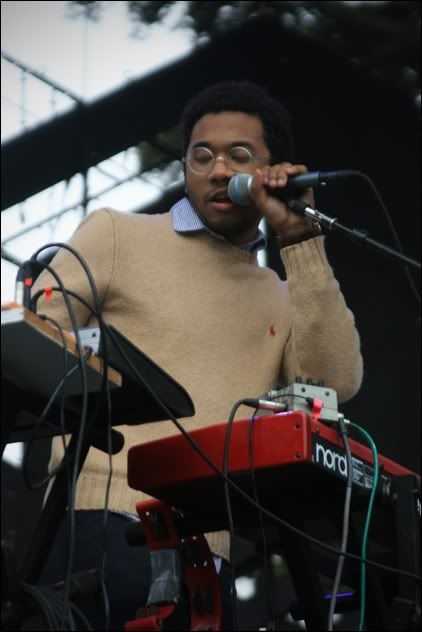 Toro y Moi is way too subdued. Close your eyes and you can imagine them in a movie, 15 years from now, as the nondescript "2011 Band Who Plays Big Festival." Maybe their second or third album will have more going on, musically, I think to myself.
But then, as I'm walking across the festival afterward, I'm mobbed by a massive influx of people from the stage where Foster the People just played. Foster the People, really? The band with that no-substance radio-lite jingle? And this many people care? I immediately reassign my mental casting—Foster the People is the 2011 Band Who Plays Big Festival. If you want to apply to be an extra in this imaginary movie, make sure to be a frat bro who's "going wild" for the weekend by wearing a headband that shoves your conservative haircut into a follicle volcano complementing your black-and-neon Ray Bans.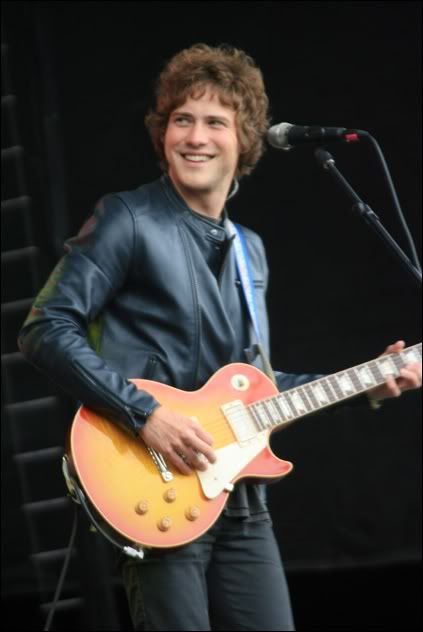 Did you ever see the really unpolished performance of "Time to Pretend" on David Letterman? I sold my copy of MGMT's album back the next day, and then watched as MGMT became the unlikeliest teen heartthrobs of the year. But today, their second song is "Time to Pretend," and they nail it. Everything about them is tight and polished.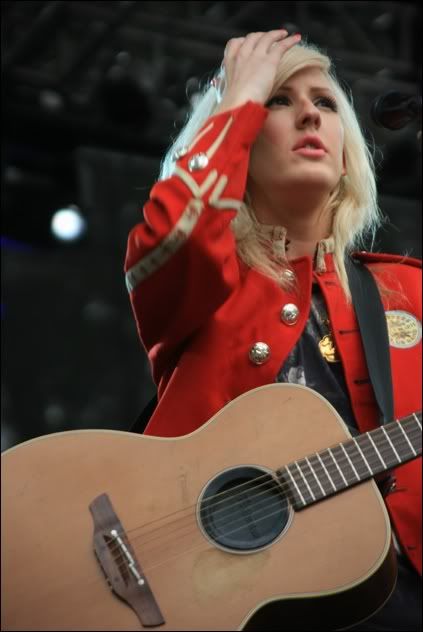 I heard rumors that fans had changed some signs around San Francisco to read "Goulding Gate Park," and that's how it felt as soon as Ellie Goulding hit the stage—like the whole place was hers. It might have had something to do with all the free yellow star-shaped glasses handed out to the crowd (her big hit: "Starry Eyed," get it?). It might have had something to do with the loud, massive sing-alongs. Or, it could be that Ellie Goulding is full of energy, with the type of voice that's so spot-on that it seems lip-synched (it's not). Stars in the UK usually ride a swift rise and fall, Exhibit A being NME's propping up of a different "Best New Band in England" every other month. But Ellie Goulding could stick around for a while.
This brings us to Big Boi, and a little segment I'll call:
Why Big Boi's Canceled Performance at Outside Lands Kind of Seemed Like Bullshit
At 6:30pm, ten minutes after Big Boi's start time, all that's on stage is a set of 1200s on a table. I'll get used to that view, because a guy comes out and tells us up front that Big Boi is running late, and it'll "probably be 30 more minutes." I've seen enough hip-hop to know that this means "an hour and a half," and by that time Big Boi's time slot will be up, so I wonder how things are going to shake down. Already, people are chanting.
A DJ shows up, laptop in hand. He plugs it in. He looks concentrated, then confused, then calls for help. A guy comes over. Then two guys. Eventually, there are seven guys all crouched around the laptop. They're pulling on wires. They're turning it upside down. One guy, sitting at the keyboard, is on the phone. Another guy wearing a cowboy hat stands off to the side, the festival version of the CalTrans worker who gets paid to stand around and watch.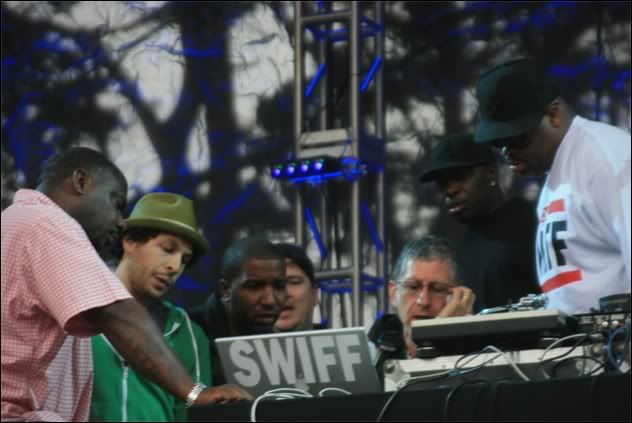 Meanwhile, the crowd is losing it. Chants of "Big Boi! Big Boi!" have given way to chants of "What the Fuck! What the Fuck!" No one on stage seems interested in placating the crowd, so the kid near me who's grown increasingly agitated starts in: "Where's that guy who said Big Boi would be late? Why aren't they telling us anything? Why can he just do this?" How many hip hop shows have you been to, I ask. One, he says.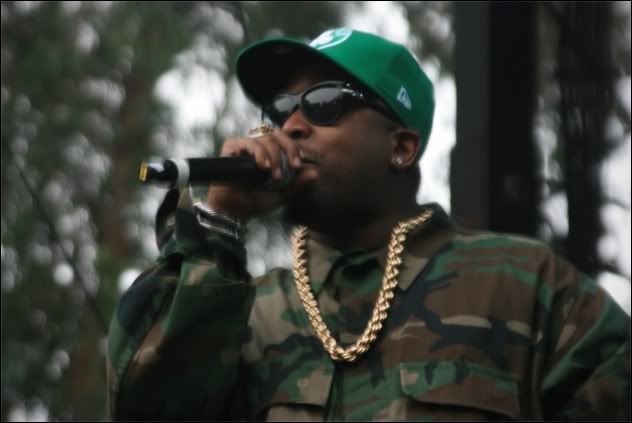 Big Boi steps out, grabs a mic and says he just wants to clarify: He's been here for two hours, hanging out with Dave Chapelle backstage. His DJ just needs to get things together, he says. He goes to the wings, grabs Dave Chapelle and trots him out to the crowd as a consolation prize before disappearing. The crowd gets restless again after 10 minutes, watching the same seven guys try to fix the laptop. "Dave Chap-elle! Dave Chap-elle!" they chant.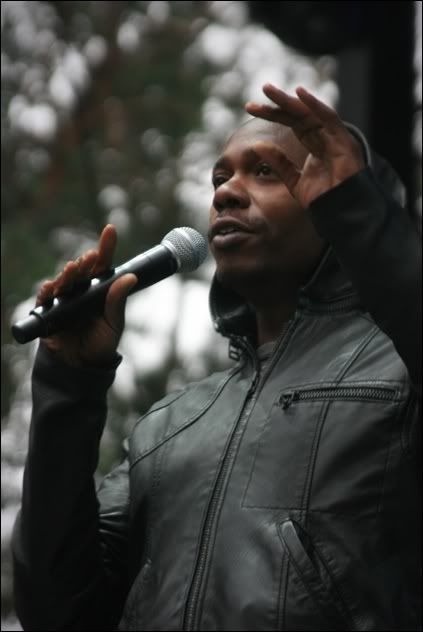 Obligingly, Chapelle comes back out. He grabs the mic from the DJ stand. It's nuts, because everybody's figuring that he'll stall for his friend and just do standup until Big Boi's laptop gets fixed. Instead, he does two minutes. Mostly on how appreciative he is of the Bay Area. He kicks a beach ball into the crowd. He leaves.
Fifteen or 20 more minutes go by, and Big Boi's manager comes out. He says sometimes things happen that are beyond their control, and that they've fixed the laptop but there wasn't going to be enough time for Big Boi without cutting into Erykah Badu's set, and that "instead of giving you guys a half-assed show, we'd rather give you no show at all."
Okay, so despite the many PR fails—everyone there would have preferred a half-assed show, guaranteed—the whole thing was either a total embarrassment or a pre-planned cancellation. I'd like to think it was the former, but honestly, what kind of DJ, especially for one of the 20 biggest rappers in the world, doesn't bring a backup laptop? You'd think that would be Rule #1—bring a backup. Real DJs bring backup needles and doubles of their 12"s. They bring an extra mixer. If your employer's entire musical accompaniment is stored on a laptop, and he can't play a show without it working, and you only bring one laptop, you are a complete fool and should be fired. Even crappy fledgling indie bands have a backup guitar, and if they don't and something goes wrong, they can usually borrow one. Or, hell, just play without a guitar and make do.
And that's the other thing: Erykah Badu's entire band was backstage. At some point, if you're Big Boi, and you truly don't want to cancel the show, wouldn't you start trying to put something together? Wouldn't you hit up the drummer and bass player, and ask if they know some Outkast hits, or would be willing to improvise over new shit? Not to mention the keyboard player, or the percussionist, or the backup singers, all of whom Big Boi knows are supremely talented? That wouldn't be a half-assed show. It'd be a one-of-a-kind show that people would talk about for years.
Or—and this could be a last resort—but come on, Amoeba Music is right at the edge of Golden Gate Park. Run someone down there to buy Stankonia, Speakerboxx/The Love Below and Sir Luscious Left Foot and just suck it up and rap over your own album. It's not ideal, but it's also incredibly commonplace in hip-hop. Your DJ can EQ the backing tracks to minimize the recorded vocals. People would have loved it.
Any of these solutions could have been pursued in the two hours that Big Boi was chilling backstage without a DJ. That is, if he gave a shit. Apparently he doesn't.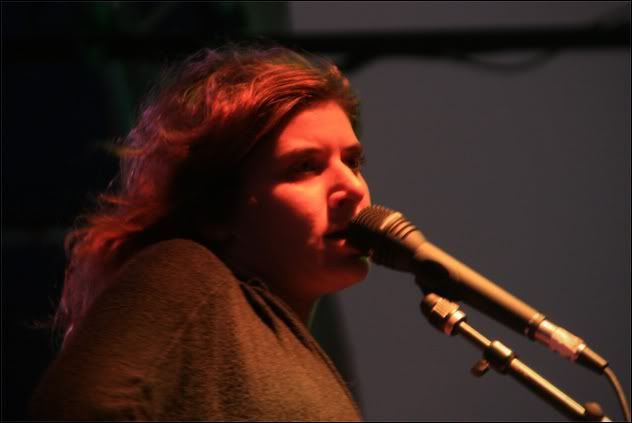 Two hours have gone by and Big Audio Dynamite (read: basically just ogling Mick Jones) is a wash at this point, so running to the Best Coast stage is the Best Option. It's exactly like listening to Best Coast on record, which is fully appropriate; it's also fully reminiscent of the summer of 2010, which Best Coast virtually owned. Is it strange that the songs already feel nostalgic, one year later? Is nostalgia catching up to the present day at a scary rate? Will the next Best Coast album be more "mature" and lose everything fun about Crazy for You? These thoughts and more run through my head as I watch Bethany Cosentino sing bonafide jams like "Our Deal," "I Want To" and "Boyfriend."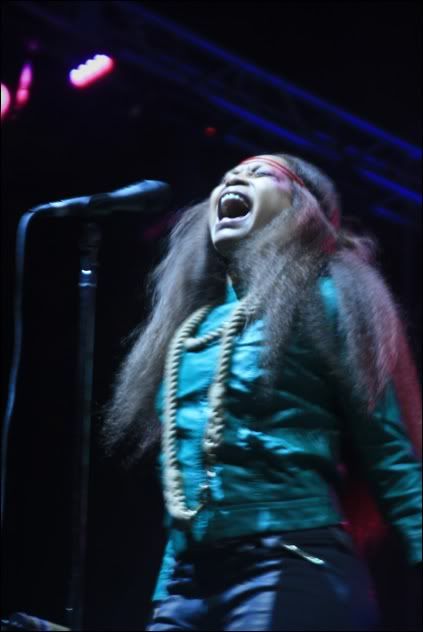 Redemption is found on the Big Boi stage with the arrival of Erykah Badu. She opens with "The Healer," a Madlib production expertly re-created by her 11-piece band. She drags out the chorus at the end: "Hip hop / It's bigger than the government," and then leads her band into Graham Central Station's "Happy to See You Again" acapella. Later, they interpolate Freddie Hubbard's "Red Clay" and Afrika Bambaata's "Planet Rock." There's four backup singers, a flute player, a percussionist, the songs are all over the place, it's nuts.
Badu herself hovers above, under, in and out of all of this, navigating the shape-shifting arrangements with ease, completely in charge. Her voice is stellar, her control unreal. I paid only mild attention to her until her last two albums, but tonight, she's like some miracle from I don't know where. If you get a chance to see her live, do it. A good way to end the day.
More Photos Below.
Did you know that if you have no ticket to see Huey Lewis & the News when they play at the Sonoma County Fair, there are perfectly dependable other options for enjoying yourself? For example: Standing outside the Chris Beck Arena with all the other ticketless Huey Lewis fans! And let me tell you, readers, it's just as good as watching the show from inside. I mean, Huey Lewis isn't exactly the hunk he used to be, and there's only a few other guys in the band still around from the classic Sports era—you wouldn't recognize anyone else anyway! (And don't even think about getting the Tower of Power horn section or the guys from the 49ers, either!)
What you will get is near-perfect sound, depending on the wind. Every word of "The Heart of Rock 'n' Roll" will be audible! You'll also totally be able to see the stage anyway, because the front doors to the arena will be wide open. Best of all, you'll get the fun-loving company of the average Huey Lewis fan in the year 2011. (They wear "vintage" repro shirts that say "I Heard the News"; they fist-pump while mouthing the words to "Jacob's Ladder"; they dance poorly, and smoke!)
But you will also recall the glory days of the band, and lament that those days are over. Forty-five painful minutes will go by while Huey Lewis & the News play mostly cover material from their new 'soul' record. You will start counting the times a John Deere tractor drives by outside the gates to amuse yourself, or wander down near the livestock pavilion. "Why in the world," you will think, "don't they scatter a hit in here? Why is he 'getting back to his roots' when the cool thing about Huey Lewis & the News was that they implemented elements of their roots—soul and new wave and doo-wop and Thin Lizzy—and created something greater than the sum of its parts?"
All this will go through your head while Huey tries to pull off a Joe Tex song, and you'll be glad you didn't buy a $40 ticket from the bored-looking teenager sitting inside the fairgrounds ticket booth… but then… what's this? The opening strains of "Heart and Soul"?! Yes! Finally! Who cares that Huey can't really hit the high notes anymore—it's friggin' "Heart and Soul!"
You will hope at this point that it's gonna be hit after hit, and even though the flow is interrupted by more new songs and a guest singer from Vallejo, they'll start rolling in: "I Want a New Drug," "Do You Believe in Love?" Huey's patter will be uninspired—he'll make comments like "Have I plugged our new album yet?" when he's already plugged it five times—but it'll really get miserable when he starts with the older hits. "We wrote this song 25 years ago in Marin County," he'll say at one point, sounding weary, "and we never would have guessed that we'd have to play it every… single… night." (Cue intro to "The Power of Love," cue Huey mentally committing hari-kari.)
You will then realize that all Huey Lewis wants in life is to be in a bar band again, and then you'll feel bad for Huey Lewis because he can never, ever go back to that. This sympathy will conflict with your resentment over his refusal to perform hit songs, and you'll start counting the ones up he hasn't played yet: "If This is It," "Hope You Love Me Like You Say You Do," "Doin' It All for My Baby," "Hip to be Square," although maybe they stopped playing that last one since that horrible scene in American Psycho. You'll sort of feel bad if that was the case. But you'll also want "Walking on a Thin Line."
Then you'll remember that if someone searches your own name on YouTube, what pops up is "Walking on a Thin Line," which leads down the inevitable path of nostalgia and how much Huey once meant to you. How seeing him in Petaluma in 1985 was your first concert ever. How your family listened to him constantly in the car. How you once entered a talent show lip-syncing "Bad is Bad." How you once wrote that column summing up all your thoughts on Huey Lewis, and how it could have gone on five times longer. How the baby boomers like your parents needed Huey Lewis in the '80s—he made them feel awesome for growing up and being 35 and getting married and having kids and buying houses and being domesticated. Where is the goddamned Huey Lewis for your generation, now that you're in your 30s? Where, you'll wonder?
But then! You'll be snapped back into reality by the encore. "We're going to bring out a very special guest," Huey will declare from the distant stage, as the roller coaster rattles in the background. "Ladies and gentlemen, the bad boy is back! Mr. Mario Cippolina!"
You will then flip out, because Mario Cippolina was always your favorite, and you'd felt so bad when he ran into some trouble with drugs, and stealing remote-control cars, and you will run up to the fence that separates yourself from Mario Cippolina and you'll jump up and down a little. They'll play "I Know What I Like," but then that'll turn into the song you most wanted to hear, the song that makes the whole cold, silly, stupid evening spent outside the fence at the Sonoma County Fair completely worth it. "Workin' for a Livin'" will sound awesome, and the smoking 52-year-olds in their "I Heard the News" T-shirts will pump their fists and sing along, and you will sing along too.
And that'll be your night.
"Like a Tumblr blog in which each photo, scrap of text, or embedded video is posted without context, contributing a single point to the overall aesthetic, the swag life encourages you to take cultural artifacts that speak to you — be they punk rock or crunk rap, secondhand sweaters or designer shoes — and fit them like novel bricks into the multicolored wall of your own image."
When a hyphy wave crashes, new ripples inevitably appear. Ian S. Port gives an excellent overview of current Bay Area hip-hop in the SF Weekly today. (Photo of Lil' B by Joseph Schell.)
It irritated me when Jack White made this video to brag about how innovative he was being with record pressing, when things like odd-sized records, multicolored vinyl and unusual speeds have been around for decades.
I found this ad from Billboard magazine. The year is 1960, but the vinyl oddities it describes might as well be from 1995, or 2002, or 2011. I was really perplexed when I got to the bottom and saw that it wasn't for Rainbo Records or Erika Records, either.
10:45am. "Amy Winehouse died," someone's posted on Facebook. What? Well, have to check it out anyway. Quick Google: Daily Mail is saying so. Really? Really? Within a matter of seconds, Guardian and Telegraph and BBC have it up too. Fuck. Fuck. Really? This can't be true. Give it ten minutes. But the news keeps coming in. "London police have confirmed the death of a 27-year-old female…"
11:15am. A stomach knot and all I can think is that the media killed Amy Winehouse. With its salivating predatory need for photos, the more grotesque the better, and stories fabricated or not, who cares, post it up now and get those clicks! That concert in Belgrade—even I clicked on the link, and after about ten seconds of the video I couldn't watch anymore. But I clicked on the link. Another click means another vote that tells the media AMY WINEHOUSE DISASTER = SITE TRAFFIC VICTORY, and I cast it, and you cast it, and we all cast it. The result is more posts about Amy Winehouse, the ugly, wandering, makeupless falling down trainwreck, to satiate the public hunger and boost the Alexa rating and the advertising rate card. See? The media killed Amy Winehouse. Or if it didn't, it certainly obliterated any chances she may have had at getting better. This, I know: When the media places your life in a certain frame, over and over, you cannot grow out of that frame. Here is the narrative since 2008: "Amy Winehouse: Hopeless Addict." Over and over. How could she be anything but? Jesus, we all killed Amy Winehouse.
12:30pm. Someone calls and tells me they saw the thing in the paper about my mom, and I tell them I'm actually kind of more beat up about Amy Winehouse. And: I never saw her perform. She only played San Francisco once, at Popscene right after the record came out. It was completely sold out, and I'd've tried to buy a scalped ticked, but she'd already canceled a bunch of shows already and I didn't want to take chances. Later, she canceled two shows at the Warfield. Man.
1:10pm. Denial. Was Back to Black really even anything special? The soul revival had been on full blast since 1999, with Brainfreeze and Alice Russell and Tru Thoughts and Dap-Tone and Sharon Jones and Sister Funk and Keb Darge, and all Amy Winehouse did was come along and do the same thing but be skinny, and white, and pretty, and have a bloggable hairdo. Hers was a double steal: she wasn't just hijacking the Shirelles, she was plundering a rich underground club scene. Remembering a pitch to an editor about the Dap-Kings, and how they deserved more credit for making Amy Winehouse who she was. A friend tweets: "Not to downplay the loss of another human life but can we admit that Ronson was the brains behind the operation?" Yeah, like what did Amy Winehouse even do anyway, but what people told her to do?
2:13pm. That's crazy. I know I really liked Back to Black, played the hell out of it. Didn't I write something about it when it came out? Oh, look, here it is:
…Winehouse has got a goddamn voice to shake the T-cells out of your bloodstream, replace them with a revamping toxin of shudder and sway and exit your system, laughing, while you walk in perfect rhythm for the next two weeks. By any estimation, it comes from a place deeper and larger than her lanky frame could possibly contain, and it evokes both Dusty Springfield and Gil Scott-Heron, with one part come-hither and two parts gettda-fuck-outta-here. On her sophomore album, Back to Black, she's backed by a stellar band (aided themselves by the welcome trend of retro-soul recording techniques), sounding thoroughly fresher than the processed sugar fix of most U.K. buzz-girls. The songs are all from Winehouse's own pen, and they read like a series of esoteric MySpace comments: "What kind of fuckery is this? / You made me miss the Slick Rick gig."
Yes, it seems, I liked it. (Ha ha, MySpace.) I remember now that it made me feel like a teenager in love, in Detroit, in 1968. And all the songs were written by Amy herself? Okay. I have to listen to this record again. I know death makes music sound different; I'm going into this with my guard up.
2:45pm. My guard is down. Jesus, how does she do it? Those elongated vowels that turn into two, that husk, that phrasing. That phrasing, most of all! No one else on Earth would sing these songs the same way. You know those girls who get up and sing the National Anthem at baseball games, and warble all over the notes in an attempt to be pyrotechnic but just wind up shitting all over the song? You know those girls on American Idol? You know Christina Aguilera? This is nothing like that pyrotechnic warble. This is pure inspiration. And did she really write the songs? Insert sleeve credit check: yes. And those lyrics! "Nowadays you don't mean dick to me." Ha! Adele would never sing shit like that. God, I hate Adele.
3:15pm. Even the non-hits are good, like all of Side Two, after "Tears Dry On Their Own." Listen to it again. How could this have happened? I guess I'll watch her last performance ever, with her goddaughter or whoever this person is. Some kinda iTunes promotion. They're singing "Mama Said" together but… wait, they don't have a microphone for Amy Winehouse?! What? Amy makes the best of it and dances along while looking repeatedly in the wings for a microphone. This translates into "looking confused and out of it" by media reports. Goddamn it all to hell. The media killed Amy Winehouse.
3:36pm. Just sad, for hours and hours.
According to numerous reports coming from the UK, Amy Winehouse has been found dead in her London home. She was 27 years old.
Well, color me honored! Today in New Orleans, the Association of Alternative Newsweeklies held their annual AAN Awards and handed out a second-place national award to City Sound Inertia for Best Music Blog.
Considering the great altweekly music blogs out there—Ian S. Port and the SF Weekly's All Shook Down; Ezra Careff and the Portland Mercury's End Hits; Rob Harvilla and Zach Baron at the Village Voice's Sound of the City, which to no one's surprise took first place—well, being in such fine company, and winning two years in a row, and doing so all by myself in a relatively small town… it feels good.
Thanks to all of you readers for sticking with me here on City Sound Inertia; I continue to be humbled by the fact that people actually read these words of mine, still usually typed at 2am from home. And again, thanks especially to AAN, not just for the award but for nurturing and championing alternative news media. Now go on and listen to some records! Start with Mingus Ah Um, The Transfiguration of Blind Joe Death, Midnight Marauders or w h o k i l l, and you'll be in fine shape for the rest of the day. Here's love to you all.
Behold, Pablo Dylan, folks. 15 years old and already working it.
Sample lyric: "I-I-I'm the grandson of a man nothin' less than legendary / That's a lot of pressure / So I Berry Gordy, I am very Motown, bitch / I'm'a get that crown / W-W-While I'm at it, I might reinvent sound"
Download the mixtape 10 Minutes here. In the meantime, here's an interview. "I mean, really," the young Dylan says, "my grandfather, I consider him the Jay-Z of his time."
I've got this aversion to foam that's reached laughable proportions; I just can't touch the stuff. So when I slipped the plastic off the new Shabazz Palaces LP, I nearly dropped it. What the hell is this foam-like foamness that the foam-a-licious Shabazz Palaces cover is made out of?
According to Dumb Eyes, he design team behind the record, it's black ink printed on shark skin paper. Shark skin paper? Who knew there was such a thing?
Anyway, the record's good—it's Butterfly from Digable Planets on some futuristic shit—but after five listens the beats are still the best part. Did anyone see him when he played Hopmonk last year?
In the meantime, keep that furry record away from me. I'm wearin' latex gloves every time I listen to it.
"Howdy," said Gillian Welch, on stage at the Warfield.
It was after the first song of the set, "Scarlet Town," which is also the first song on Welch's new album, The Harrow and the Harvest. Welch and her partner David Rawlings were already tuning. Welch was making small talk; "Howdy" is just the normal, traditional thing for a girl who plays in a dress and cowboy boots to say.
But Welch kept talking. "Someone gave me shit the other day for saying 'Howdy,'" she added. "What the fuck?!"
She plastered on her best glazed-over Michele Bachmann look and waved an exaggerated, role-playing wave.
"Hiiiiiiiiiiiiiiiiiiiii!," she intoned, and kept up the sarcasm: "That's more colorful."
It was a moment that underlined Welch's individuality perfectly. You'd never hear Alison Krauss start her show with the same banter, just like you'd never come across anyone else capable of crafting songs like "Time (The Revelator)," "I Dream a Highway" or "Everything is Free."
Yes, all of those songs are from the same album, which was released ten years ago: Time (The Revelator), a completely flawless record that, even had it not been released in the great O Brother bluegrass frenzy of 2001, would still be widely recognized as a masterwork. Much of the album's strength lies in its variety. It contains the Roy Orbison-like compactness of "Dear Someone"; the Steve Miller quote in "My First Lover"; the dueling death ballads "April the 14th, Part I" and "Ruiniation Day, Part II"; and "Elvis Presley Blues," which is not a blues song.
At the Warfield, Welch played four songs from Time (The Revelator), but mostly the set culled from her newest record. Unfortunately, The Harrow and the Harvest falls back on recycling folk idioms rather than creating new forms, as Welch has proved herself more than capable of doing. Only briefly is it touched with the same presence from her two previous records—on the second and third songs, "Dark Turn of Mind" and "The Way it Will Be." The rest sounds like Welch had writer's block for eight years and got tired of everyone asking her where her new album was and decided, the hell with it, I'll just let those ten years of playing the Hardly Strictly Bluegrass Festival work their influence and bang out some traditional songs that sound like everyone else, using my expansive knowledge of Southern lyrical themes to twist slightly, 'cause that's what folk music has always done anyway, right? I'll even throw in a hambone for Doc Watson's sake.
This sounds harsh, and maybe it is. Except it's also exactly what Welch herself is admitting to people in interviews. She's just not being critical of herself for it, and why should she? That's not her job, and taken out of context from the rest of her work, The Harrow and the Harvest is a perfectly respectable record. Gillian's singing has always been amazing with Rawlings', and Rawlings' guitar playing is the stuff Sunday worship is made of. But the record is missing that songwriting je ne sais quoi, where the Gods hand down a song and say, "It's yours now," and it's like the song wasn't written with effort so much as delivered with the artist as a conduit for something greater.
Luckily, on stage, even if they were forced to play the Thank God It's Friday soundtrack, Welch and Rawlings possess a cosmic togetherness. So it was easy to forget the debt owed to early Appalachian folk songs, even as Welch sang about hard times and drinking whiskey when she's dry and standing in the backdoor crying and being down along the Dixie line. Of all the descriptors of their stage presence, "alchemy" is the most fitting. You could throw in "ESP," "galaxian-like prowess" and "unfuckwithable" if you wanted, too.
For some of the songs being played live for the first time ever—the Warfield show kicked off her tour—they already sounded completely polished. Welch played two songs from Soul Journey, "Look at Miss Ohio" and "No One Knows My Name," and her cover choice reflected a traditional bent, too: "I'll Fly Away," popularized from the O Brother soundtrack. (This is probably her best cover ever.) She joked that she'd been to the Warfield a bunch but had never been on stage, and when an audience member asked who she saw, she listed off Tom Waits, Jerry Garcia's acoustic shows, and the Pixies.
And even though almost none of those influences played out on stage, a Gillian Welch show is always a special thing. When the two-hour night closed after two encores with "That's the Way the Whole Thing Ends"—the last song, too, from The Harrow and the Harvest—it was pretty evident that no one in the theater wanted the show to stop.