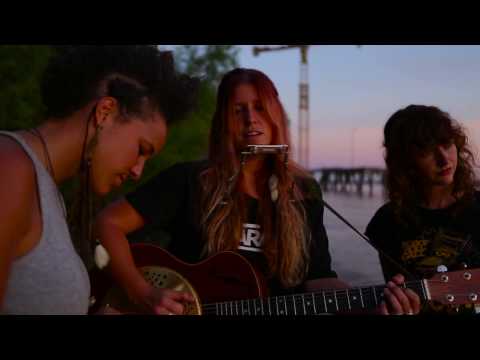 Sonoma County folk group Rainbow Girls are making some of the North Bay's most heartbreaking acoustic harmonies these days. Last spring, they drove this hardened reporter to tears during a performance at the Next Level showcase in Santa Rosa, and they continue to do so with their new batch of tunes, set to be released on the upcoming album American Dream early next year.
Such is the case with "The Folk Singer's Contract," a wistful rumination on a tangled web of a relationship. The above video of the song was recorded live along the New Orleans waterfront on a recent trip. Supported by gentle waves in the background, the trio shows off their vocal chops and emotional resonance on the new song. Just be prepared to grab a tissue for your tears.
In January, Rainbow Girls are taking the new songs on the road for a "Backwoods Tour" with soulful folk singer Caitlin Jemma that takes them from Bolinas to San Diego. Click here to see their upcoming dates and keep your eyes and ears peeled for news of American Dream's release.
Tags:
folk
,
listen to this
,
New Orleans
,
New Song
,
Rainbow Girls
,
The Folk Singer's Contract
,
video
,
watch this