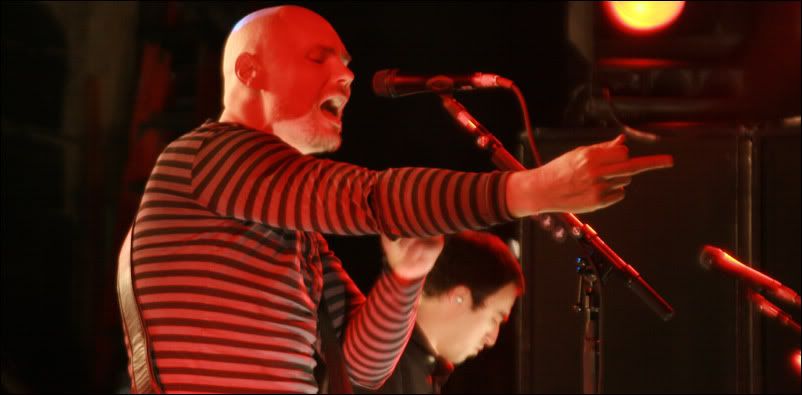 Well, color me impressed. Over the course of an immersive, nearly two-hour Smashing Pumpkins show last night at Petaluma's Phoenix Theater, the ageless Billy Corgan unreeled a nonstop stream of gauze-soaked distortion, a generously crowd-pleasing handful of the band's hits—and said barely a word at all to the crowd.
To those who caught the band's residency at San Francisco's Fillmore last year, pockmarked by long, self-centered rambles from Corgan and obscure, calm material, the Smashing Pumpkins on stage last night might have seemed like an entirely different band, and that's for the better. Simply put, the Pumpkins kicked ass, and then kept kicking ass, and didn't cease kicking ass until the final feedback-laden tones of the long set closer "Gossamer" came to an abrupt halt and the strobe lights finally stopped pulsing. Even the band's new material sounded great last night, which was almost as strange as being at the Phoenix Theater and seeing hardly any teenagers.
The sold-out crowd, nearly all in their 30s, went crazy for hits like "Today," "Tonight, Tonight," "Cherub Rock" and a solo version of "Disarm" that had hundreds of camera phones hoisted in the audience and Corgan singing karaoke-style to a backing track. Not that Corgan, the only original member of the group, rested on his laurels. Instead, he culled from the classic rock trick bag with a Hendrix-inspired "Star-Spangled Banner," played by his teeth, and a foray into Led Zeppelin's "Moby Dick," followed by a long drum solo by new recruit Mike Byrne punctuated with the obligatory crash of a gigantic gong. For "Ava Adore," he unleashed pure Stratocaster pyrotechnics; during "Bullet With Butterfly Wings" he gestured in an actual cage of lighting scaffold and two giant windmills; and throughout the set screeched his trademark growl like a bonafide rock star.
All of this—plus cock-rock openers Big City—showed that Corgan's intentions have always lied in arena rock and not, as the 1990s painted him, as "alternative." The Smashing Pumpkins' best moments seem to happen when Corgan reconciles the two. Last night, the nonstop barrage of lighting and fuzz couldn't have been described as "accessible," yet the continuous unease seemed to clear a space for the band to actually enjoy playing radio hits they've played thousands of times. After the line "No matter where you are / I can still hear you when you scream," from the Singles soundtrack single "Drown," the Phoenix crowd erupted in a scream, and if you were watching close enough, you could see Corgan allow himself a sly smile—still, after all these years.
Set List:
Astral Planes
Ava Adore
Drown
As Rome Burns
A Song for a Son
Today
Eye
Bullet With Butterly Wings
United States
My Love Is Winter
Cherub Rock
That's the Way (My Love Is)
Stand Inside Your Love
Tarantula
Tonight, Tonight
Disarm
Freak
Gossamer
Tags:
2010
,
Billy Corgan
,
Live Review
,
Petaluma
,
Phoenix Theater
,
Photos
,
Review
,
Sept. 8
,
Set List
,
Setlist
,
Smashing Pumpkins