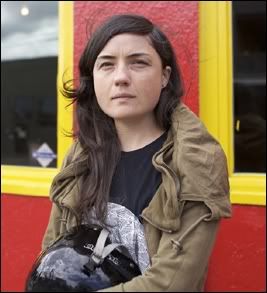 This week's Bohemian column is on Grouper, a.k.a. Liz Harris, who plays this weekend's incredible On Land Festival at Cafe du Nord in San Francisco. Liz and I spent about an hour together in Portland, talking about everything from boyfriends to drug use to old jobs to Kompakt Records to sharing pieces of one's soul to justifying domesticity to high school to spent relationships, but not all of these things could neatly fit into a 700-word music piece. Besides, I made a conscious effort in some instances to honor some modicum of privacy on her part, since stalkers do exist.
Mainly what I took away from meeting with Harris is that she treats music much like visual art; to be digested slowly, and to not be mass-produced. One of the longer portions of our conversation that didn't make the cut, though, revolved around the misnomer of "noise" and the fact that a lot of experimental music released on noise labels and embraced by the noise scene isn't really all that noisy. Case in point: Since I have a one-year-old baby, I find myself listening to more rhythmless music after she goes to bed so she won't wake up; it's what most would call "noise" but the funny thing is it's beautiful nighttime music, and not antagonizing at all. Depending on one's tolerance for sustained cacophony, some of it is downright easy listening.
Dragging a Dead Deer Up a Hill is an excellent introduction to Grouper, it's true. I find Cover the Windows and the Walls to operate on a similar level of structure, wherein her melodies conjure the shoegazier side of Yo La Tengo as much as the Flower Duet from Delibes' Lakme. You could say it caused some excitement on its release. It's on Root Strata, who along with curating the On Land Fest recently hosted a series of shows inside Grace Cathedral utilizing said architecture's natural seven-second delay. Root Strata has some stellar releases under its belt—among them Common Eider, King Eider's Worn and Barn Owl's The Conjurer—and everything they do is worth checking out. Plus, Bay Area represent, duh.
Type Records kills it time and again, but the record of theirs I find myself playing with the most frequency is And in the Endless Pause There Came the Sound of Bees, by Jóhann Jóhannsson. Written to accompany a film, the score hits all the urgent swells and calm passages reminiscent of John Barry's less popular work; though I've no clue what the alleged film is supposed to be about, listening to the record is like being whisked through a storyline. It's utterly addictive. Honorable mentions for Type also go to Your Eyes the Stars and Your Hands the Sea by Seasons (pre-din),  Kappe by Svarte Grenier, In Bocca al Lupo by Xela and the utterly breathtaking Going Places by Yellow Swans, all spending hours upon hours occupying my turntable lately.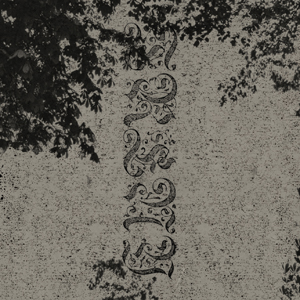 I know little about the Miasmah label, other than I want to know more. Everything I've heard from them is top-quality, and like many of these labels, they have copious sound clips online. Although the cover art isn't as striking as Kreng's L'Autopsie Phenomenale de Dieu or FNS's S/T LP (both excellent records, really), I'm drawn most to Jacaszek's Treny record of late. Chamber strings, calm soprano vocals, minor-key meanderings and a workable cohabitation of serenity and dread. Miasmah is set to release the home run of their career with Marcus Fjellstrom's Schattenspieler, due Sept. 13; some preview tracks for the album reveal the Swedish composer at his finest and most evocative yet.
Iceland's Bedroom Community label has been on a roll, what with Sam Amidon's much-acclaimed I See the Sign LP (traditional folk songs, none well-known, delicately arranged; the album also contains one R. Kelly song). Most of the players on that markedly calm record contribute to Ben Frost's razorish By the Throat, a scenario not unlike, say, Will Oldham suddenly singing over an orchestra of power tools or something. Prominent like Shakespeare on Bedroom Community is Daníel Bjarnason, and his risk-reward masterpiece Processions. It reminds me of a certain defunct experimental ensemble from Santa Rosa called Triste Sin Richard—pulsing, daring, and joyous.
That brings me to Pan Records, who actually do release antagonizing noise, albeit in shockingly elegant fashion. Each of their first nine releases features mysterious black-and-white images printed on inverted cardstock jackets; those are then housed in a thick transparent polymer sleeve silkscreened with busy linear patterns. The effect is porn for graphic design freaks, basically, and being limited to just 330 copies each makes them collector's gold as well. I can't possibly pick a favorite release on Pan, although Ilios' Kenrimono is notable for being entirely sampled from pachinko parlors in Japan, and Evan Parker and John Weise's C-Section is a total blast. I warn you, though: this label is like Ikea. Once you buy one Pan record, you will want them all.

Tags: Bedroom Community, Grouper, Liz Harris, Miasmah, Noise, On Land Fest, Pan Records, Root Strata, Type