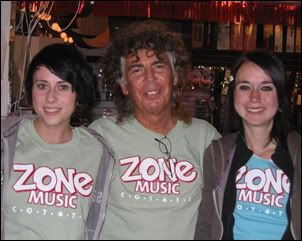 The rumors are true: Zone Music in Cotati is closing its doors.
But they'll open again soon, promises owner Frank Hayhurst.
The venerable music store which since 1983 has seen the likes of Neil Young, Stevie Ray Vaughan and Jeff Beck as customers is downsizing its inventory and floor space to reopen sometime in the future, possibly with a different name but most likely in the same general spot, Hayhurst tells me.
"Cotati is a great community and a perfect location for a music store—it's the heart of Sonoma County," he says. "We're looking at closing for a short while to remodel, but haven't picked the exact dates yet, because there are many variables. We need to rescale, but it shouldn't take too long."
Whatever the future holds, the new store will focus instead on the things that still make money in an online age—guitars, accessories, used gear, consignments—in a remodeled, "much smaller" shop. "Basically," says Hayhurst, "the old model of a full line music store doesn't work in this current economy."
Last week, customers reported the shelves at Zone being bare, and employees saying that the store was "going under." The news came as a shock to those who've patronized the popular, well-loved store over the past 28 years—with most of the finger-pointing directed at online megastores like Musician's Friend.
But even when Zone offered competitive price-matching with online merchants, "it's 10% more expensive to shop with a local retailer than making the same purchase online," says Hayhurst. "That's the sales tax inequity issue."
Several businesses surround Zone Music, and will stay open. Zone Recording, run by studio veteran Blair Hardman, will continue to record bands, singers, commercial jingles, books on tape and all manner of audio projects. Backstage Audio, run by fix-it whiz Kent Fossgreen, will continue to fix amps, guitars, keyboards and all manner of musical instruments.
A used vinyl LP store is moving in on the premises as well.
Even in tough times, while Zone restructures, Hayhurst says he hasn't lost his passion for the business in Sonoma County. "My favorite visiting musicians have been the working musicians of the North Bay Area," he remarks. "They are my inspiration. Oh, and the kids! Hearing kids rock always brightens my day."
Tags:
Closes
,
Closing
,
Cotati
,
Frank Hayhurst
,
music
,
Zone Closing
,
Zone Music