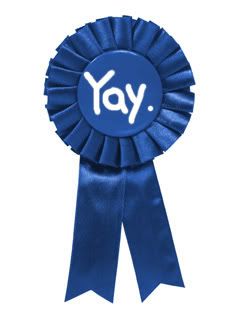 I am honored, elated and surprised that at today's annual convention in Toronto, the Association of Alternative Newsweeklies has bestowed this very blog you're all up in right now with a first-place award! That's right: Best Individual Blog, circulation under 50,000.
As someone who still loves and uses rotary phones, typewriters and the U.S. Postal Service, I was stubbornly hesitant to start a blog in the first place and spent a great deal of time criticizing the idea to anyone who would listen. I've always felt the printed pages of the Bohemian were far more important. But at the urging of my great editor, Gretchen Giles, I finally relented and began writing posts—usually from home, at around two in the morning.
In the two-and-a-half years since, CSI has been a hodgepodge of local music coverage, show reviews, announcements, personal musings, interviews, record reviews and whatever else pops into my head. It's also been very, very rewarding. Sometimes I veer off and start talking about closed Chinese restaurants, parking meters and heroin needles; other times I've broken behind-the-scenes stories that get picked up by Rolling Stone.
Kissing booths, harlequins, leaked festival lineups and girls camping out for a Hanson show have all made appearances here, as well as one of my all-time favorite interviews. Sometimes I hang out with famous people and review huge pop stars both extremely talented and so untalented it's a joke; other times I spotlight brilliant unknowns, visit in on friends' record collections or rally support for hometown heroes. I even drop in on porn stars from time to time.
I guess what I'm saying is that I love doing it. Here's the part where I say I owe it all to you, the loyal readers, who give me constant support and tolerate my bad jokes. Of course, thanks also to AAN, not just for the award but for nurturing and championing alternative news media. Now go jam out to some ridiculous Nicki Manaj verses or at least listen to some vintage Sonny Rollins, and enjoy the weekend!
Tags:
AAN
,
Award
,
Bohemian
,
city sound inertia
,
gabe meline
,
music
,
Music Blog
,
Santa Rosa