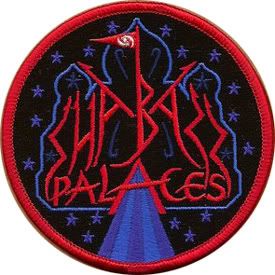 The first time I heard about Digable Planets, it was from someone on LSD. So it's no surprise that 17 years later the group's Ishmael Butler, a.k.a. Butterfly, has started an elusive lysergic-leaning project called Shabazz Palaces. (You may have read about it recently at a certain M.I.A.-bashing indie site.) They—he, whatever—play tonight at Hopmonk's Juke Joint, and for anyone into tripped-out hip-hop in the vein of Anticon, Edan or MF Doom, it's a rare chance to catch Butler on some out-there levels.
I love this surreal pastiche video for "Belhaven Meridian," shot in Watts:
And how scattershot are Shabazz Palaces' song titles? Here's the tracklist to the first EP:
1. kill white t, parable of the nigga who barrels stay hot, made by [email protected]
2. 4 shadows"noah mission as told by plcr dougie frum up the block from granny's Subsonic custom crowns
3. 32 leaves dipped in blackness making clouds forming altered carbon
4. blastit at the homie rayzer's charm lake plateau bbq july at outpalace pk
5. Capital 5, recorded after hrs at the gun ballad resource cntr on s Sweeper st.
6. my mac yawns i go on to make this darksparkles move call it: as the americans say, middle section made by plcr runner reg on his 30′ chromitar
7. a mess, the booth soaks in palacian musk, palaceer in vintage LRG, yes pure NS, uppowndet watermelon lips beat
I am not kidding.
Shabazz Palaces plays tonight, July 15, at the Hopmonk Tavern. 230 Petaluma Ave., Sebastopol. 9pm. $15. 21+. 707.829.7300.
Tags:
Butterfly
,
Digable Planets
,
Hopmonk
,
Ishmael Butler
,
Juke Joint
,
LSD
,
Shabazz Palaces