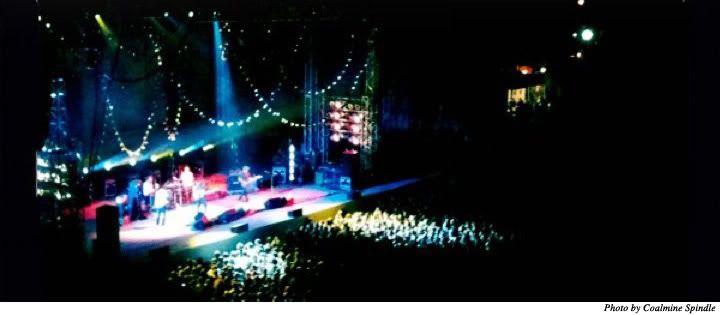 Even though he didn't play until the very end of the set at the Greek Theatre last night, Pavement's notorious ex-drummer Gary Young made his surprise presence known early. Wandering around the wings in a gray-haired ponytail, cutoffs, mismatched socks, a soccer jersey and a red-and-blue women's blouse, Young at one point lumbered up to frontman Stephen Malkmus, in the middle of the stage, and handed him a giant bottle of Scope mouthwash.
Malkmus scrambled for an explanation. "Uh…" he said, "…this is our product placement?"
The entire show was ridiculously perfect, probably the best Pavement has ever played in the Bay Area. Famously spotty as a live band in their day, on this reunion tour Pavement has honed their trademark of playing on the edge of falling apart. Better yet, the set list comprised greatest hits—"Stereo," "Shady Lane," opener "Cut Your Hair"—alongside lesser-knowns like "We Dance," "Date w/Ikea" and a downright spine-tingling "Stop Breathin'."
As for Malkmus himself, the rakish surrealist was sight to behold, owning his past by playing his guitars in the weirdest diagonal ways and nailing the spirit of songs that the not-quite-sold-out crowd sung along to, loudly: "Range Life," "Gold Soundz," "The Hexx."
But then came Gary Young's turn on the drumset, which as anyone could guess changed everything completely.
"Trigger Cut" was the first to endure Young's sporadic drumming. Then "Box Elder." Young, who had only been announced for the previous night's show in Stockton but decided to show up tonight as well, plays the drums, uh, "uniquely." There's videos. It's kind of like if Gary Busey drank a bottle of NyQuil and was handed drumsticks.
For "Linden" and "Summer Babe," Young threw his whole being into every cymbal crash and off-time drum fill. "Two States" nearly fell apart. Young even introduced "a new one they won't let me play," and started—for a few seconds, at least—the drumbeat to his solo anthem "Plantman."
"Jesus Christ," muttered Malkmus.
As strange as the last five songs were, to anyone who knows the Gary Young legend it was a beautiful triumph for a guy who probably won't ever get the chance again to play in front of thousands of people—some even leading a chant of "Ga-ry! Ga-ry! Ga-ry!"
The set ended with "Here," Young smashing out bizarre fills in the otherwise calm chorus and covering his face with both hands while still keeping a kind-of beat. Spiral Stairs jumped into the drum set, Malkmus ironically played the melody of "Those Were The Days" on his guitar and the show was over.
Except it wasn't. Check the video below; after hopping off the stage into the photo pit, Young walks into the crowd and mingles with fans while trying to find his way to the exit. At one point, he asks a fan, "D'you think that I drum better than the other guy?"—and wonders out loud why the rest of the band doesn't want to stay at his house.
Ga-ry! Ga-ry! Ga-ry!
Setlist:
Cut Your Hair
Frontwards
Gold Soundz
Stereo
Zurich Is Stained
Rattled by the Rush
Unfair
Silence Kit
Kennel District
Grounded
Range Life
Shady Lane
Date w/ Ikea
Spit on a Stranger
The Hexx
We Dance
Elevate Me Later
In the Mouth a Desert
Starlings of the Slipstream
Stop Breathin'
Trigger Cut
Box Elder
–
Linden
Two States
Summer Babe
Here
Tags:
2010
,
Berkeley
,
Concert Review
,
Gary Young
,
Greek Theatre
,
June 25
,
Live Review
,
Pavement
,
Photos
,
Reunion
,
Review
,
Setlist
,
video