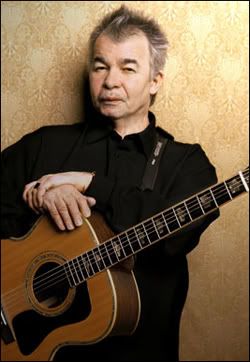 John Prine, the lovable songwriter who deserves every laurel thrown at his feet, is coming back to Santa Rosa to play the Wells Fargo Center on April 11, 2010.
Presale tickets are available now by clicking here, although take note of the strange rules if you pursue this option: "Seats will be assigned at random on the day of the show, and the location of your seats will not be known until tickets are picked up at will call."
For those who want the peace of mind of knowing where they're sitting, tickets to the general public go on sale this Friday, Jan. 29, at noon.
The last time John Prine played in Santa Rosa, it was September 8, 2001. The twin towers still stood, as did the feeling of optimism and confidence in the economy. The venue was still called the Luther Burbank Center. We had the luxury of being able to laugh at his songs then; something tells me those same songs might cause a tinge of sadness now. He played for over two hours that night, just song after brilliant song, ending with an encore of "Paradise" joined onstage by Todd Snider. "Lake Marie" brought the house down, and he made beautiful chestnuts like "Souvenirs," "Sam Stone" and "You Got Gold" sound shiny and new after all these years. I talked to him afterwards; he was all rosy cheeks, in a great mood, and told me the crowd was as great and responsive as any he'd played for. It was a hell of a show.
If you've never seen John Prine, you're missing out on a genuine national treasure. The standing-room deal is $19.50, with tickets going up to $39.50 and $49.50 for seats. It'll sell out easily. For more info., call 707.546.3600 or visit the Wells Fargo Center site.
Tags:
April 11
,
John Prine
,
Presale
,
Santa Rosa
,
Tickets
,
Wells Fargo Center