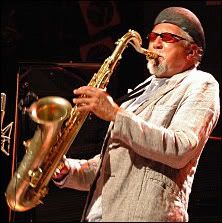 Jesus Lord, why do they do it to us? SFJAZZ's spring season is announced today, and once again the booking has turned up a crazy, diverse lineup full of wide-ranging talent and scattered must-sees. Exciting stuff to say the least.
On May 29, Blue Note legend Lou Donaldson blows soul-jazz roots at the Herbst. On Apr. 11, my man Tomasz Stanko drops in with his quintet to the Florence Gould Theatre at the Legion of Honor; the ticket includes entry to the museum. (Stanko's recent tribute to Krystof Komeda is sublime.) Apr. 25 brings Charles Lloyd with Jason Moran, Reuben Rogers and Eric Harland to the Palace of Fine Arts; this quartet is incredible and shouldn't be missed.
On Feb. 21, Touareg political pioneers Tinariwen plays the Palace of Fine Arts. Count the cratediggers on Apr. 17 for Brazilian pioneer Caetano Veloso singing at the Masonic, and on June 11, the excellent bassist Marcus Miller replays Miles Davis' electric era at the Herbst.
It keeps going on! On May 1 it's the Hypnotic Brass Ensemble, the Chicago-bred sensations, playing two shows at the Palace of Fine Arts. On Mar. 20, the hip-hop–influenced Robert Glasper Quartet plays with Japanese star Hiromi at the Herbst Theatre. And Mar. 13 brings alto saxophonist and former Vijay Iyer collaborator Rudresh Manthappa to the Swedish American Music Hall.
Keith Jarrett, Pharoah Sanders and Joshua Redman all play separate solo shows, and Bobby McFerrin, Chris Thiele, Salif Keita and Max Raabe are in the mix, too. There's way more; check out the full and complete lineup here, and if you're like me, you'll start saving up for tickets.
Tags:
2010
,
Lineup
,
SFJAZZ
,
Spring Season