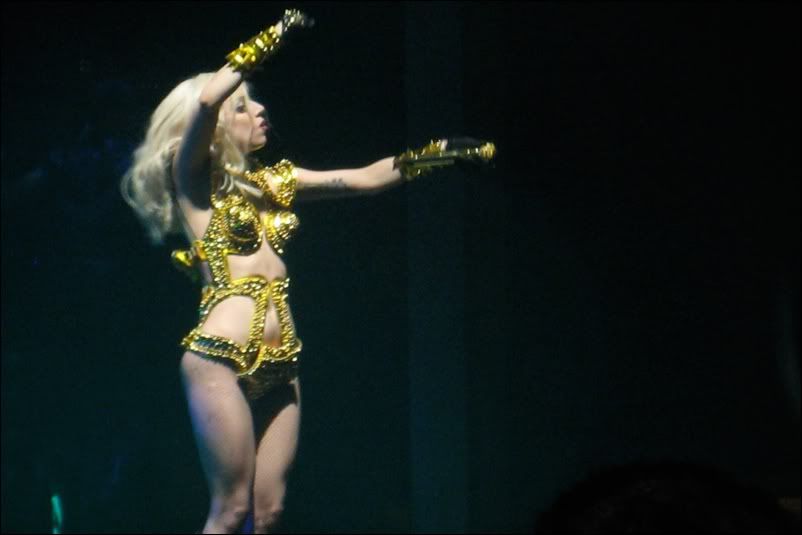 "Well, San Francisco," cooed Lady Gaga, wearing one of dozens of bazonkers outfits eclipsed in ridiculousness only by the feathers, leotards, Mickey ears, sequined chokers and ill-fitting hot pants donned by her audience, "this is our first date together, which means I can suck your cock and still feel okay."
So yeah, let us hail the emergence of a new pop star and all that. Lady Gaga sang, danced and swore her way into the shamelessly superficial affections of San Francisco for nearly two hours tonight, asserting her perfectionist dedication to fame, fashion, sex appeal and music. In that order. She also loves to say "fuck." She may love to say "fuck" more than making music. Crass, vulgar, loves it. Selections from the Gaga patter book:
"I don't know if you've heard, but I have a pretty tremendous dick."
"Let me see your fucking teeth! I am not a dentist! I'm a free bitch!"
"Do you like my show so far? If you don't, I don't care, 'cause you can fucking leave!"
"Do you want to fuck me? Come on, San Francisco!"
Adding up the costume changes, set changes, stories about her fans and her pushy record label and her days living in a studio apartment plus legs legs legs dance dance dance skinny skinny skinny epic chorus part dance breakdown red bikini flip hair #1 song in the country scream scream gay gay gay keytar fame fame aliens tinkerbell i love you i love you i love you i love you hundreds of counterfeit tickets outside dance dance dance fuck off dance rah-rah ah-ah-ah-ah skinny skinny fame crawl crawl shake shake singy singy sing song, Lady Gaga is decidedly here to stay. Despite sometimes not making very much sense when talking to a crowd.
"Some of you may not know where to fit in in the world, but know that you always have a place with me. When you are lonely, I'll be lonely too. And that is THE FAME!!" Huh?
"The way my fans work their cameras, it's like kings writing the histories of their kingdoms." Huh?
But fuck it, she was genuinely appreciative of her fans—she thanked them, like, 30 times, I swear—and put on A PARTY-BLIZZARD OF A SHOW. Entire auditorium letting hella loose for "Just Dance," "Paparazzi," "Poker Face," "Shameless," and big cluster-love we are one closer "Bad Romance." (It helped that her warm-up music was 35 minutes of MJ, which killed it more than opener Kid Cudi.) Everything on point, choreographed or improved with such fluidity so as to look choreographed, real live actual singing, backup dancers great, huge spectacle. "How to Give Fans Their Money's Worth," by Lady Gaga, coming soon from Da Capo Press.
Gaga makes a big deal of being "from the underground" and doing things her own way, and it's true—no major label is going to call a meeting to say, "You know, you've got the sound, the look, the moves, but what you really need is a video screen of a waifish girl throwing up all over you. Maybe you should also put the barrel of a machine gun in your mouth when you're at the piano and tell your audience to fuck themselves." That's all her.
But what Gaga has is a fulfillment of dual needs; one for that uncensored down-to-earthness and another for something that we kinda forget in all this dancing on the grave of the record industry that we've been doing.  We need pop stars, no matter how obvious the myth. "The thing I hate more than anything is the truth," bespoke Gaga at one point tonight, "I can't stand the truth—in fact, I prefer a giant dose of bullshit."
Fuck if Lady Gaga doesn't have the whole illusion down.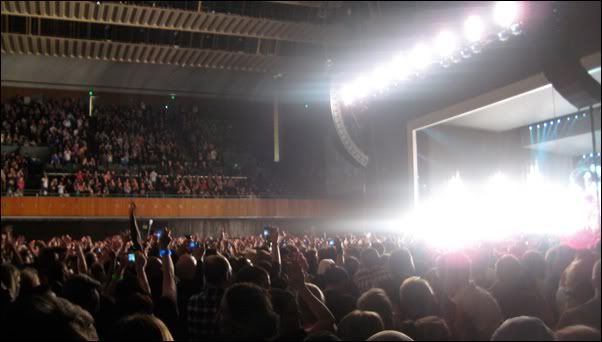 Tags:
12-13
,
2009
,
Bill Graham
,
Dec. 13
,
Gay
,
Lady Gaga
,
Live Review
,
Photos
,
Pics
,
Review
,
San Francisco