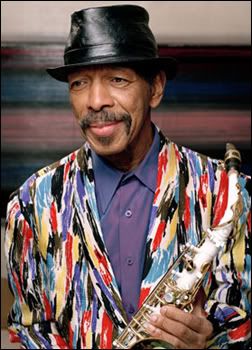 Ornette Coleman, a slow, frail-looking figure at age 79, shuffled onto the Davies Symphony Hall stage last night. Slowly making his way to the bandstand, he bowed, remarked that it was good to be able to get to know the audience, and picked up his alto saxophone. He and his band began to play.
Suddenly, Ornette Coleman wasn't 79 anymore. He was 24, or 34, or any particular age in between. His saxophone came to life with his unmistakable butcher-paper tone, a singular voice in jazz that is ageless. During the next five minutes, he picked up and played a flugelhorn, then a violin. His band rumbled forth until the line between improvisation and composition blurred, and the whole propulsion came to a quick, sharp stop.
It was, in a word, miraculous.
While many jazz legends age ungracefully and move into smooth-jazz territory, Coleman through thick and thin has continued to follow his own path, a journey that is at the heart of jazz itself. In recent years, this journey has brought him to the Pulitzer committee and, in one of the funniest television moments of the last few years, the Grammy Awards. He has also time and again returned to the SFJAZZ festival, who presented last night's concert. But he hasn't rested on his laurels, playing at Davies from a chartbook full of new compositions and old classics with a stellar band featuring son Denardo on drums, Anthony Falanga on upright bass and Al McDowell on five-string electric bass.
In a mostly adventurous, tight set, there were admittedly moments when the men on stage weren't entirely together. "Blues Connotation," the opening track from This Is Our Music, was the first sign that age might be catching up with Coleman—he layed out for the lightning-fast head, and when it came around again as the outro, he struggled to keep up.
But any minor diminishments were more than overshadowed by the stellar, unpredictable vision of Coleman's music. MacDowell provided swirling counterpoint to Coleman's playing, like a spider doing the Charleston, while Denardo, playing more rock beats than usual, maintained a strange sense of control. Falanga, an excellent bassist, brought the house down by bowing Bach's Prelude to Cello Suite No. 1, more than capably handling the iconic theme arranged for jazz in a surprise twist.
Coleman himself, with his bizarre white saxophone, played remarkably. After a short, beautiful encore run-through of "Lonely Woman," the applause was too great, and the band returned for "Song X." Davies Symphony Hall resonated with Coleman's bended notes, his falling glissandos, his jumping lines. It was clear that nowhere else in the entire world was music like this, full of humanity and love, being played at that same moment.
May Ornette Coleman live on, and may his music last a thousand years.
Tags:
2009
,
Davies Symphony Hall
,
Live Review
,
Ornette Coleman
,
Review
,
San Francisco
,
SFJAZZ