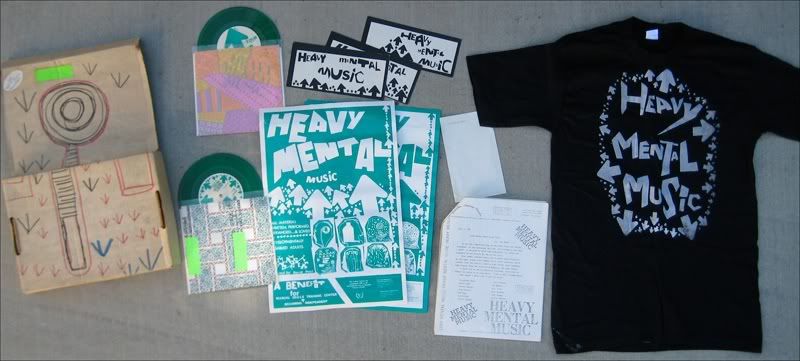 This week's Bohemian feature is on Heavy Mental Music, a very amazing, strange record made in 1981 by David Petri and the developmentally disabled clients of the Manual Skills Training Center in Santa Rosa. Pictured above is the "deluxe edition," with a T-shirt, two posters, three stickers, a photocopied booklet, a notepad and two copies of the record, all housed in a hand-designed box. According to Petri, only 50 of these "kits" were made (most copies of the record were sold alone, or given out to strangers on the bus), and at one point, what you see above actually sat on the desk in the Oval Office.
What strikes me most about this record is that it's completely ahead of its time, both in concept and presentation. Colored-vinyl 7″s, stenciled T-shirts, photocopied lyric booklets and paper Kinko's stickers didn't start showing up en masse until around 1991, and the acceptance of incorporating the developmentally disabled into pop culture—the Kids of Widney High, or How's Your News?—was years away.
The heartbreaking part of the story, for me, is Petri being accused of using the mentally retarded clients of the Manual Skills Training Center to advance his own agenda. In the time I spent with Petri, he seemed like a sincere, caring person who patiently taught the clients how to play drums and keyboards and who happened to be attracted to the aesthetic of artists like Todd Rundgren and Salvador Dalí. Shades of that aesthetic color Heavy Mental Music, and something tells me that if Petri had recorded campfire folk songs like "This Land is Your Land" instead, it wouldn't have been an issue.
Anyway, without further ado, here's "Heavy Mental Music," written by Jim Weber and performed by the developmentally disabled clients of the Manual Skills Training Center on Lomitas Ave. in Santa Rosa in 1981:
Heavy Mental Music
Play Now
|
Play in Popup
|
Download
Tour
Play Now
|
Play in Popup
|
Download
Click the second file above to hear the obscure but no less compelling B-side,"Tour."
Tags:
Becoming Independent
,
Bohemian
,
David Petri
,
gabe meline
,
Heavy Mental Music
,
Record
,
Santa Rosa