1. If Beyoncé were placed inside a time capsule and sent into space, aliens would immediately decide to become friends with Earthlings.
2. Every outfit Beyoncé wore last night at the Oracle Arena in Oakland showed off her legs.
3. Three cheers to the cameraman for putting a feverishly hugging gay couple on the jumbotron during "If I Was a Boy."
4. Beyoncé is like every pop superstar before her wrapped up in one but without the narcissism. "Ave Maria" was pure Streisand, leather beefcake dancers pure Madonna, ever-increasingly noticeable doses of Michael throughout.
5. Beyoncé now has the most touching tribute to Michael Jackson yet. End of the show, during "Halo," a canned but nonetheless incredibly moving speech about how he showed her the way—preceded by a video of her when she was a child, emulating his moves, and concluded with altered lyrics about his lasting influence. It beats any other token tribute I've seen.
6. Mid-show: bass solo, behind the head, to "Billie Jean." Beyoncé's band is all-female, a fact she has every right to point out three or four times throughout the show.
7. Sorry, took a break there. Did I mention Beyoncé is our Earth's ambassador to space?
8. The feminism of Beyoncé is what the Spice Girls always promised but never delivered: the "Be sexy, but own it, be in control of yourselves and support each other" feminism. Snippets of Sarah McLachlan's "Angel" and Alanis Morisette's' "You Oughta Know" proved she knows her Lilith Fair history, but she makes being a strong woman seem way more exciting than the Lilith Fair ever did. (My heart will actually stop if Beyoncé adds "Double Dare Ya" to her set on this tour.)
9. Beyoncé's brand of feminism also leaves little room for women who don't look like Beyoncé, so the point might be moot.
10. People-watching prize: the group of middle-aged women wearing matching custom T-shirts, reading "Fun and 50."
11. I did not text my special message to the jumbotron before the show, but the girl who told the entire arena she was going to lose her virginity after the show definitely did.
12. There's a go-to look of wonder that Beyoncé splashes across her face at a moment's notice, like she's seeing God or something. Most of the time, I believe her.
13. Okay, okay—walking down the aisle, singing directly to her fans. Oh shit, singing directly to a small child! Holding his hand, looking right into his eyes, singing straight to him—and the kid looks bored, like he's in math class. 20,000 lbs. of envy in the room.
14. The only thing more exciting than "Crazy in Love" is taking a bathroom break and seeing the Giants' no-hitter up on the lobby screen. SO CONFLICTED.
15. Scratch everything I've just said. The most important thing about Beyoncé is that she resurrects the pop music ideal of mass emotional oneness: everyone feeling like everyone else feels exactly the way they do at that precise moment. This is actually her greatest tribute to Michael Jackson, whether she knows it or not. Evidence during last night's show included a YouTube collage of "Single Ladies" dances (Hey, we all did that!), footage of the Obamas dancing at the Neighborhood Ball, during "At Last" (Hey, we all watched that!) and allowing the entire crowd to sing "Irreplaceable"'s first verse and chorus (Hey, we're all doing this, right now, here, together!). Michael had that effect in droves across the world; no one besides Beyoncé has had it to such a degree since.
16. (Side note: "Minute" does not rhyme with "minute.")
17. Those in the $500 front-row "diva zone" seats were deservedly doted upon, with multiple sweat-towels thrown, hands touched repeatedly, and one guy from Hawaii with a sign that said "It's My Birthday" who got "Happy Birthday" sung to him. We'd joked about the people who paid $500 for seats, but damn.
18. Second stage, in the middle of the floor, about 25'x25'. Crazy-intimate. Everyone standing on chairs, crowding in tight, taking videophone footage, especially during "Video Phone." Beyoncé crouching down, talking to fans, reaching out, "seeing God" wonder-face in abundance, genuine gratitude, asking people to say her name. People 100 ft. away in "diva zone" bummed.
19. "She's sexy, but she's sexy like a man," says Liz.
20. End of show, after child-serenading, after Michael tribute, after walking through the crowd flanked by security, after outpouring of love in both directions, the phrase "I Am…" flashes on the screen. "I Am." Surely, "Sasha Fierce." No? "I Am…" "YOURS." "I am yours," Beyoncé says. "I will give you 100% of everything I have." Unfuckwithable, because even though in reality Beyoncé's one of the most private celebrities in the world, she's just created a sociological time-emotion-music-love vortex in Oakland. How is it possible, night after night? With absolutely pitch-perfect, non-lip-synched singing? Is she even from this planet? Someone please explain.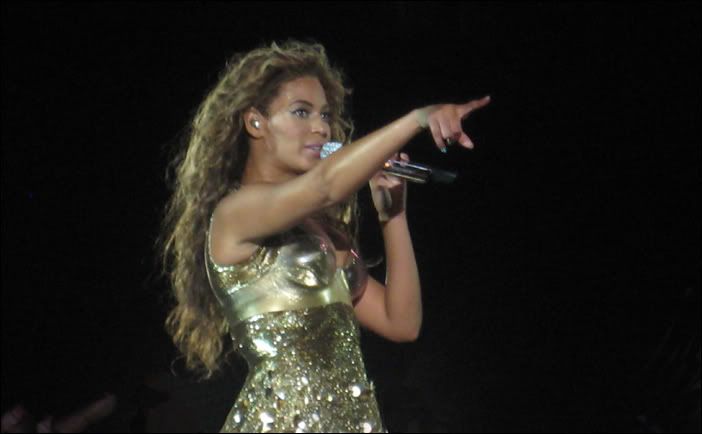 Tags:
2009
,
Beyonce
,
Concert
,
Concert Review
,
Feminism
,
I Am
,
July 10
,
Live Review
,
Michael Jackson
,
Oakland
,
obama
,
Oracle Arena
,
Photos
,
Pics
,
Review
,
Single Ladies
,
tour