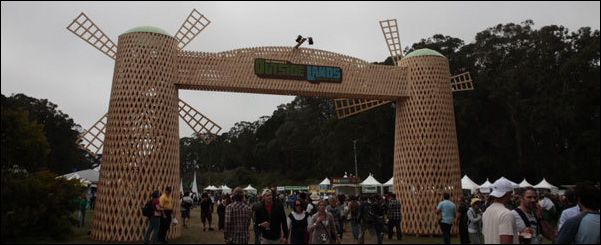 Here it is—the lineup for the 2009 Outside Lands Festival in San Francisco's Golden Gate Park, August 28-30, 2009:
Pearl Jam, Dave Matthews Band, Beastie Boys, M.I.A., Mars Volta, Modest Mouse, Ween, Thievery Corporation, Black Eyed Peas, TV on the Radio, Atmosphere,Q-Tip, Bettye LaVette, Raphael Saadiq, the Dodos, Built to Spill, Deerhunter, Mastodon, Calexico, Os Mutantes, Tom Jones, Band of Horses, the National, Akron/Family, the Dead Weather, Silversun Pickups, Robert Randolph, Brett Dennen, Midnite, Jason Mraz, JJ Grey & Mofro, Kinky, Lila Downs, Trombone Shorty, Dengue Fever, Heartless Bastards, the Dirtbombs, Lenka, Incubus, John Vanderslice, Matt & Kim, Portugal, the Man, the Morning Benders, the Duke Spirit, Zee Avi, Blind Pilot, Sambada, Ryan Bingham, West Indian Girl and Extra Golden. Whew!
I was trepidatious about last year's inaugural Outside Lands festival, but as you can read here, here and here, it was conceived and executed extremely well.
Advance three-day passes are $200-$226. My friend Kim writes to take issue with this year's "layaway" ticket pricing option, no doubt geared to help those in the struggling economy:
Look – I get that the tickets are too expensive for some people who would want to go. Giving them an option to spread out the cost over a few months is, on the surface of it, a nice convenience. But charging them an additional $35 for it? Could it possibly cost that much to run the card a few times? I don't really know how much Visa & Mastercard charge, but it seems unlikely to be that much. If I'm wrong, then all apologies, but if not, then OL is charging poor people more money for the same exact ticket.
If you have to spread the cost of the ticket over a certain amount of time, shouldn't you just do that on your own and buy it when you have the money? The whole thing seems totally predatory to me.
And get a load of this:
IMPORTANT: If, for any reason, any of your payments are declined, in whole or in part, then all of the following will apply: (i) your order and your tickets will be cancelled (ii) any payment received as of that date will be kept by Outside Lands as partial offset for your default, (iii) you will still owe the balance of the full amount due for each ticket and you authorize Musictoday and Outside Lands to charge your credit card for any balance due, (iv) Musictoday and Outside Lands will be entitled to pursue all of their legal and equitable remedies to recover the full payment from you, and (v) you agree to pay all costs of collection incurred by Musictoday or Outside Lands, including legal fees, that they may incur in collecting the balance of each ticket price. Payment plan tickets are subject to all of the other terms of the ticketing agreement.
Mismanage your account or have unexpected expenses, and not only do you lose your ticket, but you're still liable for the full price.
I suppose this is a good time to remind people that festivals very rarely sell out, and that one-day tickets will surely be made available at some point, just like last year. If you're raring to be the first on your block to buy tickets, they go on sale April 15.
Tags:
2009
,
August
,
Bands Playing Outside Lands
,
Beastie Boys
,
Dave Matthews
,
Lineup
,
Ouside Lands
,
Outside Lands Festival
,
Pearl Jam
,
San Francisco
,
SF