The rare treat of seeing Merle Haggard and Kris Kristofferson last night in their first-ever concert together wasn't one easily passed up. Not by the sold-out crowd; not by Ramblin' Jack Elliott, who ambled in with trademark cowboy hat and cane; and not by—brace yourselves, folks—Cher, who sat in the sixth row.
What in the world was Cher doing at a Merle Haggard / Kris Kristofferson show in Santa Rosa? We may never know. What's for sure is that she, along with fans that capped the night with an epic five-minute standing ovation, witnessed two bona fide heroes of country music give a performance at turns tender, humorous, poignant, insightful, and above all, intimate.
Let's just hope Cher wasn't the woman who yelled out for "Me & Bobby McGee" a few songs after Kristofferson had already played it.
The 1,400-capacity Wells Fargo Center has a historic knack for achieving a living room-like atmosphere for acoustic music. They did it with the Landmine Free World concert in 1999 with Steve Earle, John Prine, Emmylou Harris, Patti Griffith and Bruce Cockburn; they did it with the two Elvis Costello / Steve Nieve concerts they've hosted; they did it with the Texas songwriter night in 2005 with Lyle Lovett, John Hiatt, Guy Clark and Joe Ely; and they did it last night by closing the stage curtain and presenting Haggard and Kristofferson front and center.
When Merle Haggard played at the Center last year, electric, he drew a shitkickin', Copenhagen-dippin', cheap perfume-wearin' crowd. This tour was different. Instead of a parking lot scene with greasy dudes in Suicidal Tendencies T-shirts smoking joints, it welcomed wine tour limousines and sixty-somethings gingerly stepping out of Oldsmobiles. The performance itself suited the new audience: pensive, slow, and mortal.
"If there's a Hall of Fame for heroes in heaven, this man's definitely on his way," said Kristofferson, introducing Haggard after opening the show with "Shipwrecked in the Eighties." Added Haggard, fresh from successful lung cancer surgery: "Between the two of us there's about 150 years of experience here."
Those expecting a "Storytellers"-type show, with Haggard and Kristofferson sitting down with acoustic guitars and swapping tales about the Army (Kristofferson), prison (Haggard), Louisiana oil rigs (Kristofferson) or stealing Buck Owens' wife (Haggard) got something far better: a run-down of the two giants' greatest songs backed by an elegant, semi-acoustic version of Haggard's band, the Strangers. (Turns out Haggard must have won the battle.) As for storytelling, most of the night's commentary got squeezed between lines of the songs themselves.
Kristofferson, during "Nobody Wins": "George Bush and Dick Cheney were singin' this song in the shower together."
Haggard, during "Sing Me Back Home": "This goes out to all the ex-convicts. It's every convict's dream to be an ex-convict."
Kristofferson, during "Best of All Possible Worlds": "Did you know that here in the USA, the land of the free, we got more people behind bars than any other country on the planet? That's right, boy. We're #1."
Haggard, during "Tonight the Bottle Let Me Down": "I feel like a stripper without a G-string!"
Yes, the two were very funny together, but also incredibly warm, and wise. It's not uncommon for former hellraisers entering life's twilight, particularly in country music, to embrace a life-lesson empathy. When I spoke with Kristofferson last year, he elaborated: "There is a freedom in accepting the fact that there is a difference at this end of the road," he told me. "I've watched a lot of my friends and heroes, like Johnny Cash and Waylon, I've watched 'em slip and fall. And be gone. And it's gonna happen to all of us. So I think the acceptance of it gives you a freedom to be less critical of yourself when you make mistakes, and to not be so hard on others."
Warmth like that was conveyed on stage last night so often, it sometimes outperformed the fantastic songs. Check the set list below—there were nearly 30 of 'em. The selections played off each other cleverly, as Haggard ran with the torch of Kristofferson's "For the Good Times" and answered, "Are the Good Times Really Over?" Kristofferson pleaded to help him make it through the night; Haggard, up next, just wanted to make it through December.
Yes, it was a considerable union. To see Kristofferson sing backups on Haggard's "Silver Wings" and a reworked verse in "Okie From Muskogee," or to have Haggard play his ranchero-style nylon guitar solos on "Sunday Mornin' Comin' Down" and "Help Me Make It Through The Night" was truly exciting. By the end, after the two had finished "Why Me Lord," the standing ovation seemed endless. No one could believe it when five minutes later, the house lights came up.
(Afterward, Cher was quickly escorted behind velvet ropes into a tinted-window SUV. Kristofferson obliged a waiting crowd of about 50 with autographs and gracious conversation, and Haggard stayed put on his bus until it rumbled, slowly lurched forward through the parking lot, and breezed into Highway 101 for the next town.)
Photos by Elizabeth Seward.
Set List:
Shipwrecked in the Eighties
Big City
Silver Wings
Me & Bobby McGee
I Think I'll Just Stay Here and Drink
Folsom Prison Blues
Best of All Possible Worlds
If I Could Only Fly
Mama Tried
Here Comes That Rainbow Again
I Wish I Could Be 30 Again
Rainbow Stew
Help Me Make It Through The Night
If We Make It Through December
Nobody Wins
T.B. Blues
Okie From Muskogee
Tonight The Bottle Let Me Down
Back to Earth
Jody and the Kid
The Silver-Tongued Devil and I
Sing Me Back Home
He's a Pilgrim
Twinkle, Twinkle Lucky Star
For the Good Times
Are the Good Times Really Over
Sunday Mornin' Comin' Down
Today I Started Loving You Again
Why Me Lord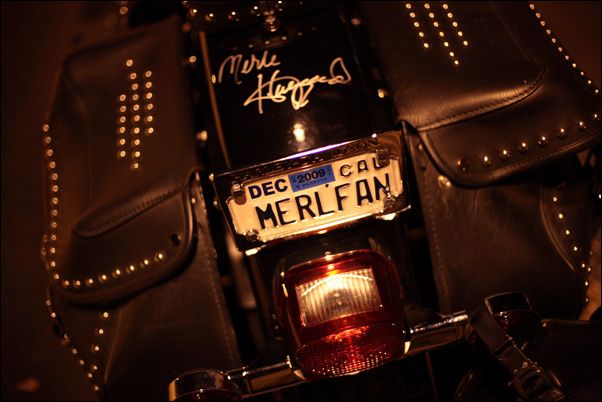 Tags:
2009
,
April
,
Cher
,
Concert
,
Kris Kristofferson
,
Live Review
,
Merle Haggard
,
Photos
,
Review
,
Santa Rosa
,
Wells Fargo Center