How in the hell to describe the show I saw last night?
I could start by explaining that John Zorn plays "radical Jewish culture" jazz, though no socio-psychological theory applies. Not, at least, on the surface. What John Zorn has done with his Masada quartet is to essentially cohere the souls of four musicians and thrust them up as one giant, overwhelming force.
Intellectualizing it is about as useless as humping a flagpole.
John Zorn is not a very imposing man, nor a particularly recognizable one. A friend at Amoeba tells the story of his being denied a sale for not having ID to go along with his credit card (another employee recognized him, and intervened). He arrived on stage last night in camouflage pants, a red T-shirt, a black sweatshirt and tassels. He barely spoke to the crowd, other than to introduce the band, and to field a shouted "Thank you!" by shouting back "No, thank you! The worst part is, we're not getting paid to do this. We're getting paid to travel."
Indeed, the $50 ticket price went largely toward the cost of flying 21 different musicians and instruments from the East Coast who are taking part in Zorn's historic five-day residency here at Yoshi's. Every night features a different band, with a different concept and approach. $50 might seem steep to some, unless one considers the rarity of his Bay Area performances. (Masada last played in Oakland ten years ago.) Here's my advice. Beg, borrow or steal. Raise the $50. Go see John Zorn at Yoshi's.
Yes, it sounds like a spiel from one of Zorn's many diehard followers, who are glossy-eyed in their reverence for the man to the point of extreme narrow-mindedness. We've all known people who preach the gospel of Zorn, listen only to Zorn, and eschew other musics as lacking sufficient Zorniness. Do you want to join Heaven's Gate, they ask? Zorn, Zorn, Zorn, they chant.
But the truth is that to see Masada last night was to be baptized in the blood. The opening: a slow, simple melody. A little flourish here and there, basic all around. It grew, slowly. The control and restraint, the fluid incremental rise into exhortation, the climbing atop of each other until the song's peak with everything before it laid visible and small. Gliding, and out, and holy shit.
The songs, fine and modal as they are, didn't matter; it's what this band did with them. We caught the 10pm set, which featured compositions from Book II of the Masada songbook—songs that the group is not nearly as familiar with as Book I. Rather than an obstacle, this was a blessing of innocence and discovery.
Joey Baron smiles widely while playing incredibly, and his solos were among the most lyrical drum solos ever. Greg Cohen's interplay with Baron couldn't have been more prescient, as he'd anticipate where Baron's playing stopped to slide into his own incisive solos. Dave Douglas and Zorn were just as in step with each other, listening for the slightest fluctuation to capitalize upon in each other's eruptive bursts, with Douglas at times running around the stage.
And Zorn. Does he have an endless reservoir of tone? Does he carry the history of every saxophone player before him and take that history to new places of imagination? Does he play with his mouthpiece upside down? He bogglingly unleashed his circular breathing, rabidly dancing lines and his trademark growl throughout the hour-and-a-half with just a tiny sampling from his hundreds of compositions. Is he a genius, or merely possessed?
On the way out, we bought tickets for Sunday. Euphoria carried me home.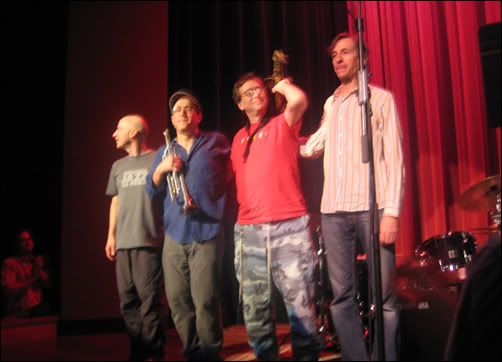 Tags:
2009
,
Concert
,
Dave Douglas
,
Greg Cohen
,
Joey Baron
,
John Zorn
,
Live
,
March 12
,
Masada
,
Photos
,
Review
,
San Francisco
,
Yoshi's Jazz