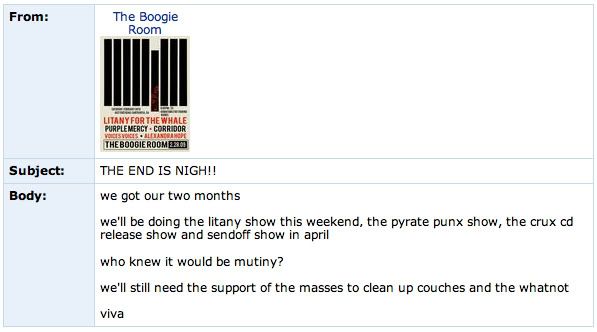 And so it's happened. The residents at the Boogie Room, home of some of the most exciting subcultural activity of the past two years in Santa Rosa, have received a 60-day notice to vacate. They'll pack up and call it a day in mid-April.
Speculation that the property might go on the market had been brimming for a while, and to be fair, most everyone so far seems surprised that the Boogie Room lasted as long as it did. "I'm one of them," Bryce Dow-Williamson, a heavily-involved volunteer, told me today. "I thought it was gonna be, like, two months."
"But I'm grateful for what we were able to do," he added, proposing that perhaps now that the Boogie Room has set the example, "people have seen how it can work. Maybe someone'll come along and do it right."
There's a handful of house concerts left on the calendar, and then the Boogie Room's two-year run culminates on April 10 in a farewell show with the Crux, Pete Bernhart from the Devil Makes Three and more. It's also Bryce's birthday the next day, so a slumber party is rumored, along with a "memorabilia sale."
I suppose it goes without saying, but Santa Rosa isn't going to be the same.
Tags:
boogie room
,
Santa Rosa