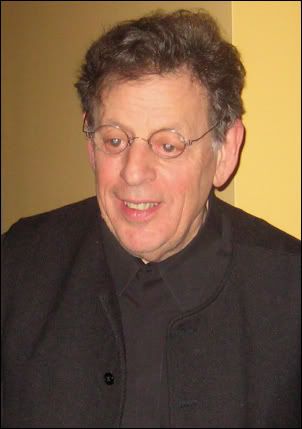 I said everything I needed to say regarding the experience of seeing Philip Glass play live in this concert review from the Herbst Theatre in San Francisco, in 2007. That said, seeing Philip Glass play the piano is not an opportunity to be missed, because his music is more about how one reacts to it than what it sounds like, which is, pointedly: the same as it always does.
Philip Glass had performed his 3 1/2-hour opus Music In Twelve Parts at Davies Symphony Hall a few nights earlier, so playing a solo piano show for 90 minutes in Napa might not have seemed like a big deal to him. It was a huge deal, however, to the full house on Thursday night, who in the wonderfully intimate theater were treated to Mad Rush, Metamorphoses No. 4, 3 and 2, some Etudes for Piano (even Glass humorously forgot which ones), and Closing, from his Columbia album Glassworks. Some people leaned forward, enraptured. Others either sat politely, or swayed back and forth to the repetitive patterns, or fell asleep. I closed my eyes and got lost in it all, thinking about love, family, and the future.
Margrit Mondavi, whom the Napa Valley Opera House theater is named for, was sitting way up in the balcony, and afterwards, when Glass came out to the lobby to meet his fans, she presented him with a few bottles of wine. Watching Mondavi, who has done so much in support of the arts, share a warm conversation with Glass, who essentially personifies "the arts," was pretty intense. Glass then took a good half-hour or so to sign autographs, answer questions, and take photos with his fans. Again, this mightn't have been a big deal to Glass, but everyone was happily surprised that he'd be so accommodating, and it transformed a great concert into a special night.
Tags:
2009
,
Concert
,
February
,
Live Review
,
Napa
,
Napa Valley Opera House
,
Philip Glass
,
Review