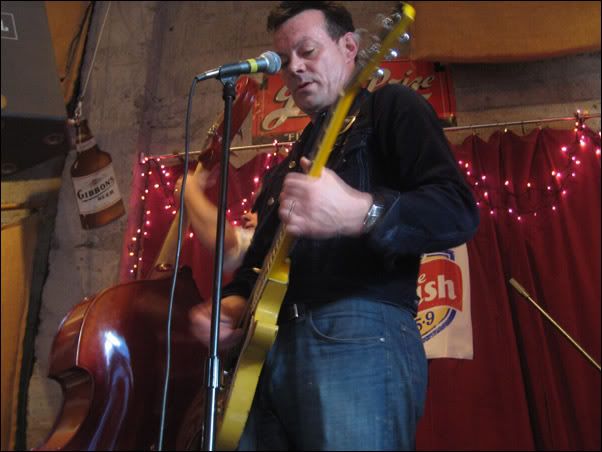 The recipe for a fantastic lunchtime concert is pretty basic. When it comes down to it, all you need is a Fender twin reverb, a vintage Gibson, a Gretsch drum kit, a standup bass and some damn fine songs. That's all James Hunter brought to the Russian River Brewing Company today, and it was enough to bring the house down.
Parked behind the place on Fifth Street was Hunter's large tour bus, which leads me to believe he's normally got a pretty impressive stage production, horns and all. Today, however, on the tiny stage in the corner, Hunter pared down to a three-piece and worked overtime on the guitar to fill in the missing sound. It wasn't what he was used to, but man, it was great.
In blue jeans, a black t-shirt and a denim jacket, Hunter announced songs in his thick British accent and then sang them like Sam Cooke or Otis Redding; just pure, beautiful soul. Near the end, he even unpacked "The Very Thought of You," and, instructing his band in an aside to take it at "the usual stupid speed," a ripping three-piece version of "Talkin' Bout My Love."
Filling in extra chords and licks on his guitar, Hunter took a crazed, half-picking half-fretboard-tapping solo with his bare palms. He played a little hand-jive, and then, when the tank-topped hippie dude in beads who'd been dancing the whole time was joined by a long-haired female, Hunter clasped his hands together in thankful prayer toward the sky. "Oh!" he cried. "A girl!"
The crowd went nuts at the end, a testament to Hunter's engaging charisma and talent. He plowed through the shoulder-to-shoulder house to get to the bathroom, and by the time he finally came out everybody was still clapping and screaming. Hunter played the Fillmore last night, and you gotta think he loves doing these little shows—he certainly seemed like he was having a blast. So it was one more song, and one more great noontime concert by the KRSH. Thanks, guys, for brightening everyone's Wednesday.
Tags:
2009
,
Concert
,
James Hunter
,
Krsh
,
Live
,
music
,
Noontime
,
Review
,
Russian River Brewing Company
,
Sam Cooke
,
Santa Rosa