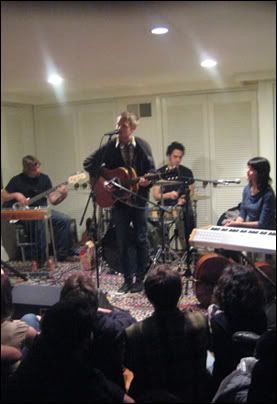 In 2004, I walked into the Tradewinds in Cotati and felt my jaw immediately hit the floor in amazement over the two guys opening for the Rum Diary. A greasy-haired hippie-looking drummer who played just a little behind the beat and a sharp-throated, fingerpicking singer who blew the harmonica and sang songs about trying to care that the country's at war in the midst of a ruined liver and other malaise. It felt like this band was created just for me, and after their captivating set, I found out that the band was called Two Gallants. Both Michael Houghton and I cornered the singer near the pool tables and bought everything he had.
I felt a similar sort of excitement tonight when I opened the antique door to Cast Away, a precious yarn shop in Railroad Square, to check in on that same singer, Adam Stephens, and his new solo project. Clusters of people lined the stairway up to the store's loft, where the outstanding owner Justine usually offers knitting classes but tonight had transformed into a mini-concert space. About 30 or 40 people sat crowded on the floor, quietly passing around libations and listening intently to the music, while below, older customers reclined on couches for the evening's 'Knit & Sit' session, knitting needles and unfinished scarves in hand. Santa Rosa never ceases to amaze me.
Stephens explained that he'd forgotten his harmonica holder, but he had more than enough texture to make up for it; cello, piano, drums and bass filled out his sound while managing to be mostly quieter than anything Two Gallants has ever done. His songs, I noticed, were long, but as Henry Nagle whispered in my ear, they're paced extremely well, akin to long Springsteen epics. How Stephens manages to come up with so many words to fill his songs is beyond me. I only heard one reference to someone else's lyrics—a line about sweeping out the ashes—and for the most part, his songs were things to get happily lost in.
Two Gallants is officially "kind of on hiatus," Stephens told me afterwards, so he's planning on recording and touring with this new outfit—whatever it may come to be called. "I hate my own name," he murmured on the sidewalk, "but I also hate coming up with band names. I've only named one band in my life, and I was sick of it after a month. So we'll see."
Tags:
Adam Stephens
,
Cast Away
,
Live
,
Live Review
,
Review
,
Santa Rosa
,
Two Gallants
,
Yarn