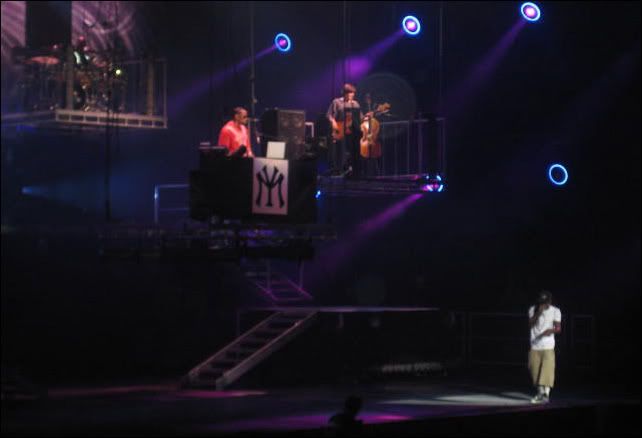 Lil' Wayne, the sandpaper-throated New Orleans rapper with the top-selling album of 2008, attracts one hell of a draped-up, chipped-out crowd. Attendees to the sold-out show filed into the Oakland Arena through metal detectors, and you never saw so many plastic baskets filled with expensive watches and rhinestone belt buckles in your life. It was like Oakland's own regal Prom Dance, with even higher prices: Parking was $25, beers were $12, and hoodies were $60.
Not everyone was dressed to the nines, I soon found out, as one of the first groups of people I ran into inside were a staggering group of drunk blonde girls, one with her silver miniskirt sloppily bunched up entirely around her waist, weaving her hootin' and hollerin' way down to their seats to see the Gym Class Heroes. The Gym Class Heroes, I might add, were the worst pile of shit in the land.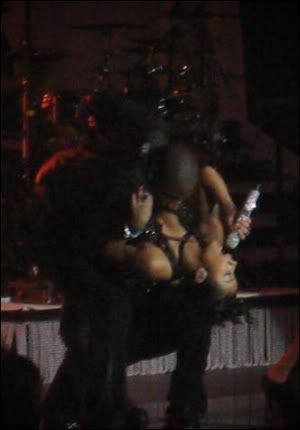 Keyshia Cole was completely goddamn dominating, just a nonstop firestorm of talent and amazement. I saw her last year, before she got her teeth fixed, and though I liked the gap in her teeth I'll accept the dental work as a metaphor for her whole career right now. Her albums have become more commercial since her amazing first record, They Way It Is, but damn if she hasn't stepped up her live show. Twelve months ago, opening for R. Kelly, she was all energy and empty hyperactivity; last night she retained the energy and tempered it with elegance and grace, like fine cocaine.
Keyshia Cole is from Alameda originally, and the Bay Area love was definitely in the house. If you ever in your life pine for the sound of 20,000 girls screaming their lungs out at the highest available volume, go to a Keyshia Cole show and wait for the opening chords to "Love." Cole is my Queen of R&B right now, the new Mary J. Blige, and that's conceding that she didn't even do "I Should Have Cheated." Apparently she has a reality show. I'm scared to watch it.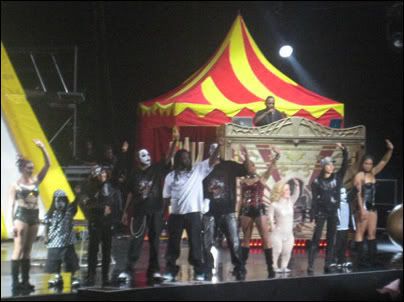 From the onset, T-Pain slouched at the front of his stage bedecked in his trademark top hat, and shoved his hands in his pockets, looking bored with himself.
T-Pain had breakdancing midgets dressed in whiteface and camoflauge. He has three tents, one of them inflated to 20 feet tall, with his name and likeness at the top. He had a woman in daisy dukes and a bikini top walking on stilts. He had a blonde tattooed midget gyrating around the stage in her bra and panties. He had a fire swallower with flaming pastied nipples. He had a calliope, a bazooka, a vaudeville wagon, an elephant stand, and a backup yes-man in Marilyn Manson makeup who lip-synched along to T-Pain's hits while T-Pain moonwalked, badly, across the stage.
"I got one word for you…" said T-Pain's DJ, early on in the set: "Bay Area!!!"
Almost every song T-Pain played was a hit, and almost every song T-Pain played was chopped off by the incessant thundercrash from his DJ. He was very comfortable with the fact that the audience knew all his songs, and turned the singing duties over to them much of the time, not even bothering to hold the mic out to the crowd. While they sang his hits, his prerecorded vocals continued to play in the background.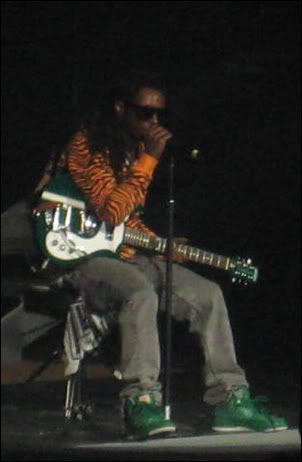 There were significant moments in Lil' Wayne's set where there was absolutely no applause after his songs. Just empty silence. There were other moments that elicited frenzied anarchy, as when he took off his shirt. His vocals, already quiet and growly, were drowned out by his rock band, who hung from large cages and who served for the most part to uselessly thicken up his pared-down hip-hop into heavy metal jams.
"Dere's three important things I gotta say," announced Lil' Wayne. "One: I believe in God, do you? An' two: I ain't shit wit out you, so make some noise. An' three: I ain't shit wit out you!"
T-Pain, riding circles around Lil' Wayne on a Segway, argued about who had done more guest verses on songs by other artists this year. They decided to perform some of these songs, an experiment which if comprehensive could have gone on for approximately 83 hours, 31 minutes. The DJ played "Swagga Like Us," but Lil' Wayne cut it off, saying that he didn't remember his own verse. This happens when you have 1,000 songs and are blasted on drugs most of the time.
"Y'all got the mixtapes?" Lil' Wayne shouted, hypothetically, since his mixtapes have replaced albums as the listening format of choice for his fans; he did "I'm Me" and "Prostitute," during which he sat holding a green electric guitar that he did not play. He then turned the stage over to a string of unknown friends to bore the crowd while he went backstage to get dressed for "Lollipop."
Near the end of the set, Lil' Wayne's laptop DJ killed ten minutes by cuing up other people's songs—"Single Ladies," "Peter Piper"—while Wayne was nowhere to be seen. When he reemerged, he dissolved into a spiritual communion with stained-glass windows on the jumbotrons, spending an entire song on a spinning platform out of view of the audience. He bid farewell, the music ended, and the crowd was expected to applaud. No one did.
He popped back onto the stage to sing "A Milli," its minimalist brilliance abandoned in favor of a heavy-metal wankfest, and left the Oakland Arena with a James Brown cape act and a run-through of Whitney Houston's "I Will Always Love You."
And that's the top-selling artist of the year. I was blown away when I heard "A Milli," into the mixtapes, kinda underwhelmed by Tha Carter III, and after last night I don't think Lil' Wayne has the stamina to live up to his reputation. He's got flashes of lyrical gold, oozes style and is a born ruler of the game; my guess is he's toast in 2009. Riding out a tidal wave can be an art in itself, especially when you start counting up the $110 tickets head by head, and you realize that it is generating more motherfucking money than you or I could ever imagine. The tide can only go out from here.
More Photos Below.
Keyshia Cole: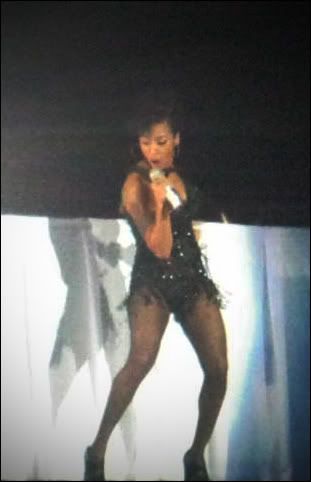 T-Pain: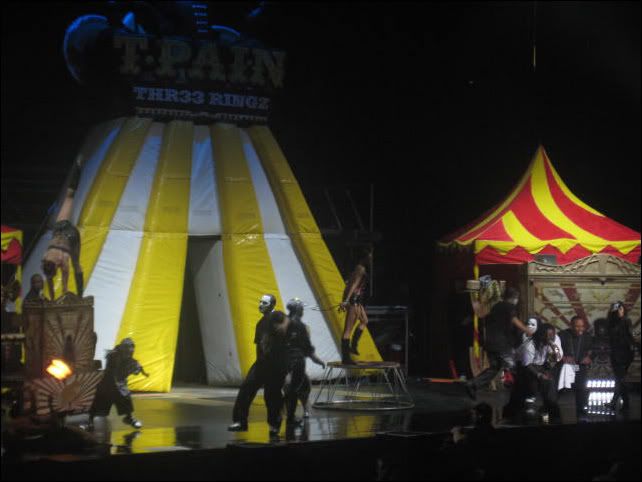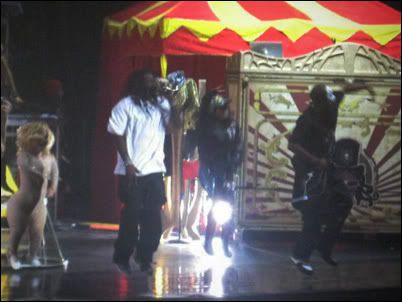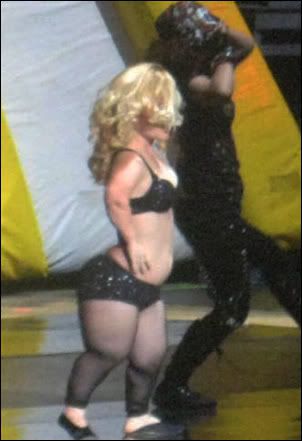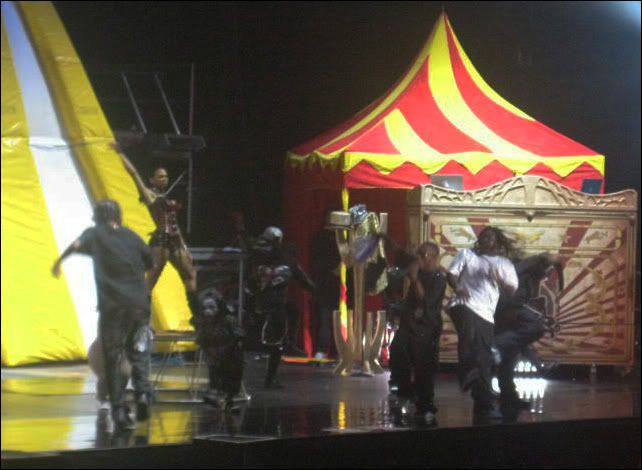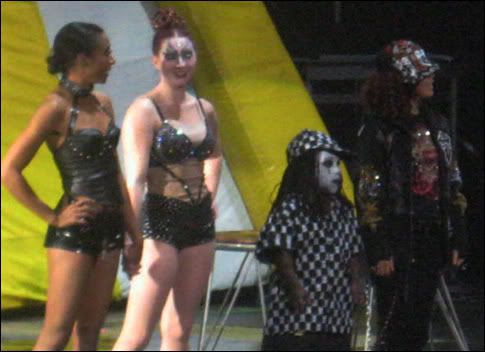 Lil' Wayne: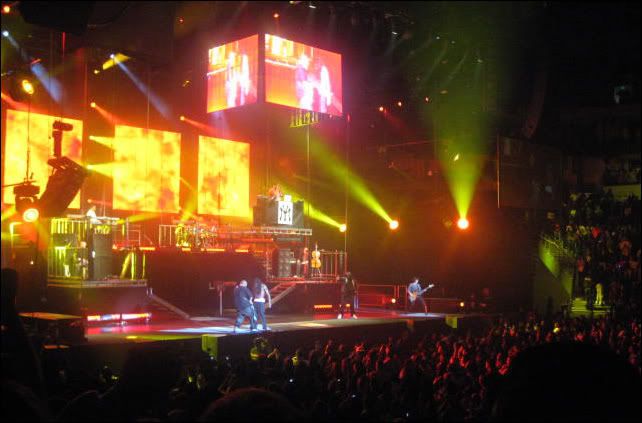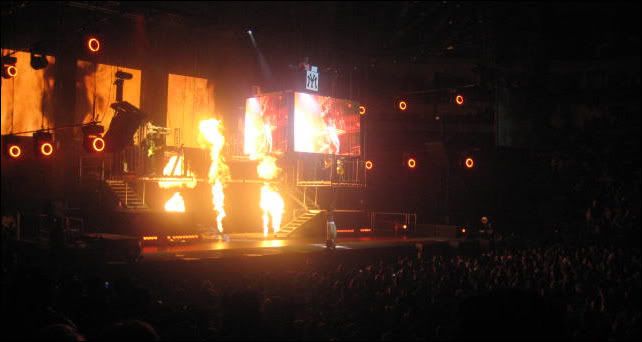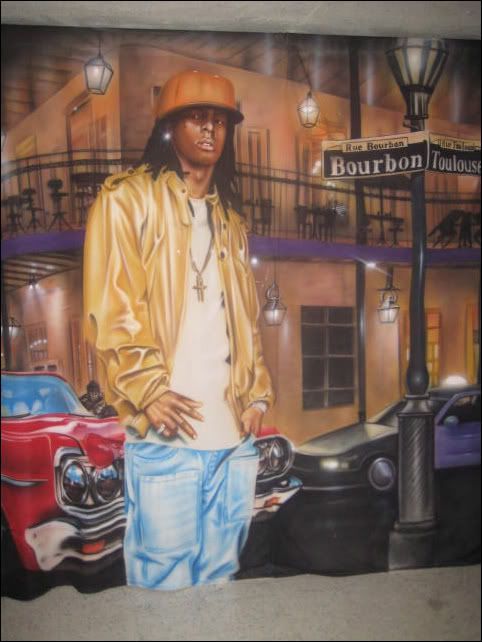 Tags:
2008
,
Circus
,
Concert Review
,
December 23
,
I am Music
,
Keyshia Cole
,
Lil' Wayne
,
Live Review
,
Midgets
,
Oakland
,
Oracle Arena
,
Photos
,
Pics
,
Review
,
T-Pain
,
tour