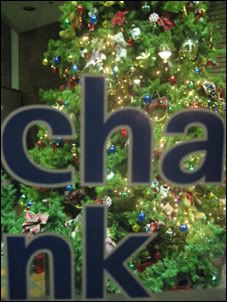 Woke up yesterday and groaned at Pitchfork's top albums, unsurprising since they lost all credibility with The Knife in 2006. Read about the recording industry's strange new stance on downloading, which is to rely on Internet providers to do their dirty work for them. Was amused at the Phoenix Theater announcing the banning of hyphy shows, which is a brilliant maneuver, on par with announcing the banning of raves.
Flipped on the radio for Face the Music with Scott Mitchell and Frank Hayhurst, on KRSH. Laughed at the end of the show, when Frank presented Scott with a golden kazoo, since, alas, Scott is headed over to BOB-FM and will soon be replaced by Brian Griffith as the morning guy on the KRSH. Brian'll be good and Scott's been good, but man. I still miss Doug Smith.
Went to the downtown Post Office, where the holiday season has brought radio privileges for the counter staff. Was glad that instead of "Wonderful Christmastime" or "Do They Know It's Christmas?", the clerks were stamping packages to "A Simple Twist of Fate," by Bob Dylan. Dodged a car driving by playing the Youngbloodz-Procol Harum portion of Girl Talk's Feed the Animals.
Got to work and read this wonderful piece of writing, regarding Leon Russell, by my friend John Beck. Felt the best kind of jealousy—I suspect that John is much more bound to editorial direction than myself, occasionally forced to write about music that he can't personally get that excited about, and I love examining how he navigates total cowshit and turns it time and again into flowers. He's good at it.
Read about the heavy metal singer who stabbed her guitarist for messing up a solo. Downloaded DJ Malarkey's new Holiday mix to listen to while scouring club listings for New Years' Eve information. Came across this lovely Christmas video of a drunk family partying their asses off around the tree, circa 1962, set to June Christy's "The Merriest":
(If you're looking for a fantastic jazzy album of non-religious Christmas originals, call your local record store and pick up June Christy's This Time of Year, just reissued a couple years ago.)
Had lunch at Hang Ah Dim Sum with the Love Level crew. Thought about Chinese opera and talked about Darker than Blue: Soul From Jamdown. Was reminded, by Mark and Gary, about KOME-FM and their street-sign stickers. Chatted about Backdoor Records. Thought about the late KPLS-FM and their even later cowboy-hat VW Bug.
Came back to work and gawked at the amazing Kate Wolf Festival 2009 lineup, with Emmylou Harris, Dave Alvin, Richard Thompson, Patty Griffin, Mavis Staples, and the Blind Boys of Alabama. Wrote a little bit about Adam Theis and his upcoming SFJAZZ show, whose excellent Spring season was also announced this week: McCoy Tyner, Allen Toussaint, Bill Frisell, Kenny Barron, James Carter, Tinariwen, Roy Hargrove, Chris Potter, Brad Mehldau, Mariza, Kenny Burrell, Michael Feinstein and Branford Marsalis, among others.
Went to dinner at Fitch Mountain Eddie's with my dad, where Richelle Hart and John Youngblood performed songs like "Summertime" and "Women Be Wise." Talked a lot of shit about Ticketmaster, only to have the guy at the next table introduce himself as a guy who works for Ticketmaster. Wished him luck with that whole massive-debt-and-getting-dumped-by-Live-Nation thing.
Then: headed to the Raven Theater for the Bobs, who were as entertaining and awe-inspiring as they were when I last saw them at the Raven Theater in 1989. Was billed as the "Sleigh Bobs Ring" holiday show, containing plenty of Christmas numbers—"Christmas in L.A.," "Christmas in Jail," and an insane new song sung from the point of view of the Virgin Mary, "What Is This Thing Inside Me?"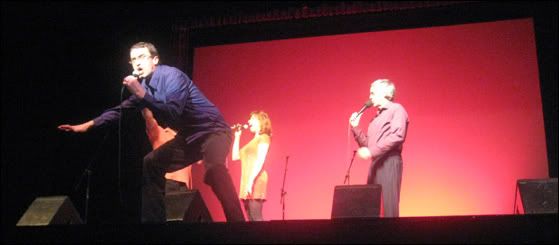 Old chestnuts were dusted off, like "My, I'm Large" and "Boy Around the Corner," and all the new ones like "Get Your Monkey off My Dog," "Title of the Song," "Imaginary Tuba" sounded great. Closed with "Christmastime is Here," which I'm glad is becoming a holiday classic. Haven't paid much attention to the Bobs in the last 20 years, but I was simultaneously buckled over with laugher, googly-eyed with amazement, and heartened that they still hang out in the lobby afterwards, chatting with all their weird fans. Thanks for keeping it up, guys.
Came home and listened to Booker Ervin, Madlib, No Age and Lucy Ann Polk. (Not Van Morrison, like grouchy Joel Selvin.) Wondered if real life was more important than music, or if the two are actually the same thing. Opted for the latter. Did the dishes and hummed Frank Sinatra. Went to bed.
Tags:
2009
,
Christmas
,
dj malarkey
,
Doug smith
,
john beck
,
june christy
,
kate wolf festival
,
Krsh
,
leon russell
,
Lineup
,
Phoenix Theater
,
Pitchfork
,
Raven Theater
,
Review
,
richelle hart
,
SFJAZZ
,
the bobs
,
Ticketmaster
,
top albums