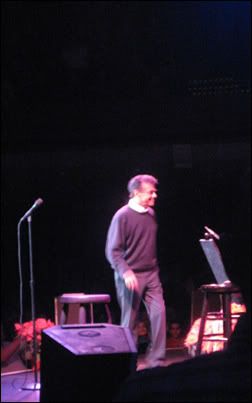 "After you've had a few hit records," explained Johnny Mathis at the Wells Fargo Center last night, "you can just about do anything you want. And I wanted to record some of my mother's favorite songs."
His mother's favorite songs, it turns out, were Christmas songs, and the rest is history—Johnny Mathis has put out nine Christmas albums since. Though for a concert billed as "A Johnny Mathis Christmas," the set was actually a welcome 50/50 blend of seasonal classics and standards, touching on Mathis' biggest hits and even snaking down very interesting territory—an electric-guitar version of the Stylistics' "You Make Me Feel Brand New," for example, or a raucous street-party "Brazil," favela whistles and all.
Most noticeably, Johnny Mathis is a living miracle of preservation. At 73, he looks and sounds almost exactly like he did fifty years ago, with the same high-toned boyish singing and a surprisingly fit face and figure. He's also not just going through the motions. That he's still willing to take chances and go out of his comfort zone is one of the reasons he's persevered as one of the last in a literally dying breed. (Oh, 960 KABL, how missed you are.)
Mathis opened with "Winter Wonderland," the lead-off tune from his first and most famous Christmas album, and then went pretty quickly into "It's Not For Me To Say," sparking one of many sighs of recognition. The audience thrilled at the immediately recognizable piano intro to "Chances Are," and during "Misty," when he nailed the final octave-high falsetto in the third verse, you could hear an entire theater of 1,400 audibly gasp.
Sure, they laughed at "Gina," but for the most part, Mathis—in a blue sweater and pants and white sneakers—held everyone rapt in his role as interpreter. "Stranger in Paradise," "Secret Love" and "A Felicidade" are all songs associated with other singers, but Mathis did them right, just as he delivered a touching "Christmastime is Here" from A Charlie Brown Christmas after giving an introductory nod to Charles Schulz.
Yes, he did "The Most Wonderful Time of the Year," and "Silver Bells," and a bunch of other Christmas songs. He also did "The Twelfth of Never" with a solo guitar backing, and "99 Miles From L.A.," and somewhere near the end of it all—after an intermission during which a know-your-audience comedian came out and told Viagra jokes—Mathis sang eight bars completely acapella, a 73-year-old man alone and unaccompanied in the spotlight, just totally ruling it. Miracles never cease.
Tags:
Christmas
,
Johnny Mathis
,
Wells Fargo Center