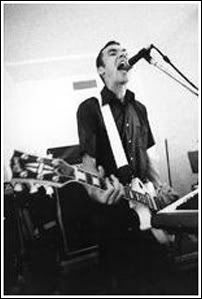 Well, shit, here we go: Blake Schwarzenbach has started a band with Aaron Elliott and Daniela Sea called the Thorns of Life. No joke. There's photos posted here from the band's grand debut at the Jerk House in Brooklyn this past weekend.
What does the band sound like? According to a recent punknews.org post, Blake is said to have written via Facebook that "I can say only that it's loud and tender and we're called the Thorns Of Life. whether it's more Jetsesque or Breaker-like I honestly don't know; It sounds like a storehouse of fond hatred from the last few years and in the now."
It's tempting to pessimistically predict that they'll play three more house shows, record a 7″ and then break up; however, in a message to fans recently, Blake said he looked forward to coming "to a town near you."
Needless to say, this is exciting news.
———————-
UPDATE, 11/15: Thorns of Life played again last night at another house show in Brooklyn. There's three videos below. More on the band by clicking here.
———————-
UPDATE, 1/31: My interview with Blake regarding the band is here.
———————-
Tags:
Aaron Cometbus
,
Blake Schwarzenbach
,
Thorns of Life