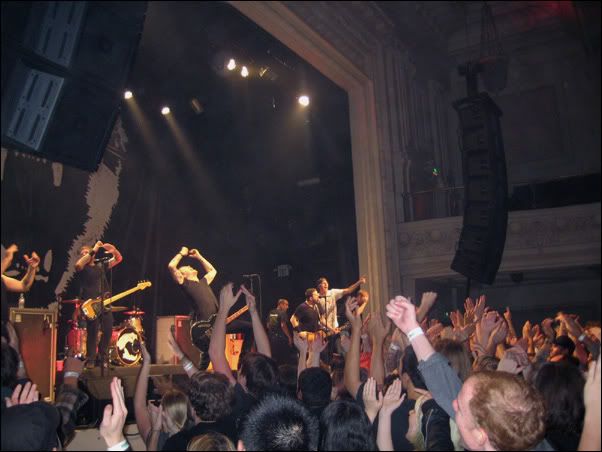 Goldenvoice is a concert promotion company that grew out of the Los Angeles punk rock underground of the 1980s into a huge entity that today essentially dominates the market in the greater Southern California area. They're now doing shows in San Francisco at the Regency Center Grand Ballroom, and they have brought everything that's wrong about Los Angeles with them. I nominate that we send them back home. I'm not alone.
The Grand Ballroom (don't confuse it for the old Avalon Ballroom, which is next door, on Sutter Street) is a beautifully ornate venue with tall ceilings, a wrap-around balcony and elegant chandeliers. One can only imagine how great it'd be in the hands of, say, Another Planet, because it's clear that Goldenvoice is blowing what could potentially be a great venue.
First off—it's hard not to be irritated by the very imposing security presence. There's the usual pat-down, what's-this-you've-got-here at the door, but once inside, it's all hey-where-are-you-goin' and being told not to walk or stand in what appears to be wide open, unrestricted spaces. The sense of authoritarian rule isn't in-your-face, but it's constant, and it makes for a lousy experience when you feel like you're constantly being monitored.
Second—I understand that the Grand Ballroom is a difficult room for sound, but it's not an impossible room for sound. It's the same dimensions as the Fillmore, which has great sound. The problem is that the sound equipment isn't permanent; Goldenvoice has to bring in all their speakers, boards, monitors and stacks for each individual show and get everything dialed in each time. It's an extremely limiting situation, and it leads to the bands sounding utterly horrible.
Third—Goldenvoice takes a 20% cut of bands' T-shirt sales, and a 5% cut of their CD and LP sales. This is unspeakable. There is no respectable reason for promoters to take a cut of a band's merchandise. Especially their music. It's not unusual among the more sleazeball promoters, and it's the norm for huge concert promoters like Live Nation, but that doesn't mean it's okay.
Fourth—tickets for the Grand Ballroom are sold through Ticketmaster, which I think is totally inexcusable considering the far more fan-friendly ticketing options available these days. Ticketmaster is like the Bush presidency—a series of failed policies and "screw you" attitudes—and it needs to die like the embarrassment that it is.
The first time I saw Against Me! at 924 Gilman Street, obviously none of these issues were a problem. That was five years ago, and a lot has changed for Against Me! since then—not the least of which is selling way more records and playing way larger shows, for better and for worse.
The pivotal moment came when I saw them at the Warfield just before New Wave was released, shoved onto an awkward major-label co-billing with Mastodon. They seemed bored, and the new songs were awful. Imagine my surprise when they got more popular than ever, and New Wave, a slickly produced pile of crap, became Spin's Album of the Year.
And yet I couldn't completely abandon Against Me!, as much as I certainly tried.
I still remembered the time they came to Santa Rosa on their first tour and stopped by the Last Record Store. They cruised the aisles, and bought some records, and then one of them asked, "Yeah, um… we're a band on tour, and we're playing a show at a place called Jessie Jean's tonight, but we don't see any flyers for it at all. Do you think you could maybe tell people to come?"
"Sure, " I said. "What's your band's name?"
"Against Me!," the guy replied.
I lit up with excitement. "You guys are reinventing Axl Rose!" I said.
"Yeah… how d'you know that?"
"We carry your record over here, look!"
And then one by one, they all filed over to the 'A' section, and held up their record, amazed. That's the Against Me! that I still see in my head: four guys just totally stoked to see their own band in a record store on the other side of the country.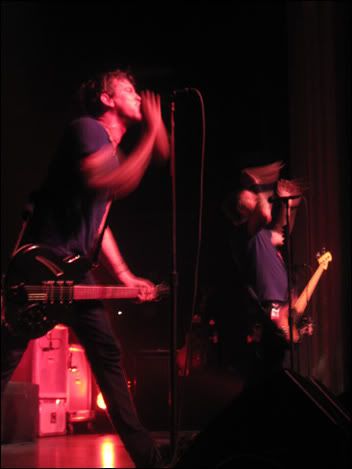 Last night, Against Me! played a fair balance of songs old and new, ensuring that longtime fans still had something to shout about. The older songs got most joyous reactions, naturally—"Cliché Guevara," "Walking is Still Honest"—but one of the reasons I like seeing Against Me! live is to be reminded of songs like "Borne of the FM Waves of the Heart," which is a highlight of New Wave.
Sure, new clunkers abounded. Despite its well-intentioned subject matter, "Anna is a Stool Pigeon," from Tom Gabel's new solo album, sounded forced and uninspiring, fulfilling the cliché of most solo album material. And I still can't bring myself to buy New Wave, simply because I'd be picking up the needle and skipping songs so much that it wouldn't be worth it.
The band's gigantic banner draped the back wall of the stage, but the hall was half-empty. Though Against Me! is one of the most energetic and cardiovascular bands in the world, lots of people past the first 10 rows just stood there, like they were watching a cooking show or something. It felt a tad like much ado about little, until the encore, "We Laugh at Danger and Break All the Rules," which proved yet again that Against Me! knows how to close the hell out of a show.
First people from the crowd began jumping on stage and singing along. Then, ditching his drums to help lead a huge clapping breakdown, Warren ran and stagedove into the crowd—flying through the air right exactly on the downbeat when the band, with a guest drummer who appeared out of nowhere, kicked back in and finished the song. It was fuckin' nuts, and so totally fun, and the best part is that the overzealous security guards on the other side of the barricade were going crazy. Ha!
Made me love 'em all over again.
Tags:
2008
,
Against Me
,
Concert
,
Gilman
,
Grand Ballroom
,
Live
,
Regency Center
,
Review