Now in its 26th year, SFJAZZ has been key in bringing both older jazz legends and younger jazz luminaries to San Francisco audiences in a number of venues around the city. The fall season of SFJAZZ lasts over a month, but to highlight the festival's diversity and taste, I chose to attend three consecutive nights showcasing the breadth of talent available in a short span. Two older stalwarts of the avant-garde, Archie Shepp and Cecil Taylor, and two younger stars of the new breed, Eldar and Sophie Milman.
Oct. 23 – Archie Shepp at Herbst Theatre
On the first night, Archie Shepp gave a rare U.S. concert appearance at the Herbst Theatre. The Herbst Theatre is one of the finest locations utilized by SFJAZZ—it's just the right size, the sound is good, and the theatre itself beautiful—and it befits legends like Dewey Redman or Andrew Hill, both of whom have played there in recent years. This was, it must be said, a very special treat for Shepp's Bay Area fans, many of whom have waited years to see him in person, sustaining instead on repeated listenings of landmark albums like Fire Music, Attica Blues, and—appropriately—Live in San Francisco.
Shepp will probably live forever unfairly in the shadow of John Coltrane, who took the young saxophonist under his wing and signed him to Impulse Records. I say unfairly because it's hard to imagine Coltrane, would he have lived, to be as carefree as Shepp has been after Coltrane's death. In the years since, Shepp has played R&B, sung standards, and dabbled in funk.
Shepp is now 71, but right from the start of Thursday night's show, he displayed that he is still in command of his horn. He also showed that after 40 years, he's still not immune to Coltrane's shadow; nearly every song had its own Coltrane counterpart.
A quick-paced opener placed Shepp in explorative sheets-of-sound mode, while his band drove a pounding modal form with intensity and skill; it could have easily fit on Meditations. Shepp then sang a relaxed "Don't Get Around Much Anymore," which could have found a home on John Coltrane and Johnny Hartman. Other moments throughout the night drew inevitable comparisons to Kulu Sé Mama, Coltrane Plays the Blues, Coltrane's Sound, and Lush Life.
But another essential way that Shepp has carried on Coltrane's legacy is that his appearances are inseparable from the full emotional palette of the black experience in America. Beauty, fury, jubilation, humor and sorrow all play key roles in Shepp's music. Shepp explains the unexplainable through his music; the feelings that words cannot contain. To hear him is to know a history of civil struggle and racial injustice.
Not everyone is a fan of this. During "Mama Rose," which contained an intense poetic recitation about motherhood, love, riots, banana pudding, ex-cannibals, dreams and revolution, including the line "Your vagina split asymmetrically between the east and the west," a group of people sitting in the balcony leaned in, consulted each other, and bailed.
After "Trippin'," a 12-bar blues in which Shepp channeled James Brown's epic wail in singing about canceling his email and cutting off his cell phone, Shepp announced that his contract with SFJAZZ called for an intermission. Any folks who might have left missed the best portion of the evening.
Opening his second set with "Ujamaa," an incredible composition, Shepp gave his most intense solo of the concert while his first-rate band kept apace. Clutching the microphone and crooning in an Earl Coleman style, Shepp's "Lush Life" was rendered with a wide-open verse, with Shepp conducting the band into a Latin-rhythm chorus. Billy Strayhorn famously wrote the ode to weariness when he was just 16, but Shepp turned it around and sang it giddily, at 71, as if he was a teenager. Switching to saxophone, he quoted "Well You Needn't" in a solo that sometimes reached for high notes that didn't come.
Shepp continued with a song written for his cousin, who was murdered in a street fight when he was 15—a rather happy song, actually—and closed with "Burning Bright," containing an impeccable solo by the song's composer, pianist Tom McClung.
The rush of applause was too strong to deny, and Shepp returned to center stage—minus drummer Ronnie Burrage—to play a breathy "In a Sentimental Mood," the closing track of Live in San Francisco. Serene and delicate, it closed the evening perfectly, with a solo tag of dancing runs.
In the brief moment between the song's end and the cascade of applause, an audience member yelled out, "You're beautiful, Archie!" Simple and perfect.
Oct. 24 – Cecil Taylor at Grace Cathedral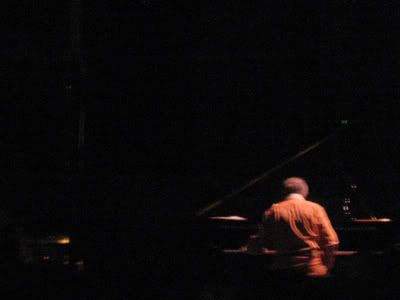 The next night, it was Cecil Taylor at Grace Cathedral. Consecrated in 1965 by Duke Ellington, the massive church was blessed with jazz from the start, and for 22 of the past 26 years, SFJAZZ has been using it for concerts they call "Sacred Space." Pharaoh Sanders is among those who've performed solo inside the cathedral, using no amplification whatsoever. The effect is stunning.
Taylor was announced to the stage, but for the first few minutes, all that could be heard was his voice over a loudspeaker.
"A."
"A S."
"A S B M. A S B M. In Canal. In Canal You. In Canal You Long."
It was Cecil Taylor, all right, doing his crazy Cecil Taylor thing and slowly making his way toward the piano.
"A Gene. A Gene Splits Into 28 Paragraphs. One Second Is Equal To 28.10 Electrons Equaling One Volt Is The Electric Motive In Proportion To Rhythm," he continued, occasionally making long, gurgling sounds like a constipated alien.
When I last saw Cecil Taylor, at an SFJAZZ appearance at the Palace of Fine Arts in 2001, he held a similarly scattered conversation with himself; I thought, at the time, that he might have been studying some new form of chemistry. But no. Apparently he just likes to ramble.
Well-known for celebrating sharp bursts of percussive staccato passages, Taylor sat at the piano and instead drove straight into full-bodied, cascading playing, like he simply had too much music in his head gushing forth all at once. Inside the church, with sculptures of the crucifixion on the walls and a general atmosphere of reverence, the juxtaposition of religious tradition against fevered chaos was weird and funny.
Alas, the performance was stellar. What might have been choppy and percussive in any other venue came further together by Grace Cathedral's natural seven-second reverb, and Taylor played off this effect, often hammering as many notes as possible into those seven seconds. His usual stabs in the gut became deep punches; his abrasive pelts of hail multiplying upon themselves into thunderstorms. His audible moaning and breathing echoed across the vault.
Taylor stopped playing, and the crowd applauded. A 40-something guy in a Hawaiian shirt sitting in front of us took a shot from his flask, and offered it to his considerably younger girlfriend, wearing a beret. She shook her head. Taylor then began playing again, in what sounded like a continuation of the exact same song.
When Cecil Taylor speaks in a foreign musical language of constant discord, are there ears enough to make out what he's saying? The show was sold out, but it was unavoidable to contemplate just how many in the crowd viewed Taylor simply as a cultural curiosity. Between each of five pieces, Taylor shuffled and rearranged his sheet music, and it was hard to figure out why he even had it in the first place. He couldn't possibly have been following it.
All of this sounds like a total dis, but it's not. I've long loved Cecil Taylor—possibly because I can't put into words exactly why—and even after a spate of souring on him as of late, he won me back into his world on Friday night. His total expressiveness, his thundering command, his emotional presence and his singular, powerful musical vision on display reawakened me to his brilliance. The venue certainly helped.
At the end of the set, Taylor tried to leave the stage but the applause was too strong. He sat down and played again, another short minute-and-a-half chapter in the neverending song, and finally shuffled his hunched, frail body to the back room of the church.
He stayed there for over an hour after the show was over, muttering in one giant monologue to a small group of assembled fans.
Oct. 25 – Eldar and Sophie Milman at Herbst Theatre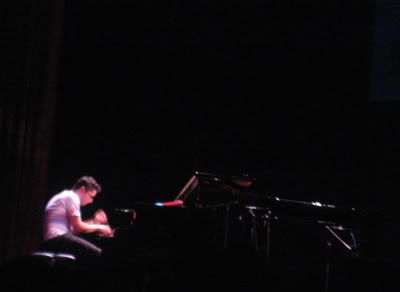 Back to the Herbst Theatre on Saturday night, for a decidedly younger lineup: 21-year-old piano prodigy Eldar and 24-year-old chanteuse Sophie Millman.
Eldar is famous for sounding like Art Tatum—rapid-fire runs, mind-boggling changes in key and tempo mid-song, a strong left hand—and his first number, "I Should Care," demonstrated this in dazzling fashion. Everything that is great about Eldar was encapsulated in this first number; he played it antagonistically but respectfully, tackling the standard to the ground and working it over with hyperactive stride, incessant and precise runs, left-hand jabs and full-fingered clusters.
Though he could never possess Tatum's swing, Eldar makes up for it in technical command; this is why he's more Vladimir Horowitz than Oscar Peterson, and indeed, he has a very classical touch on the keys. But his mind is that of the explorer, the improviser who steps through every possibility at an unbelievable pace. Were it not for the opening melody, no one could have recognized "I Should Care" as imagined by Eldar.
This is what's great about jazz: taking something old and making it new again. Unfortunately, Eldar's focus shifted into presenting something new and making it sound old: his next song, "Insensitive," was an original composition marked by unprovoked chord changes, a plodding form and little to no melody. This is how things stayed, as Eldar performed solely original compositions in the same vein for the rest of the set.
The third song, for example, featured nonstop busy drumming, jabbing bass lines, and a chaotic Eldar flying all over the piano. But the overall presentation was that of a garbled, very academic attempt, including the use of a 1970s-sounding synthesizer on top of the piano. If this is the way Eldar's career is moving—away from dazzling standards and into post-post-fusion gobbledygook—then Sony must be nervous about their young star. Perhaps they're trying to replace the Bad Plus. Maybe they're trying to win over Rush fans. Who knows?
Up next was Sophie Milman, who, like Eldar, was born in the former Soviet Union. Moving to Israel at age 7 and then to Canada at age 16, Milman lived an upended youth in areas of global tumult, discovering solace in listening to American jazz records. This is her history, which she tells in magazine articles, on radio shows, and from the stage.
Luckily, she's not just a good NPR story. She's also a wonderful singer.
Opening with "It Might as Well be Spring" in a strapless leopard-print dress, red leather heels and gold earrings, Milman immediately hit all the right Anita O'Day-June Christy-Chris Connor notes with enough of her own style to warrant the comparison. Her appealing voice, airy but not overly husky, took on adventurous trills and jumps. She conducted her band, whooped at their solos, snapped her fingers and constantly jittered her arms and tapped her heels.
Milman had just spent a week at the Blue Note in New York with Eldar—they really are a curious co-billing, other than the "young" and "Soviet" angle—and she was glad to finally have some time in San Francisco. "You guys are very, very lucky," she remarked at one point. "We're going home to Toronto to blizzards."
"People Will Say We're in Love" was delightful, and a subtle vibrato eked into Milman's voice during "I Concentrate on You." Then Milman told the story of her life, and how she never fit in with the other kids in Israel who couldn't understand her obsession with jazz, and dedicated the next number "to all the kids growing up who used to pick on me." It is a song, she explained, that she sings at every performance.
"Bein' Green," as made famous by Kermit the Frog, is not a terrible song. But it is essentially a sad song, and despite Milman's familiarity with the tune, it showed her emotional limitations. "Bein' Green" is one of those curiosities that works in the hands of, say, Frank Sinatra when he's 63—but not so much in the young, peppy hands of Milman.
"Here's a great Bruce Springsteen song," Milman then announced, and "I'm on Fire" continued the feeling that Milman might occasionally be in over her head. "I'm on Fire" is a creepy song—the pleading of a tortured stalker to ravage the untouched beauty of a young girl. Completely changed from the original, with minor-key chords, the arrangement brought out that creepiness. But it felt like Milman let the arrangement do all the work—she sang it sultry rather than tormented.
But these were unimportant diversions from what Milman does best. Redemption was found in a soulful, "Maiden Voyage"—esque arrangement of "Love for Sale," and Milman once again had the crowd in the palm of her hands. After all the sleepy Norah Jones tranquilizing on the "jazz" charts for the last eight years, it's nice to see an inventive young singer bringing back flair and pizzazz to jazz singing. Here's hoping more folks discover her talent.
—
So there you go—three days of the SFJAZZ festival. The complete schedule for SFJAZZ, including teasers for their upcoming Spring season, can be found at their official website.
Tags:
2008
,
Archie Shepp
,
Cecil Taylor
,
Concert
,
Eldar
,
Grace Cathedral
,
Herbst Theatre
,
Live
,
Review
,
San Francisco
,
SFJAZZ
,
Sophie Milman