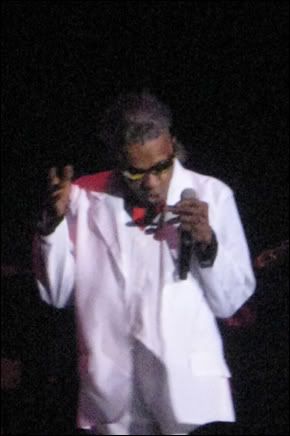 At the close of Friday night's show in Santa Rosa, Sly Stone did not take a bow.
In fact, at the close of Friday night's show in Santa Rosa, Sly Stone was nowhere to be seen. He had left the stage long ago, during "I Want to Take You Higher"—one of only four songs he actually performed—explaining to the crowd: "I gotta go take a piss. I'll be right back."
But throughout the rest of the 90-minute set, Stone never returned, leaving the Family Stone to awkwardly vamp songs in his absence, just like they had at the beginning of the set, until, well, the hell with it, you know, and they simply gave up and left, too. The house lights came on, and a young man sitting a few seats away from me said it all.
He stood up, angrily threw his arms in the air, and yelled, "What the fuck??!"
Yes, it was disappointing. Extremely disappointing. And by far the hardest part is that for the few songs Stone appeared on—"Sing a Simple Song," "If You Want Me to Stay," "Stand!" and "I Want to Take You Higher"—he was an electrifying presence which transformed the show from a schmaltzy Vegas act into a truly special occasion. That is, when Sly Stone—one of the greatest talents in soul music and an undeniable genius—wasn't referring to Santa Rosa as "Sacramento" or telling the audience, point-blank, to shut up.
Even before the show started at 9:55pm, trouble was in the air. The opening act had played for far too long, and when Sly's announcer finally came on stage, he felt compelled to convince the crowd of the overshadowing importance of the evening. "I know you've waited a long time," he said. "But this is history! You can tell your grandkids that you waited for Sly and the Family Stone!"
The nine-piece band then took to the stage, without Sly Stone, announcing that their "master" had asked them to "warm up the stage" for a while. Apparently, "warming up" means dicking around for five minutes. They sloppily introduced the band, gave shout-outs to their friends in the crowd and joked painfully amongst themselves. Eventually, they remembered that their job was to entertain paying customers, and tore into "Dance to the Music." The crowd went nuts.
Then came "Everyday People," which was noticeably weaker without Sly around, and "Hot Fun in the Summertime," which caused people to start shouting. "We want Sly!" they yelled. "Where's Sly?" The band answered by first playing a quick funk instrumental, and then by futzing around with the monitors and complaining to the soundman.
Then, weirdly, and with no fanfare, Sly Stone appeared—coming down the aisles, walking slowly to the stage and murmuring greetings into his wireless microphone. The band kicked into "Sing a Simple Song," and Sly opened his mouth to unleash a signature deep, rich voice that hasn't really changed much in the last 40 years. A thrill ran through the building. The crowd jumped again to their feet and danced like crazy.
Especially moving was Stone's version of "If You Want Me to Stay," with its impossibly low notes and an ever-hypnotic chord progression. For as bizarre as Sly Stone is these days, he is completely and authentically in the moment during songs like "If You Want Me to Stay." He has that kind of unpretentious honesty that draws people to him as an artist. He's not trying to be anyone he's not, and this keeps him from being a caricature of himself.
"Thank you, ladies and gentlemen, for your patience," said a grateful-seeming Stone. "We're happy to be here. We're lucky to be here."
Then came "Stand!," which a large portion of the audience responded to by sitting down, and maybe Stone took the hint. Halfway through "I Want to Take You Higher," he was off to take his piss. And to never come back.
The rest of the set dragged on in the worst possible way—with hopelessly long jams, misplaced caterwauling, obligatory drum solos, and guitars being played with teeth. People who most likely hadn't heard Stone's muttered promise to return and thus had figured that the show was basically over flooded out of the theater. Others, holding out hope to hear Stone come back and sing "Everybody is a Star" or "Family Affair," stayed in their seats while the band flogged every last tiny drop out of mega-extended versions of "Don't Call Me Nigger, Whitey," "Thank You (Falettin' Me Be Mice Elf Agin)," and "Somebody's Watching You."
The theater was already half-empty by the time the band shed their instruments and exited the stage. Scattered boos underscored the mild applause. A girl was overheard near the back, beside herself with disbelief. "Seriously?!" she exclaimed. "75 bucks to see a cover band!"
It was a rough night all around, highlighted bittersweetly with a brief flash of brilliance. Sly Stone may not retain the ability to perform much longer, whether because of mental and physical deterioration or simply because of an utterly ruined reputation. But even viewing tonight's show through this cynical lens—that it was, at least, a historic event—it's incredibly cold comfort in light of the disappointment he left us to remember him by.
—-
Set List:
Dance to the Music
Everyday People
Hot Fun in the Summertime
Instrumental Funk Jam
(Sly Enters)
Sing a Simple Song
If You Want Me to Stay
Stand!
I Want to Take You Higher
(Sly Leaves)
Don't Call Me Nigger, Whitey
Thank You (Fallettin' Me Be Mice Elf Agin)
Somebody's Watching You
—-
UPDATE: Read all about the behind-the-scenes tumult and insanity here.
Tags:
2008
,
Live
,
Review
,
Sly and the Family Stone
,
Wells Fargo Center