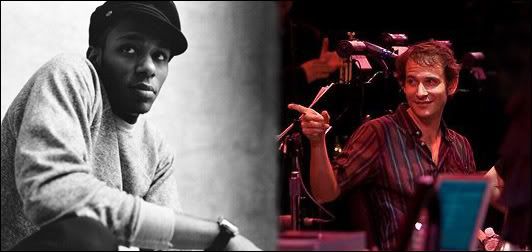 Just got off the phone with old pal and former Santa Rosa resident Adam Theis, who's meeting with Mos Def tonight to discuss their upcoming collaboration for the Band Shell Music Summit in San Francisco. If you'd've told me eight years ago that Adam Theis would be working with Mos Def, I'd say you were crazy. But then I'd think about it, and I'd totally believe you, because Theis is among the most talented and dedicated musicians I know.
Here's the deal: Theis' Realistic Orchestra is the backing band for Mos Def in a free show on October 18 at the Golden Gate Park Bandshell, between the De Young Museum and the new Academy of Sciences. You can't just show up, though—you have to go to this website, lie about your income, feel guilty about not taking public transportation and say if you have an energy efficient lightbulb in your house or not. Kinda weird, but whatever—print out the voucher, and you're in.
Theis says he and Mos Def are working on about a collaborative half-hour set with the Realistic Orchestra for the event, and is quick to point out that the rest of the day's lineup—with Mingus Amungus, Lavay Smith, Kim Nalley, and some dude from Dave Matthews' band—should be pretty great as well. The next night, the collaboration hits the stage again at Ruby Skye to benefit the Blue Bear School of Music. Tickets are $50. Go to the free thing instead.
Incidentally, Theis is also working on a two-hour opus commissioned by a prestigious Emerging Composer grant from the Gerbode-Hewlett Foundation, to be premiered next spring as part of the SFJAZZ festival by a 50-piece orchestra. No shit: a 50-piece orchestra. And all this after arranging horns for Lyrics Born's last album, and the Mighty Underdogs' last album, and J-Boogie's last album, and oh, pretty much dominating the Mission District every Tuesday night at Bruno's.
Tags:
Adam Theis
,
Band Shell
,
bandshell
,
Golden Gate Park
,
Jazz Mafia
,
Mos Def
,
Realistic Orchestra
,
SFJAZZ