The jazz story of the year isn't the discovery of some tapes by Charlie Parker and Dizzy Gillespie. It's not some long-lost recordings of John Coltrane and Thelonious Monk at Carnegie Hall. No, the jazz story of the year—and I'm serving this up to you on a platter, Downbeat—is James Newton's recent acquisition of unheard-of handwritten sheet music by Eric Dolphy, and his incredible, incredible group with Bennie Maupin that debuted tonight at the Healdsburg Jazz Festival.
There are certain works of art which we assume are too unique to ever be re-created. A stage play of Nights of Cabiria, say, or maybe a life-size sculpture of the Leaning Tower of Pisa—no one would attempt these things, because the originals are so distinctly their own. Eric Dolphy's music is in this same echelon. By honing through incessant practice his immediately identifiable tone and stylistic approach, Dolphy ensured that when he died at age 36, no one would dare follow in his wake. People talk about jazz players having their own style. Eric Dolphy had his own language.
The flutist James Newton came into possession of Dolphy's handwritten manuscripts through his teacher Hale Smith, a close friend of Dolphy's with whom the great saxophonist/bass clarinetist/flutist deposited his trove of original sheet music days before he left for Europe with Charles Mingus in 1964, never to return. Now in fading health, Smith recently phoned Newton to entrust him with the collection. His instructions to Newton were simple: "You gotta take care of this."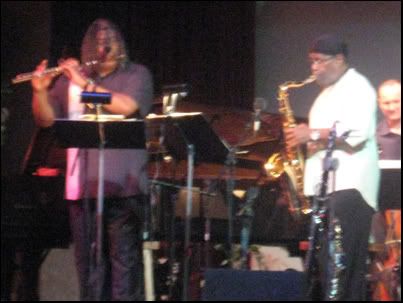 Tonight at the Raven Theater, James Newton and his quintet faced a huge challenge: how to present this music as Dolphy might have played it, when Dolphy himself would have presented it differently each time? Rising to the challenge of immersing themselves in another language, Newton's group didn't just re-create the music of Eric Dolphy. In twists and turns, they brought to life the fiery spirit, the adventurousness, the emotional resonance and the boundless optimism so prevalent in Dolphy's muse, and they did so with both skillful prescience and loving warmth. One could close their eyes and easily imagine that Dolphy himself was in the house.
The concert opened with an Eric Dolphy composition, unrecorded and unheard in public before tonight, titled "Boycott." In a low moan on his bass clarinet, Bennie Maupin introduced a slow solo figure. Soon, he conversed in tight harmony with bassist Darek Oleszkiewicz. Drummer Billy Hart crawled around the notes in a noteless manifestation of Dolphy's eeriness, and Maupin, at the end of his solo, began beating out quiet rhythms by attacking the keys on his instrument. With otherworldly overtones and harmonic growls, Newton burst into the song on flute, the instrumental equivalent of a human cry, and eventually brought everyone back around to the slow, haunting theme.
If the afterlife exists, then Dolphy was watching over this premiere, caressing his beard and smiling widely.
The quintet played largely from Dolphy's seminal Blue Note recording Out to Lunch, with each and every player perfectly filling their predecessor's shoes. Hart absolutely nailed Tony Williams' free horse-clop rhythms of the album's title track, and the "new" head to "Straight Up and Down," with the famous theme expanded and chopped, was an inspired addition to Dolphy's exciting voicing for two instruments. During "Something Sweet, Something Tender," Newton bent a note on his flute to the heavens while vibist Jay Hoggard ended a sensitive solo with a serendipitous cymbal crash from Hart. Magic was in the air.
The apex of the evening, however, was Out to Lunch's "Gazzelloni" (which, Newton told me afterwards, incredibly exists arranged for strings in the piles of Dolphy's sheet music). Fully inhabiting the music, Hoggard gave a purely lyrical and possessed solo on the vibes, full of unstoppable ideas. Not to be outdone, Maupin followed with a ferocious unleashing of long, circular lines and inspired conception on soprano sax. The applause at the end was impulsive, grateful, and long.
After Maupin's original composition "Equal Justice" on the piano and the blues "245" from Outward Bound, the group left the stage and the house lights came up. Lights be damned, the audience's applause refused to die, and the quintet came out for one final number: "The Madrig Speaks, the Panther Walks," appropriately chosen from Last Date, and appropriately earning a standing ovation.
The importance of this group's project cannot be underestimated—in the lobby afterwards, people were overheard asking to touch Dolphy's original charts—and their authority in Dolphy's realm will soon be known to the world through an album on ECM, with Herbie Hancock signed on as a participant. Newton says there's "a whole lotta stuff" in the collection of Dolphy's sheet music he has yet to adapt, and tonight's concert was just the first of many thrilling performances to come.
Sound the clarion call. The Scripture According to Dolphy awaits. "This is the first time we've played anywhere in the Universe," said Newton, "and we thank you."
Tags:
2008
,
Bennie Maupin
,
Eric Dolphy
,
Healdsburg Jazz
,
James Newton
,
Live
,
Raven
,
Review