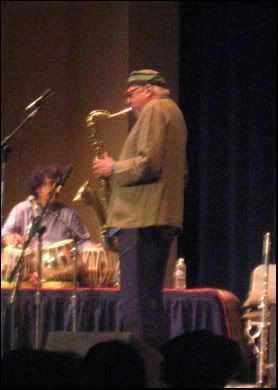 When I worked at the Last Record Store, and pored through people's record collections on a daily basis, I routinely flipped through countless copies of LPs by Santana, Jefferson Airplane, Janis Joplin, and Quicksilver Messenger Service. There's such a glut of these albums in the Bay Area that they're not worth much, and I'd have to break the news gently to a daily stream of baby boomers that we had little use for what to their minds was the greatest music of the century.
There'd almost always be a copy in these collections of Charles Lloyd's Forest Flower, which seemed strange to me until I read Bill Graham's autobiography, Bill Graham Presents. Say what you will about Bill Graham—and you'd probably be right—but Graham truly excelled at the lost art of adventurous booking; placing Neil Young and Miles Davis on the same bill, say, or booking Gabor Szabo together with Jimi Hendrix.
Charles Lloyd, who Graham loved, found himself booked at the Fillmore along such names of the day as Chuck Berry, the Butterfield Blues Band, Jeff Beck, and the Young Rascals—and eventually wound up guilty by association, in my mind, to It's A Beautiful Day. Lloyd to me became just another face in the crowd, and in all the times I listened to Forest Flower, I had the same dismissal: it's close, but it's not Coltrane.
Maybe I've changed. Maybe Charles Lloyd has changed. One thing is certain.
I was such an idiot.
Last night at the Jackson Theater, Charles Lloyd and his quintet gave an utterly transforming performance. Aided by Jason Moran, Ruben Rogers, Eric Harland and Zakir Hussain, Lloyd led his group on a frighteningly inventive sojourn which plunged into unchartered depth and redefined the rules of collective creativity. Amidst a furious storm of talent, the centered Lloyd remarked to the crowd, "It's better to stick with the ship—and go down with it, if necessary."
Now 70, Lloyd still plays in the great searching vein of late-era Coltrane, although his solos aren't an aortic torrent of bitten reeds and quickly-changing ideas but rather more subtly crafted meditations. Last night, lifting his horn and marching in place while switching between tenor sax, alto flute, and a Hungarian instrument, similar to a clarinet, called a tárogató, he brought the audience to numerous pinnacles; or, in his own words, "up there to those elixirs."
Dazzling pianist Jason Moran was responsible for just as many highlights, with a number of propulsive and chord-driven Gershwin-esque solos that incredibly bent the rules without breaking. Zakir Hussain, sitting in on tablas, added a rich texture that never overpowered the group, and bassist Ruben Rogers held the mast of simultaneous improvisation together with a solid, steady hand.
Lloyd and the group were unbelievable—but it was really all about Eric Harland.
So open to different paths and yet so confident of his own, drummer Eric Harland stole the show as the main superprocessor of the group's collective thought. With impeccable touch and flawless taste, Harland not only drummed—he actually deciphered the conversation on stage into the most representational and delightful stickwork this side of Jack DeJohnette.
Given the open space offered by Lloyd's group, Harland responded keenly to every moment on the stand, playing ahead of and behind the beat; keeping time with a footpedal connected to a tambourine; switching to piano when Lloyd directed him, mid-song, and plucking the strings inside while poking hard low notes; going head-to-head with Hussain in rapid-fire rhythm duets; executing ballet-like maneuvers while utilizing every inch of the drum kit; and always, always knowing where the song was headed and when to suddenly stop.
As if to acknowledge his blessed constituents, Lloyd throughout the night placed his hands in a prayer-like position, clasped his arms across his heart, and bowed. He also gratefully thanked the attentive audience, who leapt to their feet and handed him roses at the night's end.
"When folks come with simple living and high thinking," Lloyd said to the people, "it always helps us out."
Tags:
2008
,
Charles Lloyd
,
Eric Harland
,
Healdsburg
,
Jackson Theater
,
Jason Moran
,
Live
,
Review