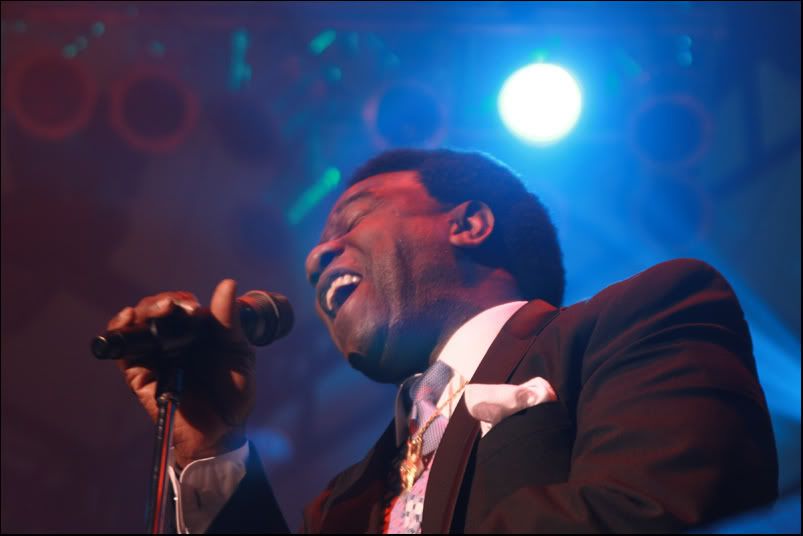 "There's people wonderin'," said an unstoppable Al Green on stage in Sonoma last night, "if the Reverend Al's still got it!"
And then, to answer his own hypothesis, in the high falsetto that's conceived thousands of babies and still melts ladies' hearts:
"Yeeeeeeeeaaaahhhhhh, bay-beee!"
With an 11-piece band, a hailstorm of energy and verve and most importantly, a voice that's still pure quicksilver, Al Green at that point had already proved to the Sonoma crowd that he's definitely still got it. The exchange existed, rather, as part of an extended love-fest with the audience—showy but unscripted—that started with his passing out roses to the ladies in the front row and continued in rambunctious call-and-response fashion like the Baptist masses that Green conducts most Sundays to the public at his church outside of Memphis.
"I love you," he said. "I love you. I love you. I love Sonoma." Then again, singing: "I love Sonoma. I'm gonna make my own song. I looove Sonoommaa. I looove Sonoomm"—the falsetto kicked in—"AAAAAAAAAHHHH!"
The feeling, to say the least, was mutual. "Let's Stay Together" inspired a bumrush to the stage, putting security in a tizzy, and "Here I Am" caused massive spillover outside of the too-small cordoned dance areas down the side of the festival's gargantuan tent. During "How Can You Mend A Broken Heart," Green held the congregation spellbound in a masterful, heart-wrenching torpor; that one song alone boosted last night's lovemaking in Sonoma County by 20 percent.
During Green's high-energy, 50-minute set, there were only a few clunky moments. Green barreled through an unnecessary medley of classic soul hits—"I Can't Help Myself," "My Girl," "Bring it on Home to Me," "I've Been Loving You Too Long," "The Dock of the Bay," "Wonderful World"—which would have been much better had he picked one and sang it in its entirety (I nominate "Bring it on Home to Me.") This led into a lacking "Tired of Being Alone" featuring Green singing pieces of the song but mostly playing with the crowd while his 11-piece band vamped in the background, and after an extended "Love and Happiness" closed the set, Green's backup singer lamely ran down a Wikipedia entry of his achievements: "Al Green, ladies and gentlemen! Member of the Rock and Roll Hall of Fame! Member of the Soul Hall of Fame! Member of the Gospel Music Hall of Fame!"
In the overall picture, however, these details will have to accept their status as minor gripes, fully overshadowed by Green's talent, personality, legend, and desire to give all that he is to his audience. "The lady back there that's the head of this whole thing made me promise to keep my little 'A' on the stage," he said at one point, clearly delighted with himself as he walked like a disobedient child down the front steps to his adoring crowd, "and here I am. . .  on my way down again!" And then the falsetto, again, directly into the eyes of a sea of swooning females.
Yes. Al Green has still got it.
Tags:
2008
,
Al Green
,
Live
,
Photos
,
Review
,
Sonoma Jazz