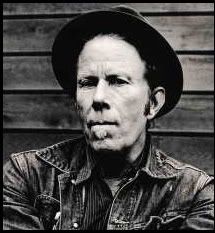 Living, as we do, in the same area as one of the greatest songwriters to ever live, we here at City Sound Inertia HQ heard through the grapevine long ago that Tom Waits was touring this year "through the south." And knowing, as we do, of Waits' propensity to keep the king away from his castle, so to speak, we didn't hold our breath for a Bay Area show.
Waits announced his tour this morning. A round-trip ticket to Phoenix, AZ is $240. We're seriously considering it.
June 17 – Phoenix, AZ | June 18 -Phoenix, AZ | June 20 – El Paso, TX | June 22 – Houston, TX | June 23 – Dallas, TX | June 25 – Tulsa, OK | June 26 – St Louis, MO | June 28 – Columbus, OH | June 29 – Knoxville, TN | July 1 – Jacksonville, FL | July 2 – Mobile, AL | July 3 – Birmingham, AL | July 5 – Atlanta, GA
In other news, correspondents tell us that Gogol Bordello's Eugene Hütz totally fuckin' rocked the walls off the French Garden restaurant on Saturday night in Sebastopol. To finish off his time spent at the Herdeljezi Festival, Hütz lined up a bunch of shot glasses along a table, filled them with strong liquor, and imbibed to his Romani heart's content while climbing on top of chairs and powering through a fiery set of traditional gypsy tunes. (You can read David Sason's Bohemian interview with Hütz here.)
Hütz had been spending the weekend staying at his buddy Les Claypool's house, and someone close to the Claypool family informs us that Hütz's wandering spirit must have overtaken him after the show on Saturday.
He never came home that night.
Tags:
Eugene Hutz
,
Gogol Bordello
,
Sebastopol
,
tom waits
,
tour