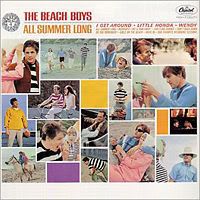 The year was 1964, back when Santa Rosa was a completely different town than the city we know it as today. The population: 35,000. Hardly a considerable tour stop for a group with a huge hit on the charts.
The Beach Boys' All Summer Long had just been released in July, and its big hit, "I Get Around," was lighting up Top 40 radio. So it was a pretty big deal when KPLS 1150 AM radio announced that the Beach Boys were coming to perform at the Veterans' Memorial Building in Santa Rosa. Tickets, priced at $2.50, went on sale at the station's office in Coddingtown, and word spread throughout Santa Rosa's drive-ins and high schools like wildfire.
On the night of the show, the capacity crowd filed into the auditorium and sat politely in rows of folding chairs. The curtain opened, and the Beach Boys, clad in their trademark vertical-striped shirts, launched immediately into their current smash hit: "I Get Around." The set list included "409," "Fun Fun Fun," "Surfer Girl," "Be True To Your School," and "Surfin' Safari," among others, and the audience stayed in their seats the whole time—a matter of personal dignity that Beatlemania would soon render obsolete.
Of course, there's no reason why I should know this, except that my dad, who bought tickets numbered #0006 and #0007, remembers it like it was yesterday. After all, at age 12, it was his first concert. I suppose it was a pretty big deal for my grandpa, too, who was cool enough to change out of his mailman uniform after work and go with his kid to the rock ' roll show.
Fast-forward to 2008: The Wells Fargo Center Luther Burbank Center has booked the Beach Boys for August 2, and it's being advertised as the Beach Boys' "First Time in Santa Rosa."
It's a nice thought and all—and tickets, against all sensible odds, appear to be selling well—but I know a few people who grew up around here who'd have a pretty good case with which to argue the claim.
Tags:
1964
,
Beach Boys
,
Santa Rosa
,
Veterans Memorial Building