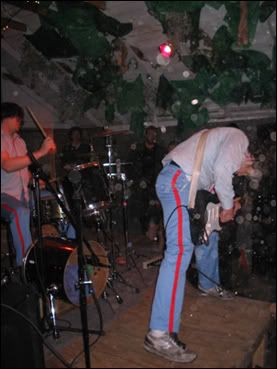 I intentionally parked about a half-mile away from the Boogie Room last night so I could walk the long narrow road in rural Santa Rosa under the moonlight, surrounded by farmland, alone. It's something I used to do plenty often, before I had a driver's license—and before most of Santa Rosa's empty fields were turned into tract homes. It was serene, and I think, since the Boogie Room is located pretty much in the blissful middle of nowhere, that I'll make a tradition of it.
I don't want to say too much about the Boogie Room, because in the guerilla tradition of the last couple years, it's an under-the-radar venue and probably prefers to stay that way. Think of it as a Studio E for the younger set; a homey place to see friends, play fetch with the house dog, sit by the campfire, and watch terrific bands in a cozy barn in the middle of a field. House concerts, as it were, with an edge.
I was given a tour of the sprawling grounds by Bryce, who's something of a navigator for this amazing, multi-tiered ship. He enthusiastically showed me around the large greenhouse and huge garden; the collection of barns full of old cars and owls; and the many, many improvements that he and other residents have made since they moved in about a year ago. Sliding open the door to one leaning barn, he blankly explained that it was where the previous tenant, who had been running a chop-shop for stolen cars and a methamphetamine lab, had hung himself.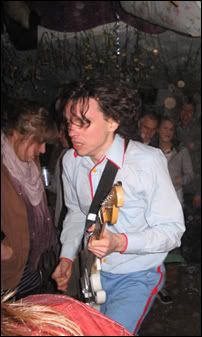 In the music room, the junkyard classicism of the Highlands—a cellist, a violinist, a possessed guitarist and two drummers—was filling the place up. After a truncated set by Battlehooch, who manhandled a Theremin, a Sony Watchman and multiple vocal effects before submitting to technical difficulties, it was time for the Iditarod, who were as epic and majestic as their name implies. Medieval synthesizer solos, heralding trumpets, three-part-harmony battle cries, absolutely strange guitar playing and hyperactive drum beats. Shit, as they say, was goin' off.
I'd never seen Xbxrx before, but I could tell that the guys standing by the side of the stage had to be the band members. They looked bored and annoyed, like they couldn't wait to play and get the whole thing over with, and sure enough, as soon as the Iditarod were finished, it took exactly 40 seconds for them to start hurriedly setting up their equipment on the stage. So I wasn't expecting much; after all, they've been a band for ten years, they've toured with Sonic Youth and Deerhoof, their last few shows were in Berlin, London, and Amsterdam—why would they possibly care about Santa Rosa?
But a total transformation occurred when they plugged in and started playing; it was like they'd become lightning rods for all the Earth's energy for miles around. They leapt, flailed, ran, fell down, writhed, spun, and shook wildly. . . and that's just in the first two minutes. I've seen a lot of goddamn hardcore mayhem, but this was up there. Way up there.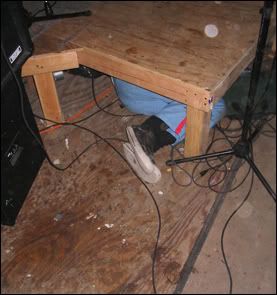 In matching baby-blue outfits, the guys in Xbxrx didn't perform so much as they blurred their way around the entire barn, as far as their guitar cables would allow, unpredictably crashing around while playing blast after blast of insane noise. They climbed the walls, they banged their heads on the ground, they shoved their bodies behind the couch and they did haphazard flips into the crowd. Antagonizing, sure, but even though I stood just a couple feet from the guitarist's amplifier and mic stand the whole time, I amazingly never once got hit.
At the end of the set, one of the guitarists crawled underneath the stage with his guitar and just laid there in a fetal position. He didn't move. It made sense, in a way. So I left before Batman vs. Predator with my ears ringing, and walked the half-mile back to my car in the quiet foggy midnight air.
Tags:
boogie room
,
deerhoof
,
iditarod
,
Live
,
Review
,
Santa Rosa
,
xbxrx